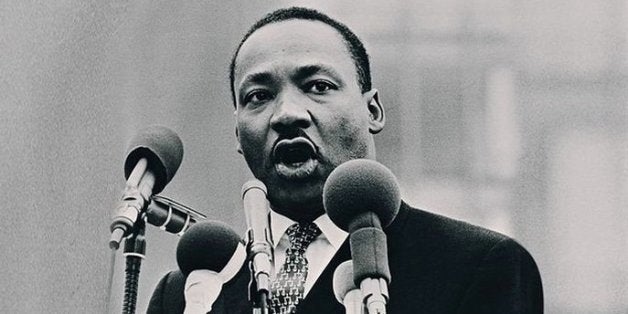 Four years ago, on January 16, 2012, in an article published by The Huffington Post titled, "Dr. King's Stance Against The Death Penalty," lawyer and journalist, David A. Love, wrote: "America has reached a turning point in its application of capital punishment[,]" and that, "[a]s the U.S. observes the eighty-third birthday of Dr. Martin Luther King, Jr., this is a perfect time to reflect on the slain civil rights leader, Nobel laureate and death penalty opponent."
Four years later, on January 17, 2016, I sat as part of the small congregation at the Woodland Hills Community Church, in California, where Dr. King preached, on his birthday, on January 15, 1961. In 2013, the Los Angeles Daily News reflected on King's visit to Woodland Hills, noting that "King had been invited by a white pastor to give a sermon," and that one of many things Dr. King told the congregation that day was: "Love your neighbor as you love yourself . . . . You are commanded to do that. That is the breadth of life."
As I sat there, in this sanctuary, I couldn't help thinking that last year, on Martin Luther King, Jr.'s birthday, I was a death penalty lawyer, specifically, an Assistant Federal Defender in the Capital Habeas Unit of the Federal Defenders for the Middle District of Alabama. My office was located near the intersection of West Jefferson Davis Avenue and Rosa Parks Avenue (think about that street pairing for a second . . .) in Montgomery, Alabama.
I was part of the same group of attorneys now working their butts off and fighting their hearts out to spare their client, Christopher Brooks, from a lethal injection this coming Thursday, January 21, 2016, at Holman Prison, in Atmore, Alabama. This cadre of dedicated lawyers has exercised every legal challenge possible, they have petitioned the governor of Alabama for clemency (which seems unlikely since only one governor in Alabama has ever granted clemency before -- when a lame duck governor granted it to a white woman), and they are desperately hoping for a stay of Mr. Brooks' execution. In their court filings, they have argued that Brooks' execution will violate the Eighth Amendment's prohibition of cruel and unusual punishment, and specifically, that the drugs Alabama seeks to use to execute Mr. Brooks with will make him "feel like he is being buried alive," and, "cause a massive heart attack after burning him alive from the inside."
Before heading to the service at Woodland Hills Community Church with my wife, I read the New York Times' Editorial Board's plea that the United States "join the rest of the civilized world and end the death penalty." Later, as I sat in the same church where Dr. King, a fervent death penalty opponent preached 55 years ago, I said a prayer for my former colleagues in Alabama, for their client, Mr. Brooks, and for his family, as well as for the victim, and her family -- and I was reminded of another one of Martin Luther King Jr.'s famous sayings, now applicable to capital punishment in the United States: "The time is always right to do what is right."
About the Author: Stephen Cooper is a former D.C. public defender and worked, for three years, as an assistant federal public defender in the Middle District of Alabama - employed by the same office that represents Christopher Brooks. He writes full-time and lives in Woodland Hills, California.
Popular in the Community