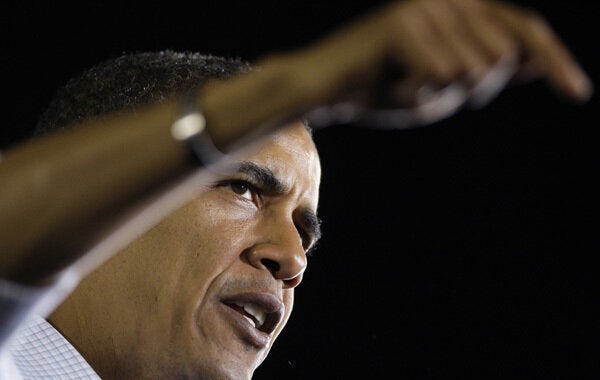 The Obama team's decision to drop the idea of forcing oil and natural gas companies to pay a tax on their windfall profits has caused a firestorm among liberals and small business coalitions.
As first reported in the Houston Chronicle, Obama's reference to a windfall profits tax, which he articulated during the campaign at a time of skyrocketing gas prices, had been removed from the transition team's Website, change.gov:
President-elect Barack Obama has quietly shelved a proposal to slap oil and natural gas companies with a new windfall profits tax.

An aide for the transition team acknowledged the policy shift Tuesday, after a small-business group discovered the proposal -- touted throughout much of the campaign -- had been dropped from the incoming administration's Web site.

"President-elect Obama announced the policy during the campaign because oil prices were above $80 per barrel," the aide said. "They are below that now and expected to stay below that."
Between this move and the move to wait to repeal the Bush tax cuts for the wealthy, it seems like the Obama team is buying into the right-wing frame that raising any taxes - even those on the richest citizens and wealthiest corporations - is bad for the economy. Of course, that frame is debunked by history. And while sure, it's OK to rack up deficits so as to spend our way out of the economic crisis, it's sorta silly to ignore the tax moves that could be implemented to limit those deficits where possible.

Oh, and one last thing - if oil prices are down and oil industry profits are truly down, what's the harm in passing a windfall profits tax? Even if you buy the right-wing nonsense about a windfall profits tax "hurting the industry" or "hurting the economy" when it is applied, if there really are no windfall profits to tax, then it won't be applied.
On Mother Jones' blog, Nick Baumann wrote a post asking, "Did Barack Obama just break his first camaign promise?":
Obama talked about a windfall profits tax as early as April. As crude oil prices topped $110 a barrel, Obama promised to "put a windfall profits tax on oil companies and use it to help ... families pay their heating and cooling bills and reduce energy costs." And in August, the Democratic nominee issued a campaign ad that promised "a windfall profits tax on big oil to give families a thousand dollar rebate." The windfall profits tax was a key point of contention between President-elect Obama and McCain in June, when McCain criticized Obama for the plan, calling it "dangerous".
The removal was noticed by the American Small Business League which fumed in a press release:
The American Small Business League questions whether the sudden elimination of this issue is a further indication that large corporations are already demonstrating their ability to influence the Obama adminstration...

President-elect Obama owes the American people an explanation as to why these campaign promises have been pulled from his agenda.
Related
Popular in the Community