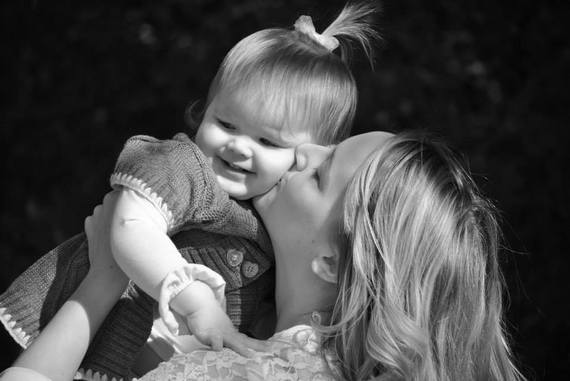 Motherhood is one of the most difficult jobs there is. It marks a new chapter in every woman's story. It gives you a new strength in yourself, something you didn't know was there until you had children. It also gives you a new sense of purpose and meaning in life. You encounter a love and passion for your children that you've never experienced before.
Motherhood is emotional. It's labeling yourself as a mom and sometimes forgetting who you really are, who you were before these beautiful babies arrived. Sometimes it can make you feel like your only job is to change diapers and do laundry all day. And as much love as we have for our children, sometimes motherhood leaves us with an aching for things greater than what lies outside the walls of our home.
Motherhood is exhausting. It's 3 a.m. feedings while you stare in awe at the tiny human swaddled in your arms; when you're still in denial that this precious baby is really, truly yours. Dreaming of what their future holds for them, and all the amazing adventures they will have.
Motherhood is trying to get your toddler asleep at midnight because she fell asleep at 4 p.m. and is wide awake now. It's sheer exhaustion from reading Goodnight Moon for the 20th time and wishing she would fall asleep. It's putting her in her bed at 1:30 a.m. and missing her as soon as you jump under your covers.
Motherhood is cleaning up messes. It's wiping down kitchens after cooking meals and preparing snacks all day long. Washing floors spotted with muddy footprints from exploring all day and cleaning windows smudged with tiny fingerprints. It's wiping runny noses from sick babies and drying tears from your toddler after his nightmare.
Motherhood is kisses and cuddles, and late night snuggles. It's rainy days huddled up under blankets and pillow forts, and days playing in the dirt and sand. It's family reunions, vacations, and never-ending road trip conversations. It's wishing the day was over and then wishing it would never end.
Motherhood is re-building the pieces. It's fixing the broken Lego tower, demolished by the rambunctious toddler. It's comforting the teen who is self-conscious and feels bullied at school. It's mending the ballerina tutu that got ripped in the washing machine, and tending to the broken heart of a child who lost their first pet.
Motherhood is stressful. It's needing 25 hours in a day and 8 days in a week. It's always feeling like there is never enough of you to go around. It's feeling like you might go crazy if you don't get out of the house for a few hours, and feeling guilty when you do.
Motherhood is, simply put, amazing. It's looking into your child's eyes and seeing nothing but love. It's watching them evolve and grow into tiny people with their own unique personalities. It is laughs and giggles, and tickles and squeals.
There is no one definition of motherhood. Rather, it's an accumulation of so many things. A combination of raw emotions, experiences, and our hopes and dreams for our children.
Motherhood is, however, one of the most sacred journeys you will travel in life. Every mother has their own path to motherhood, but the rewards are the same. So take the road less traveled, and pave your own way. Enjoy it, cherish it and embrace it.