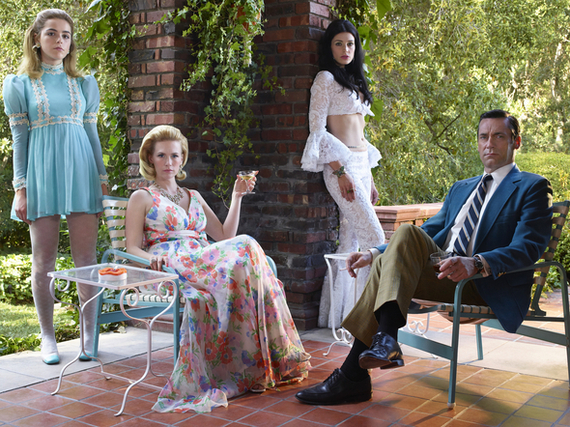 (photo: Courtesy of AMC)
Grab the Scotch! Mad Men has returned for the second half of its seventh season. Among the many reasons to watch AMC's drama--including Don Draper's smoldering presence--is the fact that the costumes created by Janie Bryant are, simply put, impeccable.
A true fashion obsessee, Bryant has spent the past eight years immersed in the world of the 1960s, studying magazines, catalogs, movies, and more to get in the headspace of the conflicted characters she dresses. In addition to her historical research, Bryant also works closely with Matthew Weiner to find the best way to portray Betty's sorrows or Megan's rebellions through their clothing. "It's all about understanding the complexity of the characters, understanding their story arcs, and then helping to tell that story by the costume design," Bryant told Style.com. "That's what the audience sees, and that's what the actor has to feel, too. Costume design is so important to be able to tell the story of these characters."
Aside from the sheer glamour of it all, another reason fashion has fallen especially hard for Mad Men is that, miraculously, the year portrayed on the show always seems to correlate to the trends depicted on the runways. (The late '60s mood of Fall 2015 will align perfectly with the late '60s era depicted on-screen when the show returns this weekend.) "That is the power of a costume designer, and the fashion designers have been inspired by the show since the very beginning. Probably the first fashion designer who was inspired by the show was Michael Kors, and then really Prada, Miu Miu, and Thom Browne [came next]. You know, that is the power of costume design and TV, right? So many people get to see my work every single day. I'm happy to inspire others," Bryant explained of her influence on the contemporary fashion world.
And considering that Mad Men style has never been more in fashion than it is now, we asked Bryant to break down the essentials for five characters on the show: Megan, Don, Betty, Joan, and Peggy. Find out how to get the look in the slideshow, and tune in to see all of Mad Men's groovy costumes Sunday nights at 9 p.m. on AMC.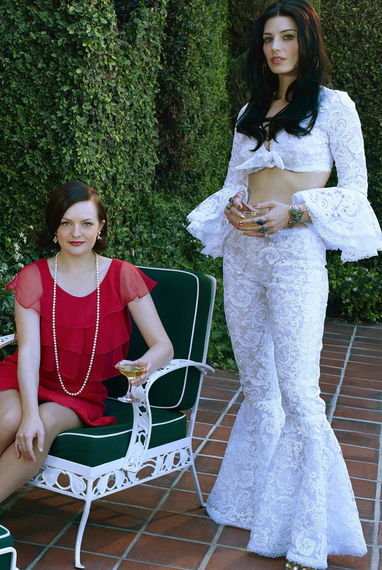 (photo: Courtesy of AMC)
"When Megan goes to Los Angeles, I really wanted her to feel the influence of the culture there and also change her costume design because of that. She's hanging around actors and musicians and it's the '60s Laurel Canyon, so I wanted her to wear a lot of suede and the longer vests and the miniskirts. She also wears maxi dresses, and we can really see the time pass by what Megan wears and see where fashion was going because of Megan.
She was always a character that I felt was young and free and fresh and modern. It's almost like Don could not keep up with her. You really see that when she's in her Pucci minidress, hosting her party in Los Angeles, and Don's a businessman in his sport coat. I loved that idea of those two characters really contrasting, and you can see that through that moment in the costume design, that there's big trouble ahead."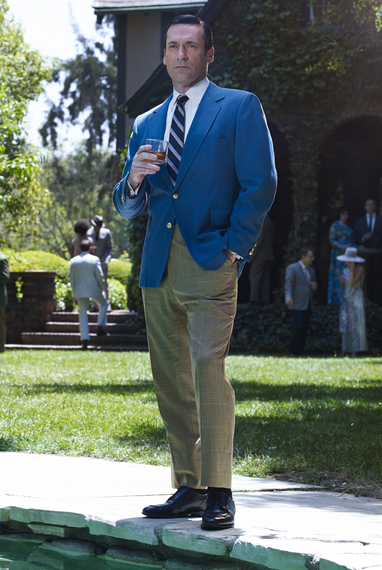 (photo: Courtesy of AMC)
"He's a character who doesn't ever change. To be Don Draper, you need a white shirt with French cuffs, cuff links, a gray suit, a trenchcoat, a glass of Scotch, a cigarette, polished shoes, and a stingy brim fedora--and a beautiful woman on his arm! Don't forget that accessory that Don Draper always seems to have!"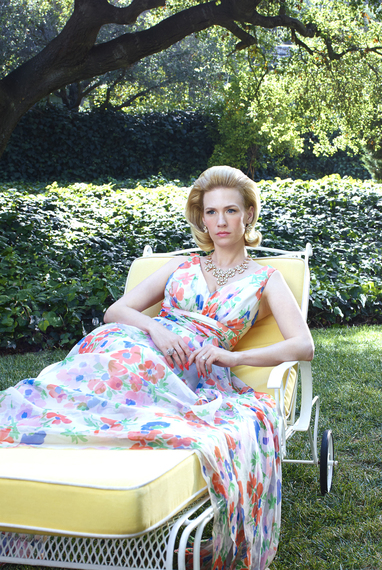 (photo: Courtesy of AMC)
"I always envisioned this facade of perfection and upper class, so I felt like her palette should be very cool, very cold, very upper-crust top drawer, and always at arm's length. For me that was all about the pale yellows, the pastel pinks, the pale blues, the grays, the whites and ivorys and camels. I just felt like that palette was super-icy and very top drawer. It's also such an elegant palette. It's almost like you don't want to touch her.
With the palette, with the silhouettes, it always has to tell the tragedy of Betty Francis. I love the idea of a matching dress and coat, and that is a way to channel Betty's look. It's still very ladylike, but in a later '60s fashion."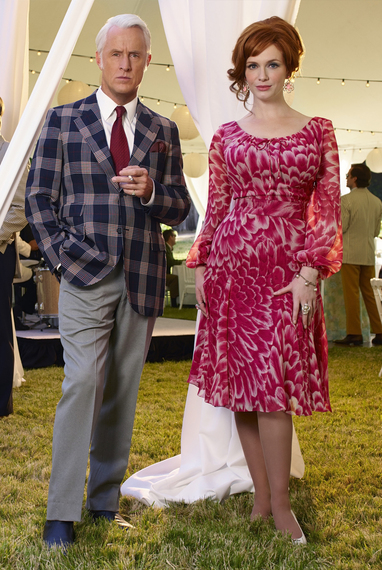 (photo: Courtesy of AMC)
"Christina [Hendricks] and I would always talk like, 'Even though the '60s has moved on, Joan is always going to nip her waist.' Joan is a character who always, always, always, no matter what the trends were of the 1960s--that character knows her body and knows it's really important to accentuate the hourglass. It's all about bust, waist, hips. Christina would always joke, "Whatever Joan bought, she would take it to her seamstress and have it taken in two sizes too small." We'd always laugh about that, but she's exactly right. She's not a fashion victim. She doesn't care that the silhouette has gone to maxis.
One of the things I love about Joan is even if she doesn't always see her strengths, we see them through the costume. Jewel tones and really strong color palettes [were] really important. Animal prints were really important. I love that aspect of Joan's feline magnetism. There were definitely times when I would use a lot of rose prints for Joan because I also felt like there's a romantic side to Joan, as welI. She's really into Asian design, and we see that more in her home, but her robes are green silk with an embroidered dragon on the back. Also, when she serves dinner to her ex-husband in her Mandarin collar dress, she has Asian motif earrings and bracelets. I loved that side of Joan at home."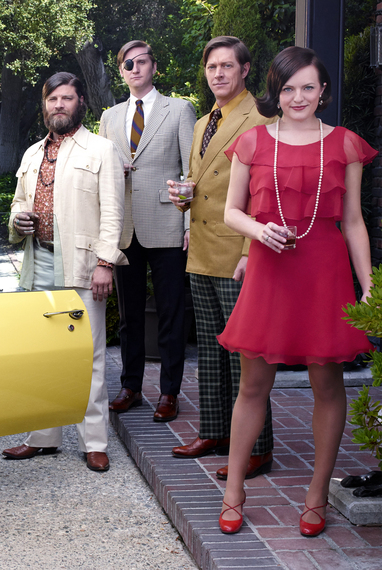 (photo: Courtesy of AMC)
"Peggy is a very complex character, and I always loved the idea of pleats and plaids and polka dots and Peter Pan collars and bows at the neck to really illustrate the complexity of Peggy. She's a character who's not into fashion as well; she's a workaholic. She's more interested in being a part of the boys club, in a sense.
[Her looks are] super-textured, super-layered--the layers of the turtleneck, the vest, the pants, and the fabric of the houndstooth. The pleated skirts always spoke to me as her background, coming from a Catholic schoolgirl background, coming from Queens, that very reserved, modest upbringing. That is very indicative of what I wanted to express with Peggy being such a complex character."
Related