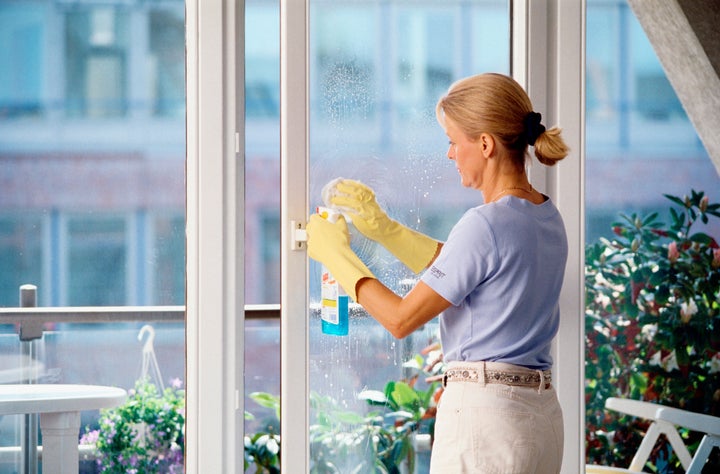 Let's face it. The warmer months have just about everybody thinking about the things that need to be done around the house, garage, boat, yard, apartment, dorm, or whatnot. Whether you rent or own, your mind's probably going towards the junk under the bed, cobwebs in the corner, how to get bikes or other recreational equipment ready for the sunny months. While many people hire services and professionals to take on the job, there's still a bit of prep and work that goes hand-in-hand with spring cleaning and clearing no matter who will get the work done.
1. Order Up -- No great cleaning or clear-out can happen without a little order in the chaos. Get into those crowded rooms and areas of your home that are overflowing with stuff. Start to tackle what can be kept, tossed, etc. Invest in good organization and storage solutions at this time and you won't likely find yourself facing the task again -- or at least not at the degree you did this time around. Modcloth.com has cute storage solutions for a chic look, or you can go to something like Container Store or Target for plastic, fabric or cardboard options.
2. Get Listed -- Go room by room, space by space, item by item and make a list of what you need to get done. If the outdoor shed needs to be put back in order, or your apartment pantry cleaned and sorted out, put it on the list. Leave no stone unturned and nothing off it. By having a good list in place you'll be inadvertently creating a plan. Once a plan is in place things become far easier to get done whether you'll be doing the work or not. Make it fun with a funky or stylish pad of paper. Knock-Knock on Amazon offers a bunch of different list pads for the job.
3. Get the Right Tools -- Good cleaning tools and products are key for spring cleaning projects. Scrub brushes, rubber gloves, various cleaners and cleansers should be stocked up before you start any of the work. For dishes and dishwashing, Palmolive's Soft Touch line goes easy on the hands and cuts through whatever grease, food, etc. you might need to wash.
4. Make It A Party -- Offer to help friends, family or neighbors and vice versa. Bring in pizza, beer, soda, or whatever, and make the clean up a social event of sorts. Arm little ones with kid-sized brooms and mops and make a game of cleaning floors or rooms. Keep plenty of snacks on hand, water and of course, a place to keep pets safe and sound during the project.
5. Add Music -- Put a little musical spin on the task with good jams from some of your favorite artists. If you're cleaning with a group, popular or classic songs can be great for everybody to sing-a-long and make the day more fun. Kids music is great if you've got children helping out. If you're working solo, plug in your iPod with a good playlist and you'll see the time fly.
To see all of this week's articles on Condiment, click here.