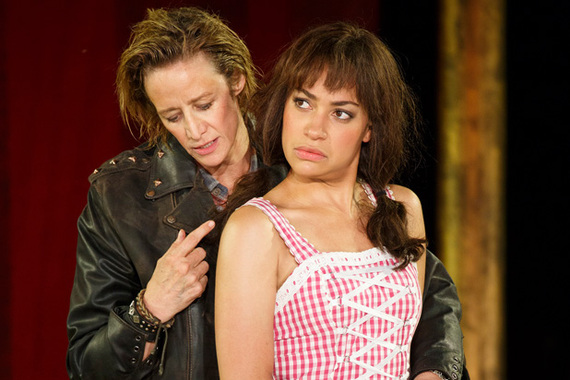 Cush Jumbo and Janet McTeer in Public Theater's Shakespeare in the Park Production of 'The Taming of the Shrew,' Photo by Joan Marcus
By Jil Picariello, ZEALnyc Theater Editor, June 13, 2016
Players and play are running wild at the Delacorte Theater in Central Park. There's a beauty pageant, with a baton twirler and all, hosted by former Miss Universe ringmaster and current presidential candidate...well, do I really have to say his name? (Hint: He tells us that "One of these girls is going to take home a hyuuuuge prize!") Katharina rides a bicycle around in circles, shrieking and screaming like Patty Duke in the first half of Miracle Worker. Petruchio struts and preens like a bad-boy Country-Western star, a pair of pink handcuffs dangling from his wrists, unnoticed, in one scene. There's a circus-style mini-stage, singing and tap dancing, bunting and aged trailers, and a blast of Joan Jett. Bring on the elephants!
It's frantic and frenzied, and like all wild parties, both thrilling and exhausting. You get the sense that every crazy idea that popped into anyone's head was thrown into the mix to see if it added to the fun. Perhaps Shrew is not a play that lends itself to subtlety (perhaps?) but this might be taking things a bit too far. All the fun leaves you a bit hung-over and a mite crabby in the morning.
In the Playbill's opening note, Public Theater Artistic Director Oskar Eustis writes that Shrew "is the only major Shakespeare play which I have never produced or directed." Why? "The reason is simple: I have never been able to get behind the central action of the play, which is, well, taming a woman." He goes on to talk about how Merchant of Venice, another problematic play, has, through recent productions, been viewed in new and more complex ways; ways that afford contemporary audiences a new path into the story and characters. "But," he goes on to write, "because Shrew seemed to me to not only be about a misogynist world, but also asks us to celebrate the essential action of bringing a woman to heel, I never found a comfortable way to present it."
The play is misogynistic, and knowing that it was the norm in Shakespeare's time doesn't reduce any of the cringing sting. We're watching it in our time, and having women play the roles of the sexist barb-throwers doesn't reduce the discomfort--especially when they play their male roles so well that we forget we're watching women playing men. Yes, the women-as-men are mocking the bluster and blunders of the chauvinistic pigs they're playing, and adding the most sexist buffoon/presidential candidate to the mix does ratchet up the stupidity ante. But even with the addition of he-who-must-not-be-named, it still rankles to see a woman treated like a dog, tamed like a horse, and, in her famous final speech, putting out her hand to allow her husband to place his foot there.
With Janet McTeer as Petruchio strutting and crotch-grabbing and looking for all the world like a twin to Bill Nighy as the faded former rock star in Love Actually, and Cush Jumbo as Katharina spitting and spinning, and all the rest of the talented cast making us laugh and keeping us entertained from the opening pageant to the Joan Jett bows, it's a fast and fun two hours. But does it solve the problem of this thorny, difficult, discomfiting play? No way.
The Taming of the Shrew runs through June 26th, 2016. At the Delacorte Theater in Central Park. For more information, visit The Public Theater.
Written by William Shakespeare; Directed by Phyllida Lloyd. Cast: Candy Buckley, Donna Lynne Champlin, Rosa Gilmore, Judy Gold, LaTanya Richardson Jackson, Cush Jumbo, Teresa Avia Lim, Janet McTeer, Adrienne C. Moore, Anne L. Nathan, Gayle Rankin, Stacey Sargeant, Pearl Rhein, Leenya Rideout, and Jackie Sanders.
For all the news on New York City arts and culture, visit ZEALnyc Front Page.
Jil Picariello is ZEALnyc's Theater Editor, and writes frequently on theater and culture.
Calling all HuffPost superfans!
Sign up for membership to become a founding member and help shape HuffPost's next chapter