"Travel is more than the seeing of sights; it is a change that goes on, deep and permanent, in the ideas of living." -- Miriam Beard
How To Do Exceptional Things Inexpensively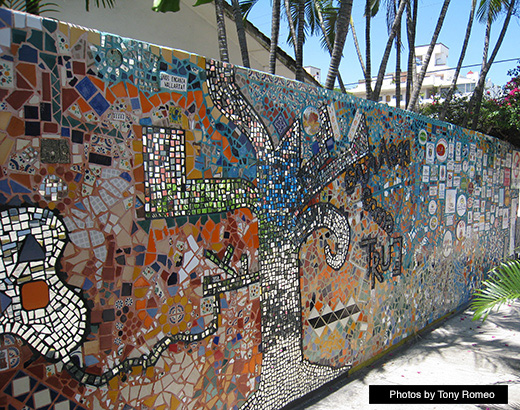 Tile mural on a quiet street
My partner Tony and I spent a good deal of time justifying the cost of celebrating a "big" birthday at a posh hideaway on the Pacific Coast of Mexico before buying tickets to Puerto Vallarta, the most convenient airport. Known as a party town, Puerto Vallarta would normally not be among my first choices of places to visit in Mexico. But in the September days before and after our long splurge weekend, I would be reminded of how even a tourist mecca can be transformed off-season--when the essence of a place has room to shine through.
Many cities offer direct flights to Mexico City, with a short layover to Puerto Vallarta. Accrued miles go far and gratis award tickets are often available. Fixed-price taxis wait at the exit of the PV airport ready to whisk you into town. You'll be unpacking with a tropical drink on your nightstand before you know it.
We stayed stay in Zona Viejo (old town, popular with the gay community, also know as the Romantic Zone), one block from Los Muertos Beach. Viejo is a real neighborhood with shoe repair shops and take-out roast chicken places mixed in among the beach clubs and restaurants. There are numerous apartments for rent in the area, just be sure to carefully check the location when booking online. Puerto Vallarta is hilly, and there are wicked stairs to access in many of the buildings inland. If you prefer a fairly priced boutique hotel, Villa Mercedes has whimsical murals covering the walls and can't be beat.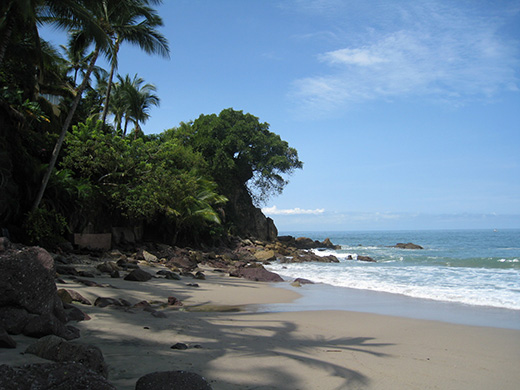 Our apartment was above the superb Trattoria Michel on Avenida Olas Altas, both owned by Michel Pascal Ferrari. I always do a few personal errands when I'm in Mexico (the money I save more than equals the cost of an air ticket) and everything we needed was at our doorstep. I had my teeth cleaned; changed prescription lenses in eyeglass frames; the tailor Oscar, recommended by Michel, did a top-notch job on the clothes I'd brought for alterations. The corner taxi stand was manned 24 hours; Prestige Car Rental, a local agency run by the delightful manager Rosy, a mere block away.
Avenida Olas Altas is near to Calles Amapas and Pulpito, streets where small restaurants with innovative menus abound. The tapas concept of ordering 5-6 different plates instead of a larger 3-course meal is popular in this area, and we particularly loved the creations of the young chef Jesús at Nu. But it was 116 Pulpito across the street that won our hearts. Sangria is served in large canning jars; on the second visit, our waiter David greeted us by name as if we had been long-time regulars. If you're a morning person, breakfast served in the garden at Fusion is a delightful way to begin the day.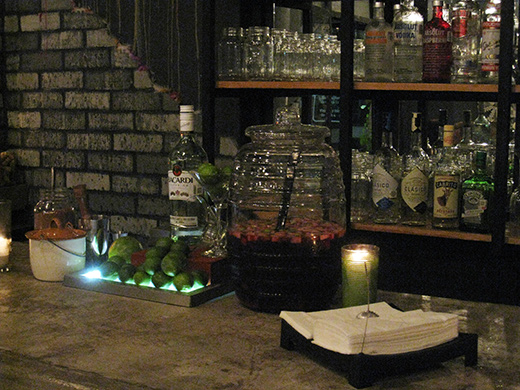 Bar at restaurant 116 Pulpito
When we wanted to move a notch up from casual dining, the family-owned River Cafe perched at the edge of the rushing Rio Cuale was an easy favorite. Few restaurants anywhere in the world could have a more beautiful setting. The young, attractive Steven and Paulina attentively managed the establishment, and we savored specialties created by their Peruvian chef to a background of cool music and two resident iguanas moving in slow motion through the leaves of a nearby tree. The walk to the River Cafe is picturesque and, even though there are more direct options, crossing the river on one of the suspension bridges added a feeling of excitement.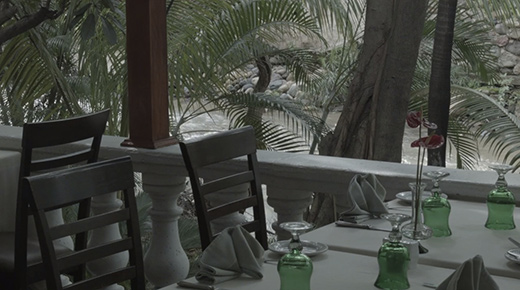 The incomparable River Cafe
If you like to sunbathe or swim, rather than schlepping home in a wet bathing suit gritty with sand, indulge yourself with a day pass at one of the beach clubs. The Mantamar faces a lovely section of beach, and the azure blue umbrellas with matching chaise covers gives it a Moroccan feel. On the same great beach, we heard wonderful things about the upcoming Sapphire Ocean Club which will have a gourmet bistro and bar. Don't hesitant to buy a few sticks of freshly grilled shrimp sold by strolling vendors along the seaside. When your hands get messy pulling shrimp off a skewer, miles of surf are waiting to rinse your hands.
Several buses that go to the zoo and botanical gardens stop in Viejo. (The area really does have everything within walking distance.) Whichever you visit, be sure to have lunch at the botanical gardens where the staff will do everything within their power to make you feel welcome. The food is excellent and the view with visiting hummingbirds postcard pretty. Wear socks or boots (or cover your ankles with insect repellent). You'll never see, hear, or feel a thing, but trust me...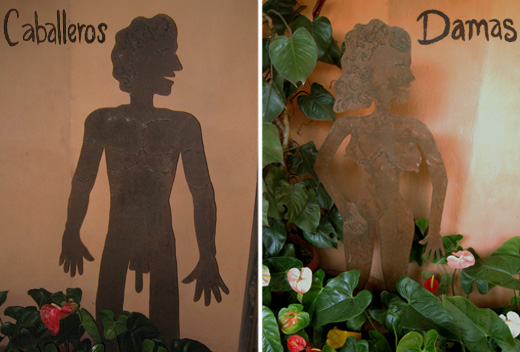 Restrooms at the Jardínes Botánicos
A neighborhood ideal for renting a house (but less convenient to services and food shopping) is uncharmingly referred to as Gringo Gulch. In the hills overlooking the town, this is where Richard Burton lived with his wife Susan when making the film Night of the Iguana (and Elizabeth Taylor caused an uproar when she shamelessly flew in to visit a married Richard). His house and three adjacent were combined into what is now the magical, gracefully arched Hacienda San Angel hotel. Even if you're not staying at this antique-filled oasis, put the hacienda on your "must" dining list. A friend said that after brunch she felt like giving the entire restaurant staff a standing ovation.
One of the great joys in the off-season lack of crowds, is that everyone slows down. Both locals and expats have the time and inclination to talk. We forgot we were tourists. Reading the Vallarta Tribune, we learned about Janice Chatterton, a California woman who started the SPCA animal sanctuary and the many volunteer opportunities possible. We bought tickets for a raffle they're holding to raise money desperately needed for abused and abandoned animals. Tickets are only $35 each and the winner will receive a 7-night stay at the Hacienda San Angel! Drawing is December 5. Go to www.facebook.com/spcapv for more information.
I love Mexico. There's something particularly seductive about the country. At home I'm not a big drinker, in Puerto Vallarta it seemed perfectly natural to be drinking margaritas thick with pureed fruit before noon.
If you go:
Villa Mercedes Hotel: Calle Amapas #175
Que Pollazo: Ignacio Vallarta y Carranza, our favorite roast chicken place
Yoogulicious: facing the beach on Basilio Badillo, delicious frozen yogurt
Tailor (Oscar): 5 de Febrero #306, a tiny street before crossing the Rio Cuale
Prestige Rent A Car: Calle Amapas #229
La Bohemia: Constitución y Basilio Badillo, originally designed clothes and jewelry
Banderas Bay: Constitución #319A, an eclectic collection of antiques and crafts
Click on the green comment box to the left of the article as you read. Let me hear about your experiences. Ask questions. I'm happy to offer suggestions and look forward to solving challenges together. And check back every two weeks for my latest travel tips. Next blog: The Poshest of the Posh Hideaways on the Pacific Coast of Mexico
*Disclaimer: I receive no compensation for my recommendations.
Popular in the Community