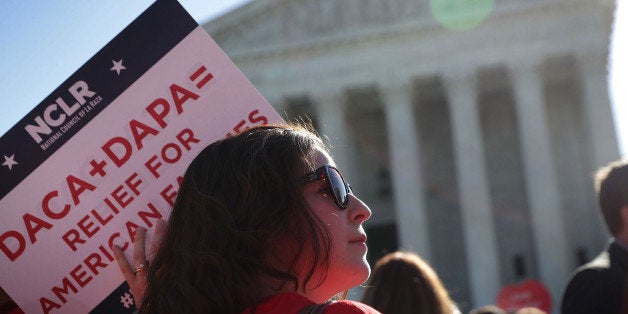 America's continuing journey toward a "more perfect union" envisioned by our Constitution continues Monday morning on opposite sides of Washington's 1st Street, the avenue separating the Capitol from the Supreme Court.
To the west, thousands of people from 300 organizations are set to converge on the Capitol grounds to conclude the Democracy Awakening, a three-day demonstration calling on Congress to pass legislation protecting voting rights and attacking big money in politics. The Awakening's call to action also includes demands that the Senate do its job and provide a fair hearing and an up or down vote on Merrick Garland, President Obama's nominee to fill the Supreme Court vacancy left by the death of Justice Antonin Scalia.
Across the street, the eight remaining Supreme Court justices will hear oral arguments in Texas v. United States, a case challenging President Obama's exercise of his executive authority on immigration relief. Specifically, the case relates to guidance Obama gave agencies that enforce immigration laws on how to temporarily prioritize deportations on a case-by-case basis, so that undocumented immigrants with strong family ties in the U.S. and no serious criminal history are less likely to be deported than are convicted criminals and recent entrants.
Approximately $18 billion was dedicated to immigration enforcement and border protection in 2013, a budget roughly 24 percent higher than the combined spending of all federal law enforcement agencies, but still only enough to finance a record high of deportations of approximately 3% of the total undocumented population. In a world of substantial but still finite resources, the Obama administration sensibly argues that prosecutorial discretion allows for the allocation of funds based on agency priorities and subject to certain limitations.
Although congressional gridlock and dysfunction have created the current crisis in America's immigration system, Congress's 30-year failure to enact comprehensive immigration reform is not the basis for Obama's authority to act. Rather, Executive authority for the exercise of prosecutorial discretion is steeped in the Constitution, reaffirmed by the Supreme Court, premised in administrative procedure law, and expressly provided for in the immigration statutes. Common Cause filed testimony to the House Committee on the Judiciary, with a full legal analysis which concludes that the President's Executive actions demonstrate a lawful, limited, and restrained step toward fixing an immigration system that is demonstrably broken, unjust, and unenforceable.
This brings us back to the Democracy Awakening and its call for Senate action to fill the high court vacancy. Congress's failure to do its job on another front -- in filling the Supreme Court vacancy -- has created a possibility of a 4-4 split among the remaining justices in Texas v. United States, which may let stand the ruling below by the Fifth Circuit Court of Appeals to block Obama's executive actions while the case proceeds to trial. Millions of families hang in the lurch.
The intersectionality of Monday morning's events on the National Mall is a reminder of the impact the government's current dysfunction has on a wide range of groups and issues due to its capture by the few, and the distance still to travel toward manifesting a more perfect union. The Democracy Awakening sets out an initial antidote by calling on the Senate to Do Its Job in filling the Supreme Court vacancy, and calling on Congress to pass specific pieces of legislation to remove big money's stranglehold over our political process and to enact critical voting rights and election law reforms.
#DoYourJob, #GetBigMoneyOut, #RestoreTheVRA, #UnfreezeDACA
Popular in the Community