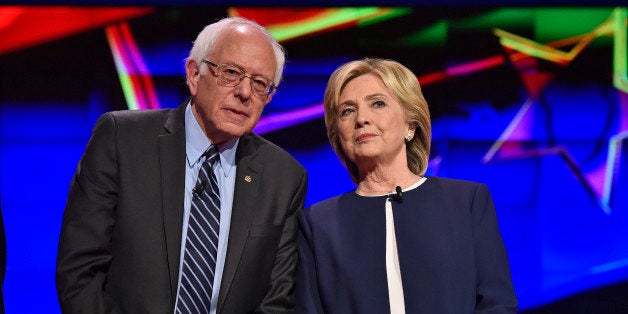 After eager anticipation to see what a primary debate would look like without a loudmouth oompa loompa billionare, who surgically attached a Troll Doll's scalp to his head before getting a swirly and then got overcooked in a tanning bed, American progressives finally received a refreshing discussion about grass-fed, hand-picked, free-range, organic policy platforms.
For those who missed last night's pillow fight, snuggle-time of a primetime CNN event, here is the Democratic debate in a nutshell.
Hillary Clinton has gone from business suit onesies to the star fleet commander outfit to show she's Oval Office material.
Bernie Sanders is Mr. Wacky Waving Inflatable Arm Flailing Tube Man who looks like he's either never used a comb or always gets electrocuted by shock pens.
Ummm... who are the other candidates?
Some guy who no one's ever heard of complained to Anderson Cooper that he didn't speak enough.
All the candidates tried to differentiate themselves from one another by agreeing with each other.
Bernie's defense of Hillary's email scandal marked an intense, pivotal moment followed by an hour long Kumbaya.
A debate consisting of four old white men and one old privileged white woman did a great job of tacking diversity and race relations.
Apparently Hillary doesn't have a bigger penis than Bill and it turns out she's actually a woman.
Putin will regret going into Syria for some reason.
Is socialism a thing in America now?
The candidates displayed their leadership skills and effort to bring bipartisanship and an end to political gridlock on Capitol Hill by insulting the Republican Party and stating how they're terrible enemies.
The true winner of the debate was Anderson Cooper. God that sexbomb of a news anchor is dreamy.
After this snooze fest of a debate about issues and policy substance, this event could've used Joe Biden jumping out of a fighter jet, shooting fireworks at the audience while having sex with a Hooters girl and running up to his vacant podium to announce his candidacy.
Calling all HuffPost superfans!
Sign up for membership to become a founding member and help shape HuffPost's next chapter