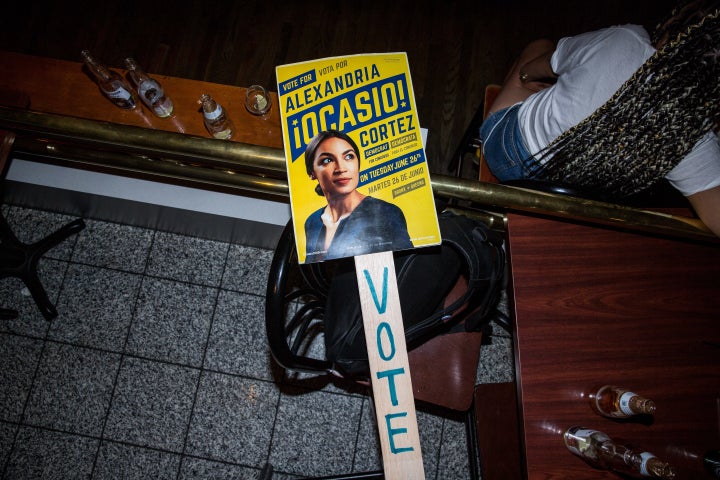 One upset in a U.S. House race does not a rebellion make.
Alexandria Ocasio-Cortez's upset victory over House Democratic Caucus Chair Joe Crowley is a seismic event in American politics – a 28-year-old socialist triumphing over a potential future speaker of the House, a man who had run Queens like a fiefdom and represented his district for two decades.
But its aftershocks are less clear.
Ocasio-Cortez's victory immediately drew comparisons to Rep. Dave Brat's (R-Va.) win over then-House Majority Leader Eric Cantor in the 2014 primaries. It makes sense. Both Ocasio-Cortez and Brat shockingly upset members of House leadership in primaries fueled in part by sharp ideological differences and a belief the incumbent had grown out of touch with their home districts. They both overcame massive fundraising disadvantages with grassroots organizing.
But there's a crucial difference: Cantor's loss came in the middle of the electoral earthquakes caused by the Tea Party's incessant jackhammering away in favor of conservative ideals. If the Ocasio-Cortez's victory is part of a similar movement – let's call it the Resistance, for simplicity's sake – that movement is still just registering on the Richter scale.
This cycle, three establishment-backed Democrats have lost U.S. House primaries: Crowley, former Rep. Brad Ashford in Nebraska, and Juanita Perez-Williams in a House district centered around Syracuse, New York. There's still time for more upsets – 19 more states have to hold their primaries, and some Democrats (hello, Massachusetts Rep. Mike Capuano) should be scared by Crowley's defeat. But the Democratic Congressional Campaign Committee has skated through the primaries, with its endorsed picks often trouncing progressive challengers – former Army Ranger and corporate lawyer Jason Crow took two-thirds of the vote in Colorado on Tuesday night.
In its inaugural electoral cycle in 2010, the Tea Party did a lot more damage. Former Rep. Pat Toomey chased Pennsylvania Sen. Arlen Specter out of the GOP entirely. Mike Lee shockingly ousted three-term Sen. Bob Bennet at a Utah GOP convention. Kentucky's Rand Paul shocked GOP Senate leader Mitch McConnell's handpicked candidate in his own state. Republicans nominated far-right, gaffe-prone candidates in Nevada (Sharron Angle told a group of Latinos they looked Asian) and Delaware (Christine O'Donnell told voters that she was not a witch), two Tea Party victories that blew the GOP's chances of winning precious Senate seats.
"We make a great mistake if we believe that these results are somehow an embrace of the Republican Party," a freshly-elected Sen. Marco Rubio said in November 2010, when the conservative insurgents were still reluctant to embrace their party.
Over the next two electoral cycles, the Tea Party would knock off another incumbent senator, two more incumbent congressmen and blow more winnable Senate races in Missouri and Indiana. By the time of Cantor's loss in June 2014, GOP politicians and strategists had adjusted to the group's tactics and strategy, and the Tea Party was already losing electoral potency.
(Brat's win was due more to immigration policy than to the fiscal issues that motivated the original Tea Party challengers, perhaps making him a bridge between the Tea Party and the rise of President Donald Trump.)
"One thing is for certain: Ocasio-Cortez's win will inspire other challengers, and progressives are going to keep coming after the establishment."
In big, statewide races, progressives have two major wins in the last year: Stacey Abrams' triumph in the Georgia governor's race, and former NAACP head Ben Jealous' win in the Maryland gubernatorial primary. But large parts of the national party, including big names like California Sen. Kamala Harris and Vermont Sen. Bernie Sanders, backed both candidates, even as state-level establishments resisted.
Progressive challengers have made no impact on the 2018 Senate landscape. The highest-profile intra-party Democratic challenger, California State Senate President Kevin De Leon, earned a mere 11 percent of the vote, 33 percentage points behind the incumbent, Dianne Feinstein. North Dakota's Heidi Heitkamp and West Virginia Sen. Joe Manchin, two Trump-friendly incumbents who have discussed joining the president's cabinet, swatted away primary challengers like flies. In Arizona, a blue-trending state that could make or break Senate control, the Democratic nominee is all but certain to be Rep. Kyrsten Sinema, who votes with Trump nearly 60 percent of the time.
Part of this is a matter of leadership. South Carolina Sen. Jim DeMint famously declared he'd rather have "30 Marco Rubios in the Senate than 60 Arlen Specters." (At the time, conservatives considered Rubio a paragon of integrity, not a spineless flip-flopper like Specter.) He helped groups like the Senate Conservatives Fund and the Club for Growth fund primary challenges. No Democratic leader has stepped up in a similar way. Massachusetts Sen. Elizabeth Warren has shown more interest in fundraising for her vulnerable colleagues than displacing them with someone more liberal, and Sen. Sanders' Our Revolution is less confrontational, with a record that is mixed at best.
And there's a key difference between the Tea Party challenges, which were purely ideological, and the generational and identity challenges that Democrats are facing. There are plenty of middle-aged moderate white men in the House and Senate Democratic caucuses, but few of them represent districts that are as diverse (48.2 percent Latino) and as young (only 12 percent of the population is 65 or older) as New York's 14th.
There's a monthlong break before the next round of primaries begins in August, and perhaps Ocasio-Cortez's earthquake will cause some fractures other progressives can exploit. Bank-friendly Delaware Sen. Tom Carper will face a primary in September, as will the aforementioned Capuano. Or maybe the left will really make its mark in 2020 when there's a presidential contest and a host of Democratic primaries for major Senate seats.
Maybe Democrats will learn to harness the Resistance's political energy and get the political upside that powered Republicans to a 2010 wave without the downside of unelectable candidates or endangered incumbents.
One thing is for certain: Ocasio-Cortez's win will inspire other challengers, and progressives are going to keep coming after the establishment. Just ask her.
"This is not an end, this is the beginning," she said in her victory speech. "This is the beginning because the message that we sent the world tonight is that it's not OK to put donors before your community."
Support HuffPost
The Stakes Have Never Been Higher
Popular in the Community