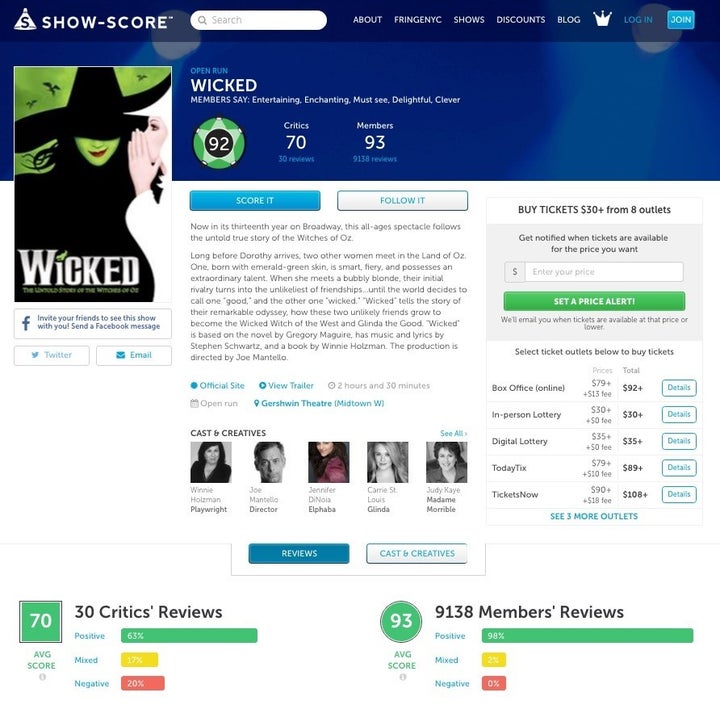 Media and its points of influence have evolved since the 90's when the Internet became a part of daily life. With social media and the proliferation of websites and blogs, everyone can have a say. Word of mouth has become words on screens of varying sizes. Influence has become a relative term—for good or bad—through sites like Yelp, Rotten Tomatoes and Fandango. Now, theater's been added to be mix with Show-Score, which has set out to democratize the review process.
Show-Score has created an innovative approach in serving up reviews and informing fans that hasn't been seen yet in this arm of the entertainment industry. The platform aggregates and samples theater reviews across the web, informs visitors of reviewers and sites they might enjoy, and solicits fan reviews with an app via a few simple questions about their theater-going experience.
Just one year old, Show-Score has gained impressive momentum. Measuring its accuracy, however, will take more time. Sites like Yelp and Fandango, for instance, don't necessarily capture an accurate view of businesses and films because they appeal mostly to the over enthusiastic or the truly dismayed.
But, Show-Score addresses the concerns of some fans (and some industry insiders) who have taken issue with traditional reviewers. They say those reviewers have lost touch with the tastes of theatergoers whose ticket buying power can ultimately determine long a show may run; Show-Score gives those fans a louder voice.
"In the eight months since we've started, consumers have written six times more member reviews on Show-Score than they have on Facebook, Yelp, and TripAdvisor combined," Show-Score founder Tom Melcher said in an interview conducted a few weeks prior to the Tony Awards. "It's amazing, particularly because the shows are telling you all the time, 'If you like the show review us on Facebook. If you like the show, review us on TripAdvisor.' None of the shows are really doing that for Show-Score, mostly just because we're new. I just checked the other day, we have something like four times as many reviews of 'Hamilton' as there are on Ticketmaster."
At the time of the interview, Melcher said that Show-Score had already attracted 57,000 members and 90,000 reviews. They had also launched a contest with Audience Rewards, for fans to predict the Tony winners in June. Since then, their base has grown to 80,000 members and 120,000 reviews.
"We're really filling a need," Melcher added when asked what he felt was behind this momentum. "Up until Show-Score came along, there really wasn't a place for the audience online. There are theater news sites, like Playbill, TheaterMania, BroadwayWorld, and Broadway.com. There's lots of great blogs… that are really more about the show and information about the show…. There are message boards, but those serve a very narrow audience of people," he said. "There really wasn't anything online for a normal theater fan to call home. Show-Score is that place. It's a community. If you think about it, we have 7,200 reviews of 'Wicked'. What's the motivation for somebody to write the 7,000th review? What people are telling us is that they just like the feeling of belonging to a community, like they can have their voice and say what they feel about the show, whether they liked it or they didn't like it."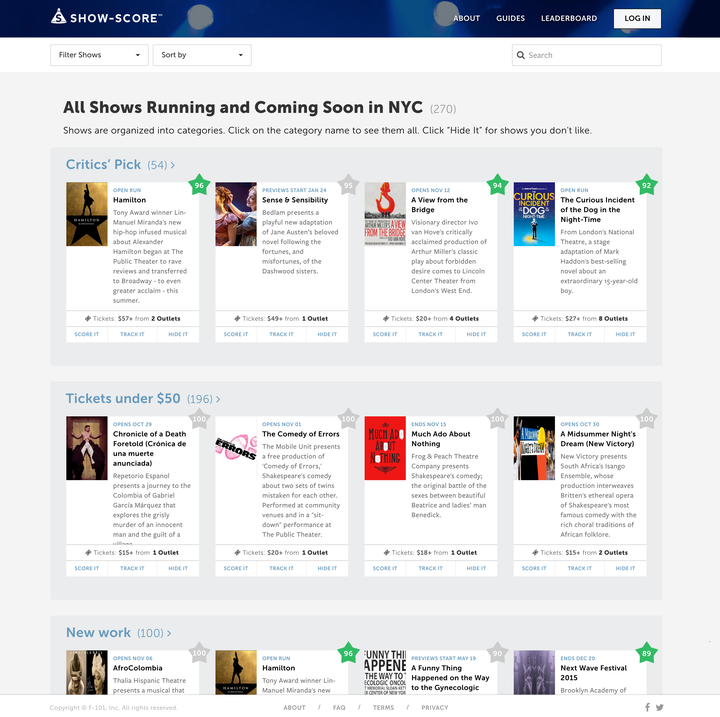 He also attributes their success and audience engagement to the way Show-Score enables audience members to rate shows, making it easy, and claiming that they see it as fun. "What we're really happy to hear from our members is that it's really fun. It is designed like a game," Melcher said. "It takes 90 seconds and two thumbs to do on your phone."
Melcher says that as a result, Show-Score sees dramatically higher engagement rates as compared to more established sites; around 60 percent. "If you look at TripAdvisor or Goodreads or Amazon, what percentage of people write reviews? It's at three percent."
Melcher also cites their engagement tactics as a driver, with Show-Score offering followers perks such as "member nights," where fans are offered free tickets to shows and encouraged to rate it on Show-Score (but not required). "We started inviting Show-Score members to the shows that were saying, 'Hey, here's 30 seats to previews. Can you please find Show-Score members who you think would like the show?' Melcher explained, reflecting a challenge new shows often face prior to official reviews: empty seats and a need to generate word-of-mouth.
In place of seat-filling services and other means to get theatergoers in the door, Melcher and the Show-Score team are offering these shows the added benefit of controlled influence. Attending fans have a powerful tool by which they can now share their perspective with others, and one might assume they will often do so positively in return for the free tickets. "We go into the database and look at people's scoring behavior and say, 'Looks like this person actually might like the show,' so we offer them a free ticket and they go," Melcher explained.
"We were overwhelmed by the response from members. We were oversubscribed every single time," he said about the reaction to these free ticket offers. "We had way more demand than supply, so then we said, you have to score at least six shows that you've seen to become eligible. We picked six because we figured that was a big number. Well, it turns out for our audience, it's not," Melcher added.
But how did it all come about? "I'm one of these guys in high school… I was simultaneously the president of the computer club and the star and producer of the senior class play. It's taken me 53 years to finally make sense of that, because you can imagine, at that the time in the '70s, people in high school are like, 'Boy are you weird!'" Melcher explained. Since then he's worked largely in technology, software and Internet programming, "But my hobby has always been going to the theater."
Melcher and his wife moved to New York City three years ago, and decided to take a year off to indulge in their combined love of shows. "We saw 250 shows in the first year we moved to New York. We actually stopped counting at 250 shows. We probably saw more," he shared. "In the process of doing that, I was very frustrated by how hard it was to figure out what to see. As I went around and asked other people about this, they had the same reaction as me," he added and remarked that anecdotally he found that those people went a handful of times a year, but seemed interested in going more often if they were able to pick a show they knew they were likely to enjoy. So he said he created Show-Score to fill this need (a Rotten Tomatoes of theater) and in part a way to impact the industry itself.
"It really bothers me personally on a molecular level when I go to a show and there are empty seats," he said. "In a city of nine million people, that just should not be the case."
"I want to fill all of these houses, and I want people to see more theater," Melcher said and added clearly, "You go to shows that you like, you're going to go more often. It's just that simple."