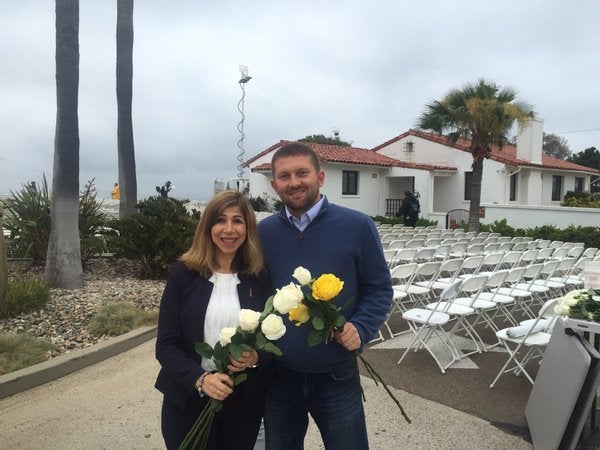 The partisan rhetoric in our nation is at an all-time high in our modern history, the likes of which has not been seen since the Civil Rights fights in the 1960s.
When voting, many just stick with their party's pick all the way down the ballot. Following the 2016 presidential election, many in our country are now clamoring for independent candidates to run and win—but the simple fact is that winning elections costs money, political parties hold the majority of campaign funds and donations, and so until we change that, candidates must identify with a party.
I am a lifelong Democrat who supports smart, principled candidates and who has never voted for a Republican. However, I recognize that we need to step beyond partisan divides in order to achieve change both now and in the future—therefore, in 2018, I am voting for Summer Stephan for San Diego District Attorney because regardless of party, she is an independent, thoughtful, and progressive leader who will work relentlessly to improve our city.
Summer Stephan is the only declared candidate for San Diego County District Attorney, a non-partisan office here in our region. She's a veteran prosecutor with 27 years on the job who has faced some of our region's toughest cases. In just a few weeks, she will take up her appointed role by the San Diego County Board of Supervisors as Interim DA, filling the shoes of departing DA Bonnie Dumanis.
I met Summer through the Lawyer's Club of San Diego Human Trafficking Collaborative. I was immediately struck by how she filled up the room with her gravitas, all the while maintaining a humble and engaging demeanor as well as a quiet but confident voice. She spoke about victims of human trafficking in a compassionate manner, earned through years of working in the trenches with some of the most heartbreaking cases you've never heard of. With every case that landed on her desk, she has played an outsized role in ensuring fairness and justice for victims and their families.
Summer is dedicated to rehabilitation and understands that not everyone who breaks the law is malicious. She knows that sometimes life happens, and not everyone gets a fair shake. Therefore, when she's prosecuting someone, she works very hard to make sure that the punishment fits the crime.
Summer keeps a photo of a deceased former colleague on her desk. George Loyd was a heroic Marine and a Deputy District Attorney who opened Summer's eyes to the need for a Veterans Treatment Court—which they then founded together when she was the Chief of the North County Branch. Today, the Veterans Treatment Court is a model for the nation, helping folks who served their country and may be suffering invisible wounds by providing mental health treatment and job training. Upon graduation from the program, their criminal records are cleared so they are able to reintegrate into society.
When I mentioned my support for Summer in the company of some of my fellow Democrats, I was shocked at their response. My party is supposed to be the party of acceptance and inclusion, and yet, here were some of my closest friends and colleagues taking shots at a woman they had never met and assumed the worst about. I won't apologize for supporting her, and I won't be shamed for not waiting to see who decides to run from the left. I will, however, explain why I think we should all be supporting her.
Summer has made a career of thinking about the big picture. She is a tough as nails prosecutor who seeks justice for the victims of crimes, but with the understanding that not everything is solved with jail time. She knows that we have a mass incarceration problem in our nation, and she knows that Black Lives Matter. She also knows that investing in someone who messed up, in the form of a diversion program, can result in better outcomes for the person and the community.
No doubt, some will reference the Stephanie Crowe case as a reason they oppose Stephan for DA—but I say they should look a little bit deeper. If one digs just a bit, they find that she was the second DA assigned to the case, and it was supposed to be temporary. They'll also note that she was relatively new in the DA's office at the time, and so when she arrived, the charges had already been filed, leaving her very little room. In fact, she argued that the cases should be dismissed against Crowe's brother and his friends. When she was sued for defamation by the family, the case was dismissed on the grounds of having no merit. It is clear that Summer is a great prosecutor, AND she leads with true integrity.
I am a lifelong Democrat and proud to be one. I am also a veteran, a single father, and the son of a single mother. I'm supporting Summer because she has proven, through 27 years of action, that her values are progressive and match mine. I don't care who her consultant is or what her party registration is. I care that she sticks to her values, keeps that stubbornness and dedication to duty she has always had, and remains a good steward of justice in San Diego.
If you value human rights and equal rights, Summer is the candidate for you.
If you value fair and appropriate justice, Summer is the candidate for you.
If you call yourself a progressive, Summer is the candidate for you.
Shawn VanDiver is a 12 year Navy veteran, community leader, and lifelong Democrat.
Popular in the Community