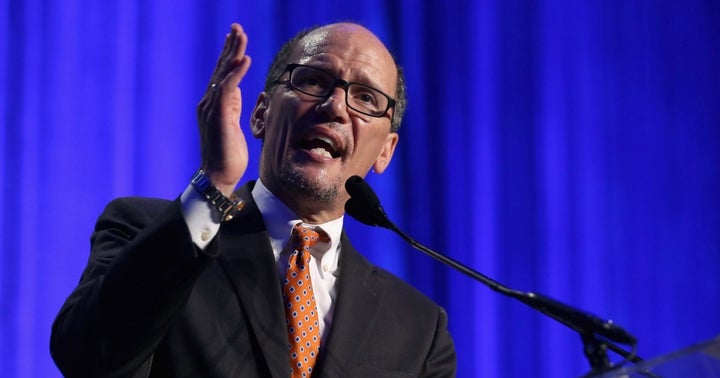 Welp, The Democrats elected the establishment guy as their new chair. They went all-in on the same political structures and operations that failed against The Apricot Buffoon Fascist™️ — and a lot of people are pretty upset. Hillary Clinton was without question a monumentally better candidate for President of The United States than Donald Trump, but she was not "the people's candidate." Trump was not either, though he managed to convince the largest voting bloc that he was.
What happened is not what I wanted to happen, but it's not a massive shock to me. It really shouldn't be one to any progressive. But the reaction can't be the same as it was after the Democratic primary. We have to be smarter from here on out.
It's time to stop regarding political parties as the solution.
We've spent a lot of time talking about subverting the Democrats, voting for a third party, or attempting to start a new one, and let me be the millionth to say it: we aren't going to be able to start an insurgent progressive party in enough time to take any national seats in 2018.
"Fine," you might say. "I know it's going to take a long time. I know the last time an insurgent party managed to burst into the mainstream was the Republicans way back in 1854. I don't care. We have to do it."
The Democrats aren't going to fight this fight for us or with us. They're going to do what makes things easier for The Democrats.
If there isn't a shift towards the left in our national legislative branch, 2018 will see a dismantling of the Constitution. If there is even a minor movement to the right from where we are right now, changes to the Constitution would be paced rapidly. Given the current regime's authoritarianism, this is not something we want to happen.
The bar is extremely low to block this situation from happening; it can be a few Senate seats going blue and it totally grinds that to a halt. This would be extremely easy to do if we just do it. The Democrats that continually choose a path that large amounts of people are wholly unexcited to participate in are not going to, though, so let's keep that in mind.
Many people's response is that we need an insurgent party or a third party. If this were Canada or the United Kingdom, that would absolutely be the path to take. In the US, though, these types of parties are systematically excluded from mainstream politics. Not to discourage; my opinion is that we need more parties. But this can't be the route we take without changing the system first. I did an episode of my "Very Important Documentaries" series on this system. Watch it on Amazon here.
That we do not have time to make a robust, leftist party that can beat Trump was why I was invested in an Ellison win. Things did not go that way.
A Jumping Off Point
Two things. First, we must work outside the system. Second, we must make Democrats follow us. Bernie Sanders and Keith Ellison are two people who have gotten extremely close to the ability to change things from the inside.
The solution is right in front of us, by the way. Since we can't get them to turn over power with pressure, we make the pressure into power. Systematically, their power is derived from wealthy donors — or they wouldn't install establishment candidates that are friendly to wealthy donors. It's pretty obvious.
Doing this stuff inside the system isn't going to work. Forming a party around ideology or ideas isn't going to work. Wearing the system down is all that works.
What people are doing right now with Donald Trump's GOP — forcing town halls, making a ruckus, holding everyone accountable — has to be the model for progressive change in American politics. Doing this stuff inside the system isn't going to work. Forming a party around ideology or ideas isn't going to work.
Wearing the system down is all that works. You know why I say that? Look at what it's doing to Orangepocalypse Now's regime. GOP Reps and Senators are dealing with the blowback from, say, a Trump supporter angry that coal jobs aren't actually being saved like they've all been promised. They're being forced to act as a buffer between angry voters and The Tangerine — and they aren't taking it well.
We have to rise up in huge numbers and demand accountability and remind these people where their power is derived from — their constituents. We have to picket. We have to spread information. We have to present progressive ideas. We have to push those in power and we have to help those who aren't. We have to be a coalition of the people, by the people, for the people, and accountable to the people — and we have to force our representatives to represent us.
The Democrats May Never Get It
It's never going to be satisfying, because the Democrats are never going to seem like they get it. In fact, they flat-out may never actually get it. We may just have to force to understand that if they aren't pandering to us, they're losing the next election because this progressive, people's coalition will band together and end them.
We can't be above getting progressive changes for people of color, women, trans folks, non-binary folks, workers, the poor, and people sitting at every intersection of these categories and more for the wrong reasons. If these folks get better lives because Democrats pander to their constituents, fine. If material changes come from a threat to the power of our elected officials, good.
The Democrats aren't going to fight this fight for us or with us. They're going to do what makes things easier for The Democrats. We have to drag them into the fight and remind them that they have more in common with the people's enemies than the people themselves.
It's time to give up on parties as a vehicle for change. It's time to just start changing things and letting parties catch up.
Peter Coffin is a writer and performer. Aside from essays, he also creates web series. You can support all of his endeavors via Patreon.
BEFORE YOU GO