The U.S. Department of Justice has opened an investigation into a white police officer's fatal shooting of an unarmed black teenager in the Dallas area, a spokeswoman for the local district attorney's office said on Thursday.
Dallas County prosecutors have charged former Balch Springs police officer Roy Oliver, 37, with murder in connection with the April 29 shooting of Jordan Edwards, 15.
Oliver, along with another officer, had responded to reports of underage drinking at a house party in Balch Springs, a predominantly black and Hispanic city about 15 miles (25 km) from Dallas, according to court papers.
After hearing gunfire, the two officers approached the occupants of a sedan at an intersection, the court papers said. One officer told the driver to stop and broke open a window on the car before Oliver shot into the sedan with a rifle, as it drove past him, the documents state.
Edwards, who was in the car, was shot in the head and pronounced dead at a local hospital.
The shooting stoked simmering tensions over perceived racial bias in U.S. policing.
Oliver, who was dismissed by Balch Springs police after the shooting, turned himself in on May 5 to face the murder charge. He was later freed on bail of $300,000.
Brittany Dunn, a spokeswoman for the Dallas County District Attorney's Office, confirmed in an email on Thursday that the U.S. Department of Justice had opened an investigation into the shooting which would proceed separately from her office's probe.
A representative for the Department of Justice could not be reached for comment.
The Department of Justice has in the past investigated police departments and officers' use of force to uncover possible civil rights abuses.
The Dallas Morning News, citing two unnamed law enforcement sources, reported on Thursday that the gunfire the two Balch Springs officers heard on April 29 came from the parking lot of a nursing home in the area and those bullets were likely fired in the air.
Investigators recovered shell casings from that lot, the newspaper reported. It was unclear who fired those shots.
Edwards has been described by friends and family as a good student and athlete. His two brothers were in the car with him and watched him die, an Edwards family lawyer has said.
Edwards' father has sued Oliver and Balch Springs, alleging his son was the victim of excessive force.
(Reporting by Alex Dobuzinskis in Los Angeles and Bernie Woodall in Fort Lauderdale, Florida; Editing by Simon Cameron-Moore)
Before You Go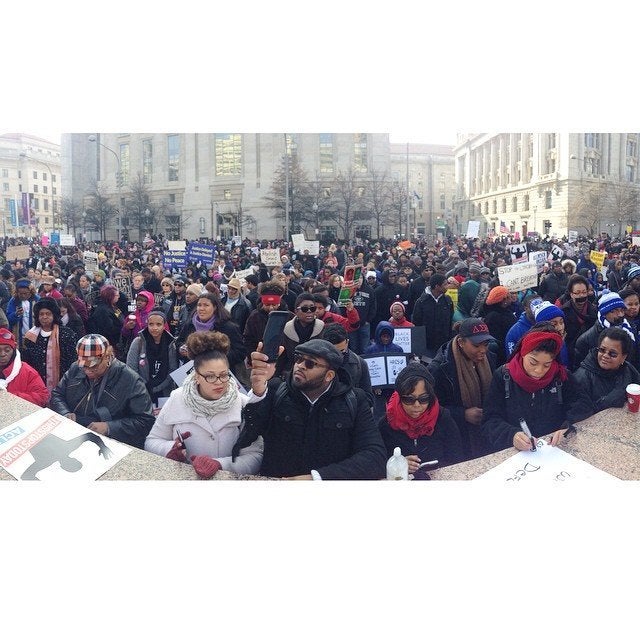 Powerful Black Lives Matter March In Washington
Popular in the Community