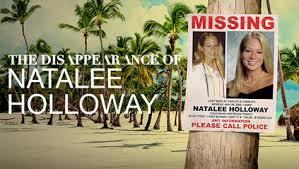 A new Oxygen series highlights a father's determination for justice and how it leads to serious revelations in a cold case. The Disappearance of Natalee Holloway, an 18 year old who went to Aruba following high school graduation and vanished 12 years ago, has perplexed and saddened investigators, true crime buffs, armchair detectives and those following the case. It goes without saying that the most devastated people are her family members. While Joran van der Sloot sits in a jail cell for the murder of Stephany Flores, a crime he confessed to saying he snapped when she went online looking for information on him as a suspect in the Holloway case, Natalee's remains were never found. Van der Sloot also famously misled detectives and tried to extort money from Natalee's mother Beth, providing false information about the whereabouts of her body http://abcnews.go.com/GMA/International/joran-van-der-sloot-extortion-plot-natalee-holloway/story?id=10824621. In the new-six part series premiering August 19th, we learn he may have confided in a friend, providing information nobody knows.
T.J. Ward, Dave Holloway's longtime detective who has become a friend (he keeps a photo of Natalee in his office), has been working on the case since it began in 2005. In the Oxygen series, he vets an informant named Gabriel that comes forward to report a confession from a friend of van der Sloot's, John Ludwig. While Ludwig appears to be a shady character, he has given an account to Gabriel that sounds highly credible with information only those closest to the case know about.
In a phone interview for The Huffington Post with Dave Holloway and T.J. Ward, the investigator confirms that he used lie detection methods (voice layering analysis) and professional tactics to determine if Gabriel was a reliable informant. "In my initial meeting with Gabriel, we sat him down and gave him a massive interview," says Ward, "We believe some of the information that was given to him from John because John and Joran were good friends. There were details that had not been made public in what John told Gabriel."
In one disturbing scene of The Disappearance of Natalee Holloway, Ludwig is shown in a video shot by Gabriel watching his own past appearance on Nancy Grace, mocking the host loudly and ranting wildly about Stefany Flores. Ludwig's undying loyalty to van der Sloot is reminiscent of those obsessed with serial killers "There is a lot we end up finding out about Joran and John's relationship that you will see in this series," Ward adds.
"The details Gabriel gave us were too credible to discount," Dave Holloway explains, "Joran's godfather was in the Ministry of Justice and Joran's father Paulus van der sloot (who passed away from a sudden heart attack in 2010) was a judge in training. It's no secret that Aruba's law enforcement was not vigilant about looking into this when Natalee first was reported missing. We believe Joran was protected by his family's connections."
When asked if his ex wife Beth is supportive about this new show and Dave's involvement in uncovering new leads, he says "no, she is not and let me give you some history: Back in 2015 when we got involved with this Marriott case (http://www.cnn.com/2015/05/28/world/natalee-holloway-new-tip/index.html), I was skeptical about it and Beth too, but this guy kept going on and on and involved my family. We were able to get satellite images and we had to put that to rest when nothing was found to help us. Family members got their hopes up over and over and over....It took a toll on (Natalee's mom) Beth and I saw how devastating it also was to my wife Robin. I promised myself not to bring anyone else in - to avoid destroying my family. We went through a healing process and then 2 months later, Gabriel called."
Dave says that in 2015 they had just finished looking into the lead about the Marriott Hotel in Aruba and then thing went quiet: "We would get calls from wannabe psychics and those with theories and speculations. Gabe's call was patched through and he said not to hang up. I reluctantly called him back and something stirred my interest. He also said that he had tried to contact the FBI and was frustrated that no one got back to him. I said 'I know the feeling!' and asked if he would mind talking to a private investigator, gave him TJ's number and TJ took it from there."
In the series premiere, Gabriel explains "I'm a father of 2 daughters. I feel obligated to solve this. I want to help." He says he knew John Ludwig for about 4 years and Ludwig went to Aruba because he had an aunt living there. Ludwig bumped into van der sloot and wanted to be his friend after seeing him on TV. Eventually, van der Sloot not only confided in Ludwig, but asked for his help moving Natalee's body from its hidden location as he felt the pressure of authorities about to close in.
Viewers will wonder about Ludwig's credibility, if DNA or other type of evidence can be collected based on newly obtained statements, how van der Sloot's father possibly covered up his son's crime, and if Gabriel will crack under the pressure of what's expected of him next. He becomes an integral part of a riveting sting investigation.
Ward says: "Through the sting operation, We end up finding out a lot more about John and Joran's relationship. It's really mind blowing."
Tune in to Oxygen August 19th, 7/6c and 9/8c, for the series premiere of The Disappearance of Natalee Holloway.