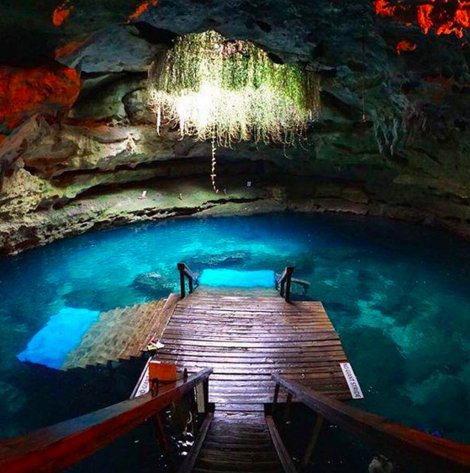 Apart from some other devilish entities I will not here name, Florida has its fair share of weirdness and oddities. Many are artificial, but this one is natural. The tiny town of Williston (less than 3,000 inhabitants) is famous for its peanuts and the festival that goes with it, but also for an incredible subterranean network of water flow and rivers.
Below Gainesville and right smack in the middle of nowhere -- you really must go there on purpose, as this is not a passing zone -- Devil's Den is savantly called a karst window, a phenomenon that happens naturally when a roof covering an underground river collapses, exposing the waters underneath to the open.
The rounded shape of the Devil's Den makes it an ideal hole to dive into, and is a well-known facility operating as a scuba training center and other recreational facility. The constant water temperature of the river is a pleasant 72 °F (22 °C) degree. When the weather outside turns colder, the vapor rising from the surface of the river forms a visibly ghostly plume above the entrance to the cave, and the early settlers in the region believed it was a chimney from Hell.
The spooky name stuck. The inverted mushroom cave extends to 200 feet (61 m) across. Four underwater tunnels reach 5 feet (1.5 m) to 90 feet (27 m) under the surface of the water. One of the passages contained animal and human remains when it was discovered. The animal remains included mastodons, sloths, camels, horses, wolves, bears, and saber-tooth cats, clearly making the grotto a known refuge to various species throughout time.
Some human remains were dated back to about 7,500 BC. The found extinct animal fossils dating back to the Pleistocene Age are on display at The University of Florida's Museum of Natural History. Definitely one more attraction to the Florida catalogue, this one is unique and really worth a visit, when Disney's charms have totally exhausted you, this is a calm little oasis with lake, cabins, picnic tables and the soothing sound of waters.
Devil's Den is only open to scuba divers and snorkelers -- not to casual swimmers. Admission is charged.