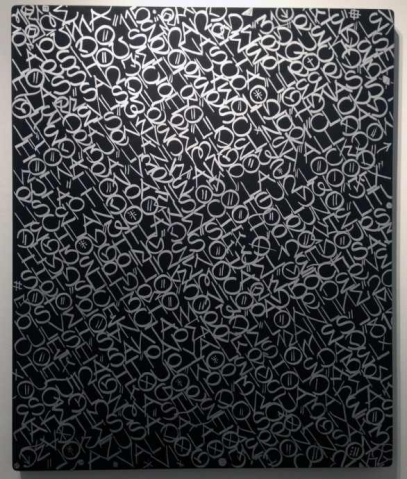 The name Joe Reza "Prime" should be a household name, one that everyone should recognize. Just as other artists associated with Los Angeles like Ed Ruscha, David Hockney or Larry Bell, who have contributed to the arts and culture of the region, the biggest difference being that Prime is actually from here. His story begins on the streets of the Pico Union district, an area historically recognized for its high density and crime, yet some outstanding artists have emerged from there. This has long been the case to some extent in the Latino community, the lack of social resources and the arts which have contributed to the marginalization of many of our people, has led to high levels of stylized creativity. Paradoxically, when dealing with the arts, some of the masters in any field never had proper training and took more chances because of a lack of resources and experimented with whatever was available, while many with education and schooling never had true experiences and often end up being artistic bureaucrats and teaching others how to be great. In his early years, Joe Reza was influenced by street gang cement carvings, cholo lettering, the Lowrider and QVO magazines, and the ecology of the streets. In these types of neighborhoods, if you walked out of your house on the way to a local elementary or junior high, chances are you would have seen several hit ups, placasos, or gang members loitering around by the time you arrived. The street gallery was dark, exhilarating, intriguing and edgy, one where survival was always at stake, and if you weren't a gang member, you didn't do gang writing.
When East Coast style graffiti hit Los Angeles via Subway Art, films and documentaries, Joe Reza was drawn to it at once. He used to spend all his time at Radiotron in McArthur Park, a youth center and alternative space founded by Carmelo Alvarez where breakdancing and graffiti flourished, but in 1985 was demolished to build a mall. There were protests and marches to save the space, but eventually it was defeated. During its tenure, the first graffiti crew in L.A. was founded there, the Los Angeles Bomb Squad and soon other crews followed suit. He took his name from a spray can, the primer color, dropped the R and became Prime. Shortly thereafter, with fellow colleagues Rick One/Crime, Geo, Risco, and Defer, they founded the K2S crew, Kill 2 Succeed, which today is hailed as the origin of Los Angeles style graffiti. In Steve Grody's book Graffiti L.A., several prominent graffiti writers from all over the county like AWR, MSK, WCA, and others have collectively agreed that K2S were the pioneers of the L.A. look, which has somewhat of an aggressive, monochromatic, and bold aesthetic, in direct opposition to other regions of the county that focused on brighter palates and rounded shapes. Prime and other members of his crew focused on block letters, sharp arrows and cuts, dark and solid tones, which was reflective of their community and more representational of Los Angeles as a whole, serving to debunk the myth of the glamorous boosterism of other peoples work.
In 1986 the first friendly graffiti battle at the infamous Belmont Tunnel brought K2S and WCA to the forefront of the scene and in direct opposition. The WCA members focused on New York-influenced style and imagery, while Prime executed a masterpiece with sharp cuts and arrows and a character never before rendered in this fashion, thus proving him victorious. Modestly, Prime will tell you today that during that period of his life, he didn't consider it art, and at that age he was already more advanced than the average graffiti writer, even by today's standards. Around the late 80s, his good friend Geo was murdered, and in 1989 Prime was shot at point blank range by two assailants in the arm, which scarred him from the armpit to the wrist. He lost all feeling in his hand and arm for about six months, which the lack of dexterity forced him to learn to write, draw, and paint with his left. After a few years of recovery and becoming ambidextrous by default, he learned how to switch off, specifically with a spray can since it is arduous to manage a nozzle. Just seeing him hold a writing tool in his right hand with a different grip as if ready to carve, then seeing him switch to his left is enough for any artist to feel intimidated by his presence.
Today, Prime is considered a master of technique, style, and typeface, and has exhibited with several prominent artists. His work has appeared and has been documented in several books, and he was a part of the Art in the Streets collaborative wall exhibition at MOCA in 2011. He designed the front cover for the Getty Black Book, and he is scheduled to collaborate at the Scratch exhibition at ESMoA along with Defer, Big Sleeps, Gajin Fujita, Cryprik, and Patrick Martinez. His work originates from a dark place, from the bleak and somber environment from which he was spawned, yet his progressive, bold, and forward thinking process has earned him a significant place in the Los Angeles art scene.
Popular in the Community