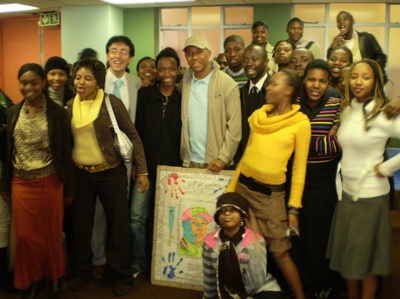 Taddy Blecher (in the tie) and me, with Maharishi Institute Students,
after meditation and discussion. The students presented me with special
artwork they made for my visit.
In South Africa this week for my work to grow the Diamond Empowerment Fund (D.E.F.), a non-profit I co-founded last year to support educational empowerment programs in African nations where diamonds are a natural resource.

Traveled to Sun City, a couple of hours from Johannesburg at the invitation of the Diamond Trading Company (DTC) to speak to the Sightholders about diamonds for good and how they can get involved in supporting greater opportunity for young Africans through access to higher education. Varda Shine, the Managing Director of the DTC and a D.E.F. Board Member, gave us this important platform for D.E.F.'s cause and goals of getting the international diamond jewelry industry on board. FYI, the Sightholders are 78 companies from all over the world that have the exclusive opportunity to buy diamonds directly from the DTC, so having a chance to speak with these people was a very good step for this movement.

Festus Mogae, the former President of the Republic of Botswana also spoke and delivered a great keynote about the karmic response to giving already in motion. He believes the greater focus on philanthropic, social and economic empowerment efforts by D.E.F. and other programs lead by the Sightholders is leading to better opportunities for everyone. Botswana is the undisputed worldwide leader in how diamonds can build a nation and empower its people so when he speaks, I listen closely! He just joined D.E.F.'s Advisory Board which is a great new development for us.

Now in Johannesburg, where I just spent the day with the students of CIDA and the Maharishi Institute and their founder Taddy Blecher. CIDA is D.E.F.'s first named beneficiary of our fundraising efforts, and the Maharishi Institute is a new school that I got to see for the first time
today. The original CIDA organization (Community and Individual Development Association) started 20 years ago teaching free transcendental meditation for disadvantaged communities. CIDA City Campus and CIDA Foundation College launched ten years later as a low-cost method to combine consciousness learning methods with higher education/business degree programs, vocational programs, and student service to the school and to the community as fundamental principles. CIDA became the first essentially free college in Africa. When I was introduced to CIDA in 2006 by Jennifer Oppenheimer after meeting her at the Clinton Global Initiative, I found a beautiful school with 1,500 students who were practicing yoga and meditation as a balance to their academic studies. The combination was magic to me -- and the proof was in the success CIDA students had in getting jobs that helped them to support not just themselves but often their extended families. CIDA needed help to grow a $35 million endowment for sustainability and to pursue long term strategies for continued growth. I've focused my energies on this goal and over the past year CIDA and Maharishi Institute have received gifts from De Beers, Anglo American, and other individuals in the diamond jewelry industry of more than $9 million. This is a good start but there's so much more to that needs to be done.
The expansion of the CIDA organization is now the goal, with two linked educational institutions that will provide the opportunity to serve 33% more students, and offer a broader range of options for students: from CIDA City Campus becoming a more academically rigorous business university, to the Maharishi Institute, and Foundation College focused on foundation courses and vocational education preparing students for university-level studies, while combining service to the school/community and consciousness based principles on a daily basis. Was interested to learn the Foundation College will become an "eco-campus" beginning in 2009 with a focus on sustainability in every aspect of their curriculum.
After being with the Maharishi Institute students today practicing transcendental meditation together and speaking with them about their lives and where they want to go, I am more inspired than ever. I believe that if we can take the good instincts of the industry that more must be done to empower Africa, and we can build on it, we can make something very good happen here. D.E.F.'s off to a good start one year into the game, but this is a long distance run and I am not satisfied, we have not done enough. As we work together and each of us gains comfort in their own seat we can give more. Those of us who have had success in the world will never know true success until we achieve a balance of what we need to keep for ourselves and what we can give as our gifts to humanity.

O.K. Gotta go, it's time for the 17 hours in the air back to New York City.
With great love all things are possible.
-- Russell
REAL LIFE. REAL NEWS. REAL VOICES.
Help us tell more of the stories that matter from voices that too often remain unheard.