 Watching heart-wrenching stories about destitute Greeks coping with the crisis that has consumed the nation isn't exactly what I had in mind when I journeyed home for the holidays. But this is exactly what I'm seeing minute after minute on the various Greek satellite television channels at my mother's house.
Add to that a constant flow of mainstream news stories on my Facebook newsfeed about the increase in suicide in Greece, the demise of the country's healthcare system, a rise in homelessness and young kids dying because they can't get basic healthcare.
Then I saw a headline on a blog -- that the "diaspora" was coming to the rescue of Greeks in Greece. I thought "at last, a humanitarian effort to assist the needy by the Church in America... or a toys for tots drive by the AHEPA to send boatloads of toys to destitute Greek children so they wouldn't miss Christmas this year.
I was mistaken, in part, to think this way. It was in fact, the American Jewish community that was coming to the rescue of their "cherished friends" in Greece -- especially their most Greek Jewish vulnerable Holocaust survivors in Thessaloniki. Props to the American Jewish Committee for this effort.
I am embarrassed to admit that my own community -- good people who work tirelessly and passionately every day for the promotion of the Greek faith, heritage, language, history and ideals--have been absent thus far from the conversation about how we can help Greece--or more importantly, how we can help Greeks right now.
How is it possible that the wealthiest and most prominent Greek diaspora community in the world hasn't offered up a single plan to assist the people of Greece, or to support those who have decided to immigrate (even temporarily) to the United States during this time of crisis?
All of those dinner dances, all of those conventions... We proudly proclaim to our American friends and neighbors that we are the continuation of great Greeks like Archimedes, Aristotle, Socrates, St. Nicholas and Cleopatra.
Reports show that over 2,500 Greeks have already left for Australia, thanks in large part to an organized plan by the Australian embassy in Athens and that country's Greek communities. The story in The Guardian has an estimated 40,000 in Greece hoping to depart for Down Under soon.
What are we doing to (a) support similar efforts here in the United States and Canada to assist those who have no alternative but to leave Greece? More importantly, what are we doing who have no opportunity for immigration and have to stay in Greece. The quick answer: nothing that I know of, or nothing that's been reported in any of the Greek media to a huge extent. (*If there are assistance-related activities going on, I'd love to know about them!)
The first explanation is that many Greek Americans have turned their back on Greece all together. They have become so far removed (generationally) from Greece and no direct family connection remains to the "old country." As a result, they have created their own "Greek American" identity and ethnicity that has no direct connection to the actual nation of modern Greece.
The second explanation -- as highlighted by Kathimerini's columnist Alexis Papachelas in an insightful piece, is the growing "spiritual and intellectual" distance between Greeks on each side of the Atlantic:
It is not that they don't sympathize with what is going on here, or that they are indifferent to the problems faced by Greeks. It is more as though they don't really understand us right now and they are terribly saddened by the decline of the country... They are bothered, for example, by the widespread corruption that usually manifests itself in the ostentatious lifestyle of the nouveau riche. They find the sight of hundreds of young men and women whiling away their days at cafes, apparently free of any angst about their futures, odd. They are enraged by the behavior of the Greek state, and by that of many of its representatives, toward people who want to make an investment in Greece or who have a job to get done.
Papachelas -- and other observers are right. There is a distance. And although he may be blaming his own countrymen more than mine for the divide -- I blame my own (Greek Americans) for not seeing through the trees at this pivotal, critical and challenging time for a nation of 10 million people who need our help right now.
Right now, I don't care if Greeks haven't paid a penny of taxes, or have sat aimlessly at coffee shops or have bribed their way through life... For now, let's just focus on helping the most vulnerable in society and helping them get through this mess they are in.
Greece needs its diaspora community to step up. It's high time we used some of those very Greek ideals of philanthropia (philanthropy), symbonia (compassion) and philoxenia (hospitality) that define our very Greekness that we espouse so deeply in our churches, communities and families and begin to make a difference.
The last time we had a massive effort to assist Greece was in the 1940s after the devastation of World War II and the Nazi occupation of the country that left millions starving and dead, and thousands of villages burned. Back then, it was Spyros Skouras and Archbishop Athenagoras who stepped up and began an effort known then as the Greek War Relief Association, raising millions of dollars for food, equipment and supplies to assist the destitute people of Greece.
Back then, Greeks from all walks of life, Greeks of all shapes, sizes and political affiliation and community involvement united in the name of humanitarian support. And while the circumstances may not be as dire as they were in the 1940s -- hundreds of thousands of people face some of the most challenging times of their own lifetimes right now.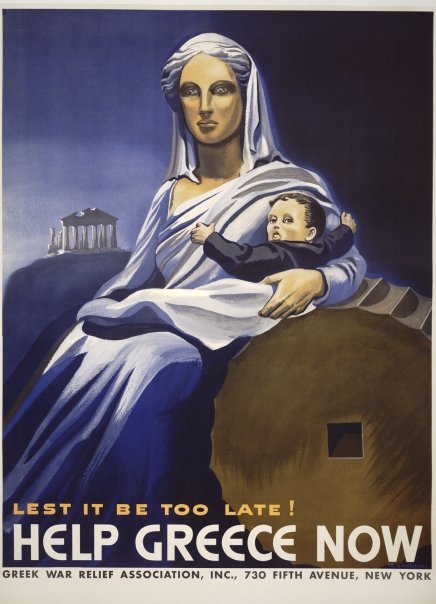 My New Years Resolution is to work hard to try and connect the Greek North American diaspora community under a single, united effort with no agenda other than one: to provide material, humanitarian and financial assistance to Greeks in need. Period. Are you with me? If you are, message me at greg@pappasmediagroup.com
Calling all HuffPost superfans!
Sign up for membership to become a founding member and help shape HuffPost's next chapter