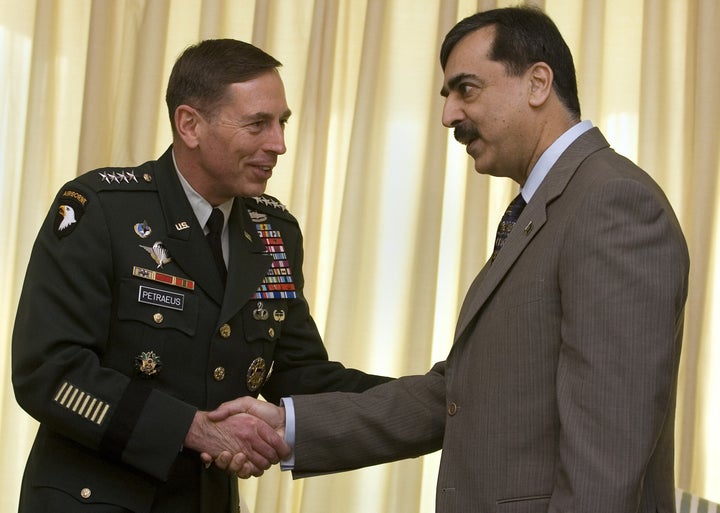 56-year old Prime Minister Syed Yousuf Raza Gilani, is a tall, softly-spoken man with an air of authority. He hails from an influential and spiritual family of Multan that has enjoyed power since 1921.
Gilani holds a Master's degree in journalism from Punjab University. Born in Karachi, Makhdoom Syed Yousuf Raza Gilani studied in Lahore and Multan. He is seen as decisive and a good administrator.
Yousuf Raza Gilani was a Speaker of the National Assembly, a Federal Minister and served a five-year prison term.
His entry into politics was via the Muslim League during General Zia-ul-Haq's martial law in 1978 when he was inducted into the party's Central Working Committee.
Mr Gilani was elected chairman of Multan union council in 1983. Two years later he was elected to the federal parliament. It was during this period that he left the Muslim League. While serving as a minister, he fell out with the then Prime Minister. A BBC profile says, "This led to him being replaced as minister and sidelined in the party."
After going to Karachi and meeting Benazir Bhutto, then leader of the Pakistan Peoples' Party, he decided to join the PPP in 1988.
During Benazir Bhutto's government of 1988-1990, Gilani served as Minister of Tourism from March 1989 to January 1990 and again served as Minister of Housing and Works from January to August 1990.
He was arrested in 2001 for alleged illegal appointments on government payroll. The Guardian wrote:
He was jailed on politically slanted corruption charges in 2001 and released in 2006. He was accused of handing sinecures to supporters during his tenure as speaker of parliament.
He was convicted by an anti-corruption court formed by President Musharraf. The legal proceedings were perceived as politically motivated - the PPP was in opposition to Musharraf, who had embarked on a campaign to coerce party members to switch sides. His imprisonment was widely condemned.
In interviews, Gilani recalls the time served in jail as a learning experience, where he reflected on his life and honed his ability to make firm decisions.
Gilani's significance on the world stage is shown by the fact that as early as 2008, the Prime Minister went to Washington for a meeting with former President George W Bush, and also met with the then Democratic Candidate Senator Barack Obama.
Prime Minister Yousuf Raza Gilani has invited newly-appointed special envoy for Pakistan and Afghanistan Richard Holbrooke to visit this country to work out the way ahead.
Gilani was Zardari's choice for PM, and the former has emerged in the past few months as man of strong negotiating ability -- a force to be reckoned with. In March, after a lengthy standoff between the President and a judiciary deposed by Pervez Musharraf, the Times wrote:
Mr Gilani has emerged as a surprise challenger to Mr Zardari's authority after the President was forced to bow to opposition demands to reinstate an independent-minded chief justice on Monday... Mr Gilani is credited with brokering a truce with Nawaz Sharif, the opposition leader who broke out of house arrest on Sunday to lead a nationwide protest march that threatened to plunge the country into anarchy. The Prime Minister now also appears determined to strip the presidency of the extra powers that it accumulated under Pervez Musharraf, who took power in a coup in 1999, and to strengthen the Parliament and premiership instead.
In April both Richard Holbrooke and Chairman of US Joint Chiefs of Staff Admiral Michael Mullen called on Gilani for a meeting in which the Prime Minister discussed President Obama's new policy of engagement with Pakistan.
Just a few days ago, Holbrooke was in Pakistan again and held talks with Gilani. The Nation reported that the PM raised crucial issues for Pakistan with the US Envoy:
Prime Minister Syed Yousuf Raza Gilani urged the United States Friday to write off its debt to help his cash-strapped nation grapple with insurgency, humanitarian crisis and global recession.
Gilani also raised the sensitive issue of US drone attacks on Taliban and al-Qaeda strongholds in the mountainous tribal areas.
Pakistan Prime Minister Yousuf Raza Gilani has reiterated that the United States should provide drone technology to Pakistan, so that it can carry out missile hits on extremists on its own.
Pakistan Prime Minister Yousuf Raza Gilani on Saturday said the United States should offer Pakistan a civil nuclear cooperation deal similar to the one it finalized with India in order to maintain "balance" in the region... Pakistan has held talks with France on civil nuclear cooperation, he said during a brief interaction with reporters on the sidelines of an official function here.
With Pakistan's geopolitical situation increasingly crucial in the fight against extremism, Prime Minister Yousuf Raza Gilani is emerging as a significant force on the world stage.
Calling all HuffPost superfans!
Sign up for membership to become a founding member and help shape HuffPost's next chapter