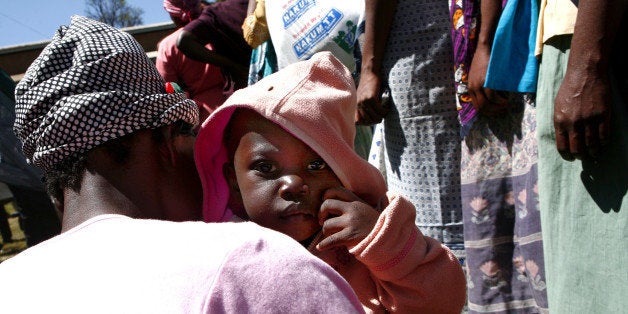 Ten years ago, I was working as a doctor in Ghana. I specialized in HIV/AIDS, but at the time, there was little I could do. People would arrive at my clinic, very sick, and I simply didn't have the medication I needed to help them. Back then, AIDS was a heartbreaking death sentence.
In the decade since, so much has changed. The cost of ARV medication has come down dramatically -- from what was as prohibitively high as $20,000 a year to as little as 40 cents a day in sub-Saharan Africa. And this medication, two pills a day, can make the difference between life and death, as was beautifully evidenced in the 2010 film, the The Lazarus Effect. This very medication, which keeps people living with HIV alive and healthy, can also enable HIV+ pregnant women to delivery HIV-negative babies. As a doctor focused in this field, there is nothing better than seeing an end to this needless cycle of illness. Babies born without HIV are living proof that with focus, we really can deliver an AIDS Free Generation in the next few years. But it's not easy, and it's not a guarantee.
Luckily, organizations such as The Global Fund are working hard to finance the AIDS fight in Africa, enabling organizations on the ground to provide critical testing, counseling, prevention and treatment programs. And it's working. The number of babies born with HIV has been cut in half since 2002. But still, 650 babies are born every day with the virus -- that's 650 too many. With the right focus, and increased funding and awareness, we can get that number close to zero.
Earlier this week I was sharing one of my personal insights from the AIDS fight at an event hosted by (RED) and The Moth to mark a new partnership with Galaxy chocolate, which will raise money and awareness to help end mother-to-child transmission of HIV. It was an account of the hard decisions I had to make in order to help one of my patients, Ruth, who was pregnant and living with HIV. Like so many of the women I treated over the years, her experience wasn't an easy one. But, thankfully, like so many other women, her story had a beautiful ending. A happy, healthy baby born free of HIV.
As the 2015 goal of ending mother-to-child transmission fast approaches, this is time for everyone -- governments, business and people -- to rally around the AIDS fight. We need to cross the line, and only together will we succeed in delivering an AIDS Free Generation.