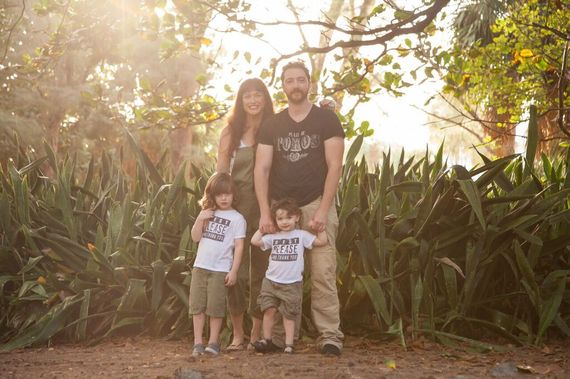 Photo credit: Alex Karl Patz Photography

I never planned on having children, but then again I never planned on getting married either. I didn't plan on working in retail, especially for so long. And I definitely didn't plan on putting my dog down when I did. I'm not even sure if children were discussed when my husband and I got married, but then our communication was always a little erratic anyway and we tended to make decisions on whims.
And that's how my first child came about.
I was working at the Clinique counter pushing makeup. My dog was gone and I felt empty. I watched the mommies stroll around with their babies and realized that forty was sneaking up on me. I didn't exactly feel maternal, ever, but I realized that maybe I was missing out on something.
So I went to the doctor to discuss myself getting pregnant. He was pessimistic as he told me that the odds were against me and that having endometriosis was also a negative factor that leave some women infertile. Basically, my ovaries were old.
It took about six months and a miscarriage to have a successful pregnancy and Henri was born.
Our lives were forever changed and know we understood what parenthood was about. We were in love. I never thought anything could possibly surpass my love for my animals or my husband, but I was wrong. Everything else that seemed so important suddenly lost it's value.
So when it came time to consider a second child, it had to be fast. I was turning forty three.
The main reason for considering it was that both my husband and I had no brothers or sisters of our own. We didn't have cousins or aunts or uncles that lived in the States. Who would Henri have if something happened to us? And that's how the idea was born. Again, it wasn't my maternal instincts, feeling the need to create more. It was to complete our family.
Don't get me wrong, after a miscarriage I was scared. And when I got pregnant, I questioned my decision of having another child which I later wrote about in my post, Three Fears. I was so scared.
So fast forward sixteen months and Henri is almost four and his brother creeping up on two. First of all, I still can't believe I am a mother. Second, I can't believe I'm married. Third, look at my little family! I keep looking at my life in awe of what it has become. I am so blessed.
So now of course I like to compare. We are not supposed to compare but who cares.
What would it of been like for Henri if we didn't have Ollie?
He would of been an only child, like me. He could have his own room. He wouldn't have to share, especially his toys. He would have gotten all the attention. I would have ended up cooking less. It would been me and my buddy. The two of us. I would have my cuddles. I might end up having grand kids. I would have been blessed to have a one child.
What is it like for Henri to have a brother?
He has a partner/friend/playmate. They keep each other company in their room and feel safe with each other. He has to share but he gets more of a variety of toys. He has to share our attention but is able to get caught less when he misbehaves (good for him, not for us). He can eventually pitch in with cooking (which he loves). Double cuddles!! I have a higher chance of having grand kids. I have been blessed with two children.
I am forty four with two children under the age of four. I never planned on this. I can't make this stuff up- my life, which has been planned out so carefully by something so much bigger than me. I'll just roll with it....