"Never doubt that a small group of thoughtful, committed, citizens can change the world. Indeed, it is the only thing that ever has." — Margaret Mead
Never doubt that a small group of thoughtful, committed, digital change agents can do to help transform your company. I recently interviewed Vint Cerf, VP and Chief Internet Evangelist at Google and one of the 'Founding Fathers of the Internet ' about putting humanity at the center of the Internet, and the importance of positive change agents. Cerf reminded us that it is important for change agents to identify and solve real problems by developing the important skills for collaboration, storytelling and influence.
To further our understanding of what it it means to be a successful change agent in the digital economy, I connected with a digital analyst and futurist who has extensively researched the role of a digital change agent.
Brian Solis is principle analyst at Altimeter, a Prophet company. Solis is a digital analyst, anthropologist, and futurist. Solis studies the effects of disruptive technology on business and society. He is an award-winning author and avid keynote speaker who is globally recognized as one of the most prominent thought leaders in digital transformation and innovation.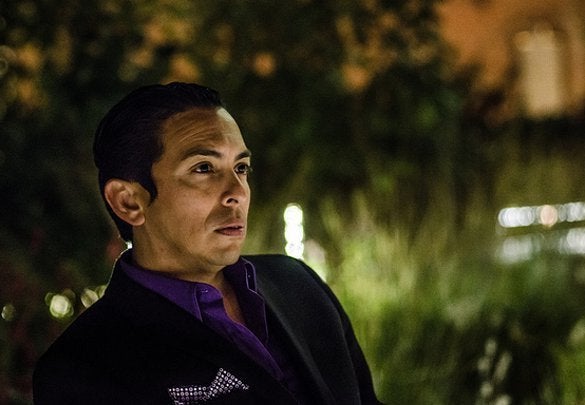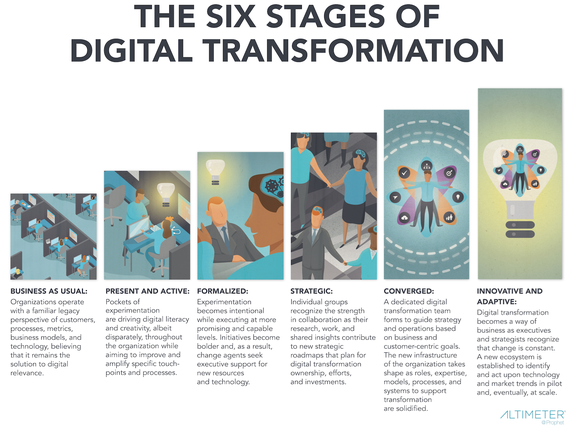 "This report was inspired by years of executive and stakeholder research interviews. I heard time and time again, the raw, emotional stories of those trying to push digital transformation and corporate innovation initiatives forward, but were met with substantial obstacles along the way. The Digital Change Agent's Manifesto shares the lessons and best practices of over 30 industry-leading executives from some of the biggest brands around the world, including Coca-Cola, Equifax, FCC, NFL, Samsung, Starbucks, and Visa." — Brian Solis
Digital Change Agent Highlights
Although digital transformation is one of the biggest trends in business today and companies are investing heavily in new technologies and innovations, many still do so as a grassroots effort driven by resourceful individuals — digital change agents — across the organization.
Digital change agents are passionate about digital innovations and ardent believers in their potential to help the organization succeed — but they are sometimes reluctant to step into a leadership or change-management role.
Change agents can rise from anywhere in the organization and often begin as digital advocates — employees who introduce or promote new digital ideas or products — and eventually progress to experienced transformers.
"Behind every story of progress are the "digital change agents" who endure many challenges to help spread digital literacy and new thinking across the enterprise and up to the C-Suite. They understand the impact of new technologies, are passionate about all things digital and see new possibilities for their companies and colleagues. But, they're often reluctant to step into leadership or change-management roles. To garner support across the organization, change agents quickly realize that they must acquire basic change-management skills if they are to secure cross-functional collaboration and leadership support." — Brian Solis
The Digital Change Agent's Journey
According to the research, change agents should operate from a strategic manifesto to guide them in their digital transformation efforts, expedite change, and minimize complications and detractions. Here are the 10 steps in the digital agent's journey: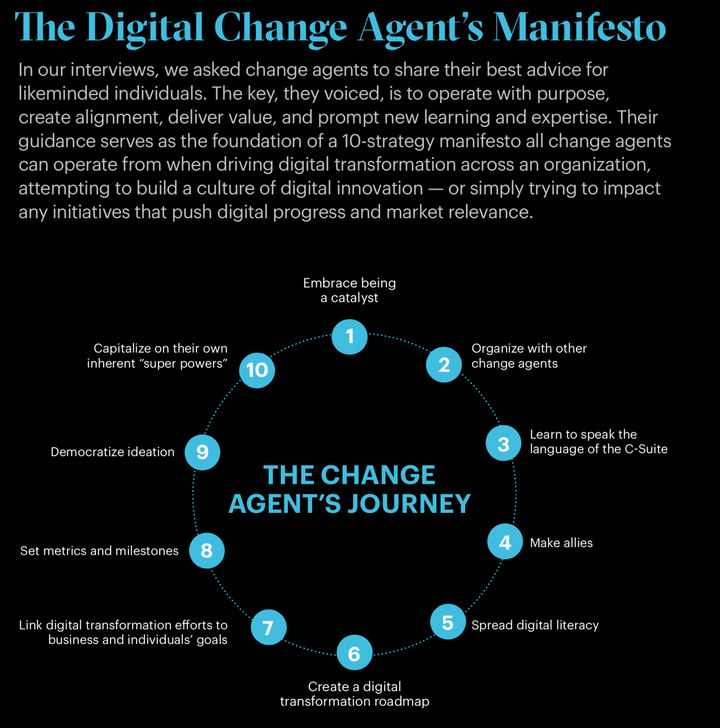 Embrace being a catalyst
Organize with other change agents
Learn to speak the language of the C-Suite
Make allies
Spread digital literacy
Create a digital transformation roadmap
Link digital transformation efforts to business and individuals' goals
Set metrics and milestones
Democratize ideation
Capitalize on their own inherent "super powers"
The Critical Roles of Digital Change Agents
Regardless of what organization role or stage in their journey they are, successful digital change agents share a common superpower: the ability to take on the following informal functions to navigate the human aspects of change. Our research shows that change agents typically assume any or all of these four functions that actively foster agility, instill confidence, and promote communication and collaboration in their organizations: Data Gatherer and Storyteller, Influencer and Case Maker, Relationship Builder, and Champion.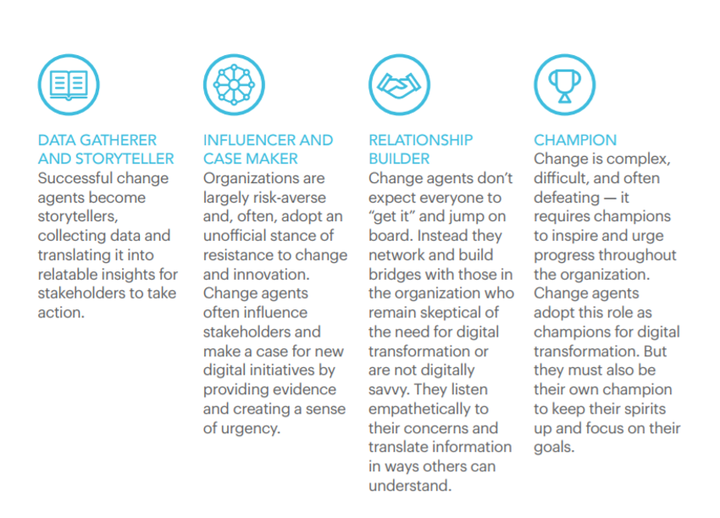 Common Challenges In Leading Digital Transformation:
The common challenges cited in leading digital transformation include:
Corporate culture - Digital transformation is more of a people problem than a business problem. Trust is the least measurable but most important factor to build. You have to manage resistance to chance alongside business outcomes. Otherwise, you deal with sabotage that undermines your work and the digital transformation seed doesn't germinate.
Egos - A person's self-esteem or sense of self-importance can stand in the way between vision and progress. When a person's ego is out of control, it manifests either as arrogance, ignorance, or pride or as insecurity, jealousy, and constant need for validation. Egotists, especially, believe that they know it all, that they work harder, or that they're smarter or better than everyone else. They make excuses and cast blame when things do not go as they had planned or expected.
Fear - Fear serves as a self-protection mechanism, as it leads individuals to believe change or failure can threaten or be dangerous to their status or position (or that of their companies).
Cognitive biases - Behavioral scientists and psychologists have identified common biases that prevent people from accepting new ideas and adopting change. These include: Confirmation bias, Anchoring, Group think, Loss aversion and Present bias.
Self-doubt - Self-doubt can be paralyzing. It's incredibly difficult to overcome the fact that one initially lacks the knowledge necessary to tackle new things. It is difficult to jump into unchartered water, where there are no guidelines, standards, or even basic knowledge to rely on. This feeling in turn builds up into doubt that one will succeed. Self-doubt can also arise from one's lack of self-confidence rather than lack of actual experience — otherwise known as the "imposter syndrome."
Saboteurs - Regardless of the stage they find themselves in or their level of change management experience, most change agents at some point meet the reality that their digital transformation efforts, by default, challenge the status quo and generate diverse and swift reactions from colleagues and executives alike — especially in the form of opposition, roadblocks, and even sabotage.
The Evolution of Change Agents
The DNA of change agents — their core personality, beliefs, and ambition — are uniquely suited to digital transformation, which involves high doses of uncertainty:
Those who described themselves as problem-solvers, extroverts, and career-minded find comfort in chaos.
Those who described themselves as critical thinkers, introverts, or cautious expressed the need for internal support and validation to further their efforts.
They all described themselves as self-starters.
They proactively find reasons to stay committed to whatever initiative they are tackling before giving up.
They don't give up unless they feel that true innovation isn't possible without significant compromise.
Change agents must capitalize on these "super powers," which allow them to remain strong in the face of criticism and resistance to change — and even when they themselves are reluctant leaders or scared. You're an optimist who relishes in opportunity and doesn't focus on getting stuck. — Altimeter Research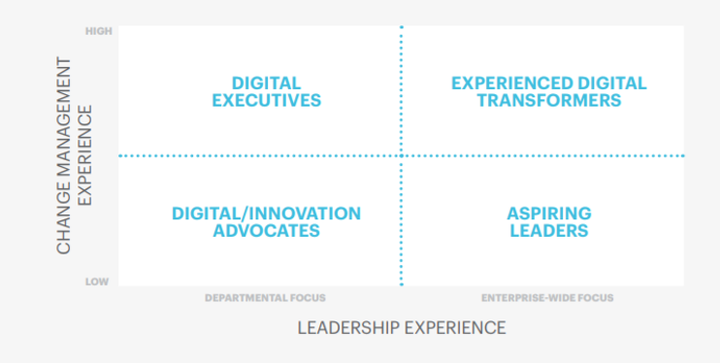 Change agents tend to evolve in four distinct ways within the organization: 1. Digital/Innovation Advocates, 2. Digital Executives, 3. Aspiring Leaders or 4. Experienced Digital Transformers.
"Executives that don't recognize, empower and champion digital change agents risk losing their valuable expertise and drive to other companies that prioritize their value," said Solis.
"Digital change agents may or may not intend to start out as such, and their journey, at times, might feel lonely. But they walk a promising path. Change is never easy, but when change agents and leadership align, organizations can achieve much more than digital transformation; they build an agile foundation for an evolved enterprise." — Brian Solis
The research by Solis is brilliant and quite extensive. The change agents in this research remind us that the change must begin with us. It is not companies that disrupt, people disrupt. And to transform companies in the digital economy, digital change agents must champion the way. I highly encourage digital business transformation leaders to study the finding in this report. To learn more about The Digital Change Agent's Manifesto, please visit here, or connect with Brian Solis at @BrianSolis.
Related
Popular in the Community