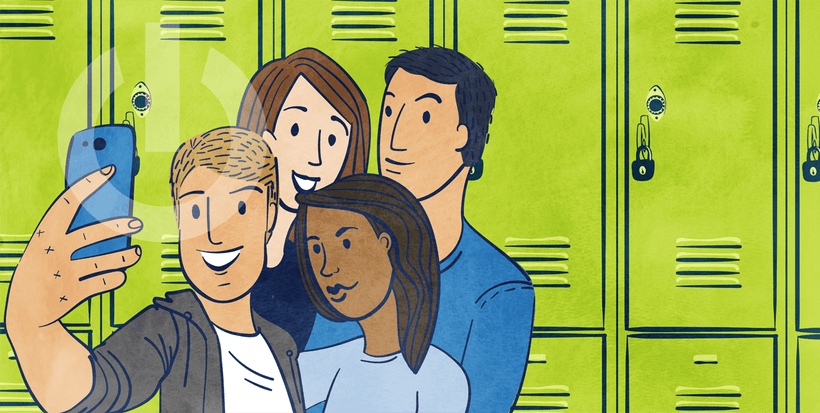 As communicating and creating communities online increasingly becomes one of the primary ways people interact, we must focus on how we treat each other in our digital worlds and understand that the line between online and offline becomes blurrier all the time. It is important to be good digital citizens – the golden rule applies online as well, and the National Cyber Security Alliance (NCSA) hopes that as technology advances, people will stop and think before they post or engage with someone in a way that might be unkind or hurtful.
In an effort to examine internet users' behaviors toward and interactions with others, Microsoft recently developed the Digital Civility Index (DCI). I spoke with Jacqueline Beauchere, Microsoft's chief online safety officer and a former chair of the NCSA Board of Directors, to learn more about the index and Microsoft's work in promoting digital civility globally.
What motivated Microsoft to develop the Digital Civility index?
Protecting individuals and families online has been a priority for Microsoft for more than 20 years. The Digital Civility Index is a natural extension of research we did from 2010 to 2013. At that time, we developed the Microsoft Computing Safety Index (MCSI), which had three components, one being a behavioral piece. Given the evolution of the online safety landscape, now is an appropriate time to expand our MCSI work and dig deeper into people's attitudes and perceptions about online behaviors and interactions.
What findings most surprised you?
One of the most surprising findings was that 62 percent of all people surveyed said they didn't know or were unsure where to turn for help if they encountered an online risk. Significant investments have been made across the global ecosystem in awareness raising and education, and although we're making progress, the results of the DCI show we still have more work to do. All of Microsoft's online safety resources can be found on our website. In addition, our dedicated resources page is chock full of information about a host of online safety issues.
You conducted the survey and index in 14 countries. What, if any, significant differences did you see by country or region?
The results show that people from various regions, ages and backgrounds are impacted by uncivil behavior and risk. There was clearly a "mid-range" of Index readings across the countries surveyed, from the 40s to the 70s. The Index works like a golf score: the lower the value (out of 100), the lower the respondents' risk exposure and the higher the perceived level of online civility among citizens in that country. Here are the 14 countries surveyed and their Digital Civility Index readings:
It appears from the findings that the exposure to online risks translated into some serious consequences. For example, the most likely consequence from online risk exposure was a loss of trust both online (40%) and offline (30%). How corrosive are these consequences and other behavior changes revealed in the study?
We offered respondents a range of possible options of consequences, and every option was selected at least once. The loss of trust scored the highest, but loss of sleep, increased stress, damage to personal reputation and even thoughts of suicide also emerged in the results.
Another interesting finding was that 27 percent of respondents tried to counterbalance negative outcomes by being more constructive in their criticism of others. How can we build on this to create a more civil internet?
Yes, that was a positive finding from our research, and we are encouraged by it. Our new Digital Civility Challenge is a great way for even more people to lead and act with empathy in online interactions and to be open to opposing views.
You are releasing these findings on Safer Internet Day and asking people to take a civility challenge. Why this day, and what's your hope for the challenge?
For 13 years, Safer Internet Day has been the signature event for taking stock of and promoting safer and more responsible use of the internet and devices. It's a fitting time to rally support for the concept of digital civility. With our challenge, we want to start a conversation and inspire people, companies and organizations to build on our digital civility initiative. We see our work this year as a springboard – a leaping-off point – for bigger and more impactful programs to help people evangelize and "live" digital civility in their daily lives.
How can people take the challenge and spread the word?
The Challenge is posted on our website. We're asking people to review and really internalize the four ideals, to tell us on social media that they're signing up for the Challenge and to commit daily. We're also asking them to use the hashtags #Challenge4Civility and #Im4Civility.
At NCSA, we believe that everyone shares the responsibility for creating a safer, more secure and more trusted internet. Is that true for making the internet more civil as well?
Absolutely. It will take all members of the vast internet community to encourage better behavior and more civil interactions online.
What advice do you have for people when they see things or experience things online that are intrusive, harassing or hateful?
In such instances, our Challenge calls for individuals to stand up for others and for themselves by identifying risks, sharing concerns, supporting those targeted and reporting offenders for abusive and cruel behavior. Reports can be made to online companies or, in situations where the threat of harm is imminent, to local authorities. We offer additional advice and guidance at www.microsoft.com/saferonline.
What roles do companies, educators, consumers and others play to make that happen?
In addition to the research, the Index and the Challenge, we've also released a preliminary list of suggested smart practices for various groups, which is also available on our website. In short, key for companies are robust content moderation programs and mechanisms for users to report abuse. For educators: consider teaching social and emotional learning, and get creative about integrating online safety-type lessons into more traditional subjects. For policymakers: ensure proper laws and regulations are in place while encouraging responsible industry practices.
What are your plans for continuing the Civility Index in the future?
This is our year-one baseline. We're sharing the results now to raise awareness about the need for digital civility, and we hope to revisit the study. Again, we're hoping this initiative raises awareness about the need for digital civility and inspires others to join our efforts to help make the internet a better place.
As Microsoft's chief online safety officer, what are your plans to make people more aware of how they can bring more civility to the internet?
I share our work in digital civility with all individuals and groups that I meet – internally and externally and through writings, conferences and speaking engagements. I encourage them to consider the topic and approach, and to explore whether a program rooted in digital civility might make sense for them. Microsoft is committed and optimistic that many people around the world will do their part to create a safer, more trusted and civil internet.
Calling all HuffPost superfans!
Sign up for membership to become a founding member and help shape HuffPost's next chapter
This post was published on the now-closed HuffPost Contributor platform. Contributors control their own work and posted freely to our site. If you need to flag this entry as abusive,
send us an email
.