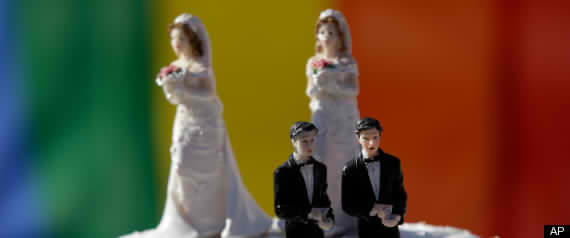 Every time it looks like same-sex marriage is about to have a huge break-through, especially in the state of New York, gays everywhere begin buzzing and secretly planning for their big day. Unfortunately, these plans to date have been thwarted by lawmakers and gays are often reduced to settling for civil unions or campy commitment ceremonies, immediately followed by the obligatory after-parties. Gays don't do receptions, darling, we only do after-parties. But with the same-sex marriage bill recently passing the New York State Assembly and votes stacking up in the Senate in our favor, it looks like maybe -- just maybe -- this time it may pass. If this is the case, I can guarantee you that yours truly and a legion of gays will systematically begin making the designer rounds for the perfect tuxedos, slim suits or man-frocks for their special occasion.
Now for those of you whom have never had the unique experience of personally meeting yours truly a.k.a. Mister Golightly, you should know I have built somewhat of a reputation as a "PeaCock in a Frock" -- pun definitely intended. So after nine years of being in a committed relationship and gay marriage just a stone's throw away, I have no intentions of disappointing my constituents with my choice in marital wardrobe.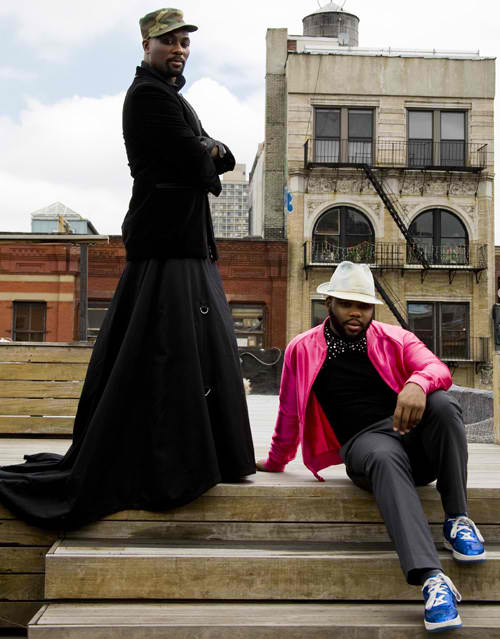 Malcolm "Mister GoLightly" Harris and K. Tyson Perez (photo by: Sarah Grossman)
As a designer, I know I could easily whip myself up some white confection (or even ecru -- based on my age and shaded past) to Sashay Shante down the aisle. However, on this special day, I would love nothing more than to leave the heavy lifting to my designer friends and colleagues that I totally love and adore.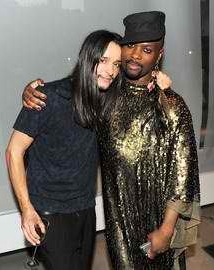 Designer Olivier Theyskens and Groom-To-Be Malcolm Harris
Of course none of us mere mortals could ever compete with the high-street nuptials of Sir Elton John and David Furnish or the high-style wedding of Ellen DeGeneres and Portia de Rossi. And let's not even mention the gay wedding of the century -- Messieurs Stanford Blatch and Anthony Marantino. The gals of Sex and the City should be ashamed of themselves for giving our straight counterparts this glimpse into the wet wedding dream of gay men everywhere. I still have nightmares that my wedding guests will immediately walk out after they discover we couldn't foot the bill for the seven swans a swimming. Even without Liza presiding over the ceremony, I genuinely believe all gays should have the right to say "I do" in the presence of their family and friends.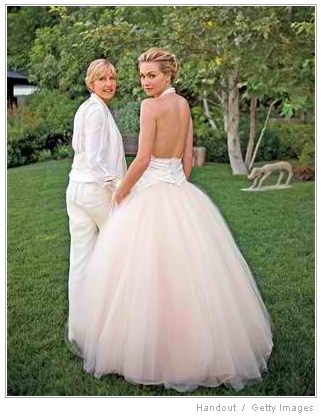 Ellen DeGeneres and Portia De Rossi
For a while, just after we helped to elect Obama, the gay community sincerely had high expectations our new president would assist in legalizing same-sex marriage in America. With this "pipe-dream" in hand, we began seeing "gay wedding planning services" pop-up everywhere. But after a while they all seemed to discreetly morph into gay travel agencies with one-stop-shopping ads currently littering the internet and the back pages of gay party magazines.
But now it finally looks like gay marriage might be a real possibility in the State of New York. And you know what they say, "Where New York goes -- the rest of the country soon follows." Well they don't actually say that, but you get my wishful thinking.
Either way the gay marriage vote goes, you can't stop gay guys and gals from dreaming. Personally, I think I will be searching for something a bit semi-formal and/or traditional for our nuptials. Well, if we are being honest, that's not entirely true. What I am really looking for is something more like a traditional "mullet" -- all business on top (Tom Ford) and a big old gay haute couture party down below (Olivier Theyskens). For my momentous day, I envision myself coming down the aisle channeling an elegant and waif like Tilda Swinton. But something tells me party goers will think I look more like Wesley Snipes' legendary character from Too Wong Fu, Miss Noxzema Jackson. This is just another one of those hellish nightmares that seem to keep one up in the wee hours when dealing with the dilemma of what to wear.
I must admit, no matter what lawmakers decide, nothing inspires me more than dreaming that one day same-sex couples everywhere will be able to walk fiercely and fabulously down the matrimonial aisle towards the person they love.

Support HuffPost
A No-B.S. Guide To Life
Related
Popular in the Community