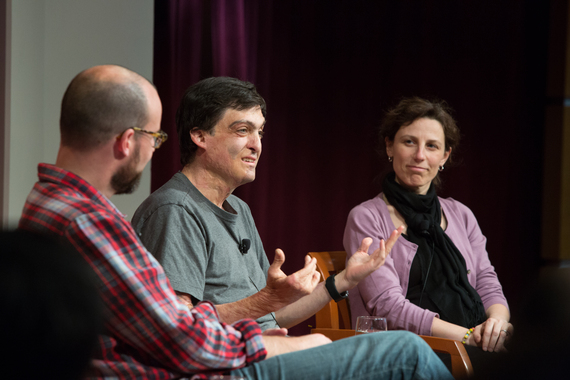 By Charles Krumholz, Harvard Class 2018
Clad in his customary T-shirt and blue jeans, renowned behavioral economist and New York Times bestseller Dan Ariely took center stage at the JFK Jr. Forum on Friday afternoon. In a conversation titled "The (Dis)Honesty Project," moderated by Harvard Business School Professors Mike Norton and Francesca Gino, Professor Ariely discussed the human tendency for dishonesty in government, business, and day-to-day life.
As the founder of the Duke Center for Advanced Hindsight, the Business School professor presented his ideas with his characteristic balance of lighthearted humor and critical insight. He discussed the applications of his research and theories to illegal downloading, the Harvard Honor code, marital infidelity, financial regulation, healthcare, politics, and more.
After the Forum, I had the unique opportunity to conduct a one-on-one interview with Professor Ariely. In addition to his impressive research, I consider him a role model for successfully overcoming a traumatic teenage accident that left 70 percent of his body covered with third degree burns. His bubbling energy and prolific work are a testament to his indomitable spirit that enabled him to surmount this enormous setback.
We discussed his plans for future research, the developing field of behavioral economics, the morality in social science, and government corruption.
His upcoming projects focus on how to improve financial and health-related decision-making. Professor Ariely is "trying to think about how to get people to exercise, take their medication, save their money, and think better about money."
He believes that behavioral economics is "going to become applied social science" distancing "itself from economics...because economics became the study of policy." He hopes we will combine basic sciences to make social sciences "more experimental and applied."
Discussing the morality of using behavioral economics to guide decision-making, Professor Ariely admitted it is "very tough...to decide whom to help and whom not to help." Giving an example of when he turned down an opportunity to consult a major tobacco company, Professor Ariely admitted that behavioral economists "can do lots of damage." In fact, he said, "some of the companies that apply behavioral economics in the best ways are abusive."
Turning to corruption, Professor Ariely stressed that corruption must be rooted out all at once since only doing "half the job" would make people less willing to change their ways. He explained how a Greek woman asked him why she should comply with the government's demands that she pay her taxes "all of a sudden, why now?" Although he prefers a tolerant society, Professor Ariely admitted that at times non-tolerance for an extremely corrupt place may be necessary. Another challenge of rooting out corruption is the short-term cost for the long-term benefit, citing China as an example of a place where ending corruption has come with costs.
Debate of important contemporary issues defines the significance of the JFK Jr. Forum. Professor Dan Ariely offered his relevant and interesting social science perspective to topics ranging politics to finance to everyday life. The resulting Forum was surely one of my favorites.
----
Charles is a sophomore in Eliot House at Harvard College planning to concentrate in Economics. As a visual artist interested in the intersection of public policy and economics, he is working as a Student Guide at the Harvard Art Museums, Research Assistant for Professor Benjamin Friedman in the Economics Department, Investment Research team member of the Harvard Financial Analysts Club, and JFK Jr. Forum Event Support member at the Institute of Politics.
Popular in the Community