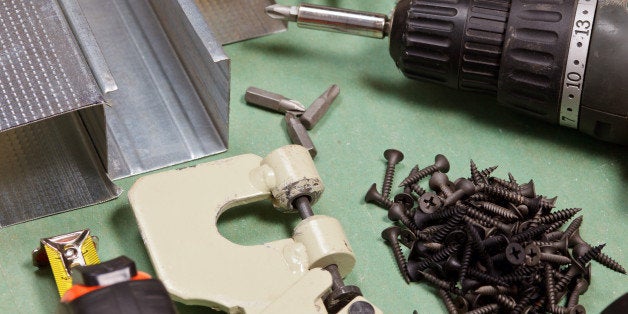 There's nothing more satisfying than completing a DIY project for your home. Do-it-yourself is more popular than ever, and, no matter what your handiness level, you can complete an impressive DIY project with a minimal of time and effort. You do, however, need to have the right tools. New to the DIY world? Don't fear. These 7 essential tools are the perfect start to creating your DIY toolbox.
1. An easy-to-use drill. A good drill is the cornerstone of every DIYers toolbox. You'll want one that's compact, yet powerful. A two-speed transmission is perfect for all projects, both everyday and heavy-duty. A good drill may be a bit of an investment, but it's one that will last you years, and pay for itself in just a few DIY projects.
2. A screwdriver set. Screwdrivers are essential to many DIY applications and projects, so be sure to get a set with various heads and sizes. A non-slip handle will help your hand stay comfortable, and rust-resistant tips will ensure that they last a lifetime.
3. Quality measuring tape. You'll use a measuring tape for everything, from hanging frames on a wall to planning out the perfect size furniture for various places in your home. Find a quality measuring tape with a lockable blade for ease of use.
4. Standard level. One of my favorite tools for DIY, a level is not just ideal, but necessary, for hanging shelves, picture frames and wall art. They're inexpensive, and come in a variety of sizes.
5. Quality hammer. A lightweight hammer with a rubber grip, is a DIY toolbox essential. You'll use this inexpensive tool for virtually everything, and you'll wonder how you ever lived without it.
With these tools, your toolbox will be ready whenever the DIY urge hits. Did I leave out a favorite tool of yours? Leave a comment with your essential toolbox items!
*Some affiliate links are used, but all products are ones we use and love.
Linda is the founder of burlap+blue, a space dedicated to helping women live life more creatively. She is inspired by creativity, good books and the everyday. She lives with her husband and kids in Richmond, VA. Read more on her blog, shop her new Printables Shop, and connect with her on Twitter and Instagram.