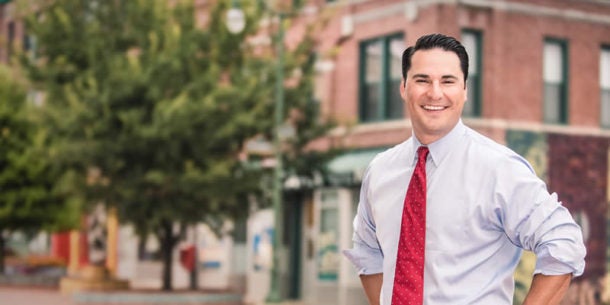 The front page of the Saturday New York Times features a "Dems in disarray" article describing the divide over Bernie Sanders and Tom Perez publicly supporting Heath Mello in the Omaha mayor's race. Similar articles abound all over the media. For his part, Mello—who has an anti-choice record—has promised that, as mayor, he "would never do anything to restrict access to reproductive health care."
I support Mello because he is the better candidate by far in this race, even if he is not my ideal Democrat. Beyond what he can do to advance progressive values as mayor, Democrats need to elect people to local office who can, down the road, run for and win federal office, and not just in strongly liberal areas.
What if, someday, Nebraska elects Mello to the U.S. Senate, flipping a seat from red to blue? What if a Senator Mello casts the decisive vote to give Democrats control of the Senate—without which, Republicans have made clear, it will be impossible to confirm a pro-choice Supreme Court justice? Remember that Senator Bob Casey, who is on record advocating the overturn of Roe v. Wade, voted to confirm both pro-choice Sonia Sotomayor and pro-choice Elena Kagan to the Supreme Court, and voted against anti-choice Neil Gorsuch.
Winning elections and gaining power over the various levels of government is how we make our laws as progressive as possible.
To be realistic, it seems highly unlikely that a vigorously pro-choice candidate could ever be elected statewide in Nebraska. To be equally realistic, the level of support for reproductive rights among our voters means Democrats would never nominate an anti-choice candidate for president—nor should we. There hasn't been a serious anti-choice contender for the nomination in decades. I'm not worried about a President Mello.
Look, I'm not interested in telling anyone whom they should endorse, donate to, or campaign for. Many who have criticized the support for Mello have also made clear that they, too, would vote for him over the Republican. That's really important and great to see, especially since many progressives—myself included—strongly urged those disappointed with the nomination of Hillary Clinton to support her last fall, as vastly superior to the alternative. Fight for your ideal candidate in the primary, support the better candidate in the general.
The point I want to make here is that the DNC supporting Mello—in a general election contest, in Nebraska—is exactly what the 50-state strategy looks like. Winning elections and gaining power over the various levels of government is how we make our laws as progressive as possible, and that's how we protect, for example, women's reproductive freedom.
REAL LIFE. REAL NEWS. REAL VOICES.
Help us tell more of the stories that matter from voices that too often remain unheard.
BEFORE YOU GO