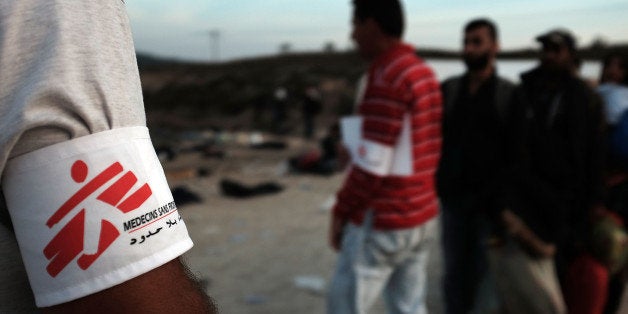 Humanitarian aid workers who brave war zones have come to expect, but not accept, errant bullets, bombs or missiles. But that doesn't mean that they do not have the right to expect the highest standards of support and accountability when tragedies occur -- especially when they are as flagrant as the lethal and prolonged attack by a U.S. military aircraft on the hospital run by Doctors Without Borders (known internationally as Médicins Sans Frontières or MSF) in northern Afghanistan.
The U.S. Department of Defense has offered "condolence payments" to the families of the 22 people confirmed killed in the attack in Kunduz, which included 12 medical staff members and 10 patients, including children. Non-combatant civilians injured in the attack will also receive payments, and the U.S. government will likely foot the bill for rebuilding the hospital. But this does not go far enough.

As wars rage in the Middle East, sending refugees fleeing their homes, the willingness of medical professionals to put their own lives on the line is more essential than ever. Amid the rubble of war, you will always find a saint -- a medical professional who will choose to flout the face of danger to save lives. Doctors and nurses in the field right now are removing shrapnel from bloodied bodies, stitching up torn flesh and delivering infants from desperate mothers in the darkest corners of the world.

Doctors Without Borders is one organization that has more than lived up to its name, sending medical specialists into some of the harshest conditions amidst armed conflict and natural disasters. That's just one of the reasons that makes the deadly U.S. airstrike on an MSF hospital in Kunduz so tragic and unacceptable. MSF is in Afghanistan to assist needy children and families, and, during the course of their missions, are trapped with their patients in a protracted war. Health workers do not take sides in a conflict and understand there will always be some risk, but operate with the confidence that international law is there to protect hospitals from being targeted. To honor their sacrifice, we must hold those responsible to be accountable for their deaths. It is a measure of our humanity.

That word, "accountability," is on everyone's lips in Washington and beyond, raising questions of how to improve the safety of the humanitarian community. MSF reports that it repeatedly communicated its GPS coordinates for the hospital, so why was a clearly marked hospital subjected to such a prolonged attack? What else could have been done to prevent this blatant mistake? Writing it off as a cost of war is not an acceptable answer. Because then we have lost our humanity.

The White House says it wants answers to these questions as much as anyone else and this is an opportunity for the U.S. to show true leadership and honesty. The White House spokesman Josh Earnest declared the incident a profound tragedy, noting that among the victims were "doctors who have left the safety and comfort of their homes to travel to a remote region of the world that everybody knows is dangerous." The White House said there are three investigations into the Kunduz incident, under the direction of the Department of Defense, NATO and a joint investigation between the U.S. military and the Afghan military. For his part, President Barack Obama has directly offered his personal condolences and said he expects a full investigation.

The Geneva Conventions guide warring factions in their responsibility to protect civilians and the wounded, in theory, but that does little to assuage the fears of medical humanitarians risking their lives to save others. MSF health workers must be highly experienced to confront the harsh realities of practicing medicine in a conflict zone. They are among the most savvy, quick-witted and selfless people in the medical profession and the world must protect them and value their sacrifice. It is now up to our leaders to prove they do, too.
Calling all HuffPost superfans!
Sign up for membership to become a founding member and help shape HuffPost's next chapter