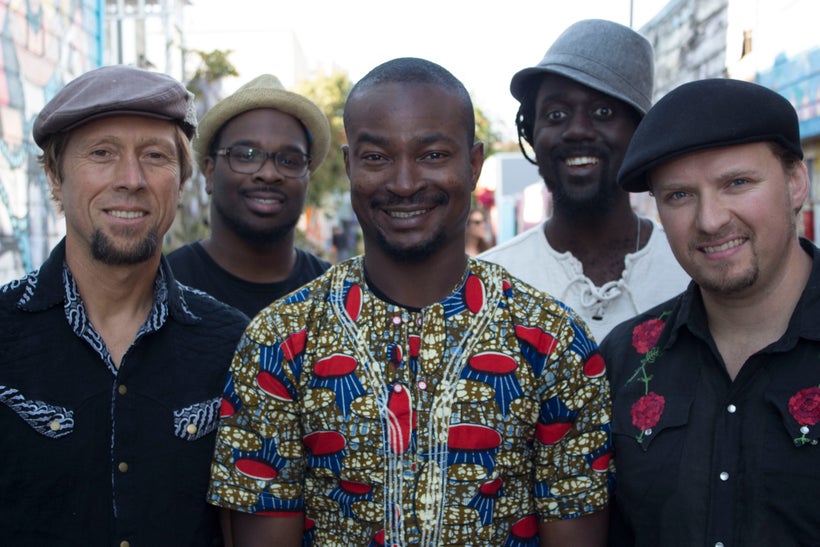 At the unlikely intersection of West Africa and West Oakland you will find afrodelic-galactic-hip-hop ensemble The Dogon Lights. Pronounced "doe-gone," the name is derived from Mali's Dogon people who are known for their animated mask dances and love of astronomy. This global menagerie of instruments flows between varying cultures, eras and genres as organically as a snake gliding from grass to sand. 
A Bay Area based quintet, Dogon Lights is a conglomeration of highly skilled and experienced musicians who play a dizzying array of instruments. In addition to those you'd expect to hear in a band—guitar, bass, vocals, drums—you may also be delighted by the sounds of, say, a camel-skinned Sintir and a Malian flute (both played by Vir McCoy) or, for the well-trained ear, a jaw-harp (twanged by Evan Fraser). Add Bongo Sidibe's gyrating Djembe beats, Gary Norris's funky hip hop drums, and Ashel Seazuns' lyrical flowetry, and you got yourself a regular world-hop funk fest.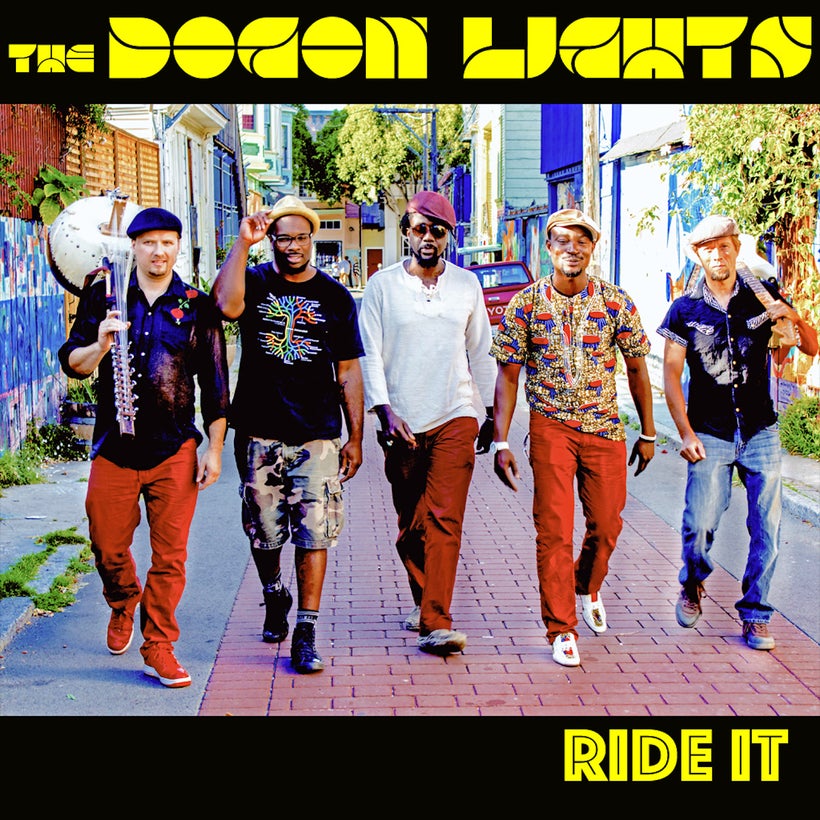 While many musicians struggle just to keep one band intact, these melomaniacs do not limit their musical pursuits—that would be a disservice to their creativity. Collectively, members of The Dogon Lights are or have been involved with Hamsa Lila, Bassnectar, Beats Antique, Dirtwire, Rising Appalachia, Liberation Movement, The Mickey Hart Band and many others. Their intoxicating live performance has supported groups such as Tinariwen from Mali and Bombino from Niger and they have graced the stages of Symbiosis Gathering, Lightning in a Bottle, Envision, Enchanted Forest, Beloved, and Joshua Tree Music Festival, to name a few. 
The group's newest album Ride It takes you through a whirlwind of aural textures and moods; From its hip-swiveling, funk-imbued title track to the delicate and hypnotic "Dragon Rider," this nine-track LP is an aural odyssey. Borrowing the sounds of many cultures, they have woven music and language into a sonic tapestry that decorates the walls of the mind. There is something both ancient and modern about this record—one moment you are transported to a Dogon mask dancing ceremony with "Aneybara's" thumping drums and entrancing chants and the next you are reminded of Oakland's rich hip hop history with the closing track "Love Is Like The Sun." Upon entering the Dogon Lights Funky Interstellar Express, there is no knowing to where their music will take you.
Calling all HuffPost superfans!
Sign up for membership to become a founding member and help shape HuffPost's next chapter
This post was published on the now-closed HuffPost Contributor platform. Contributors control their own work and posted freely to our site. If you need to flag this entry as abusive,
send us an email
.