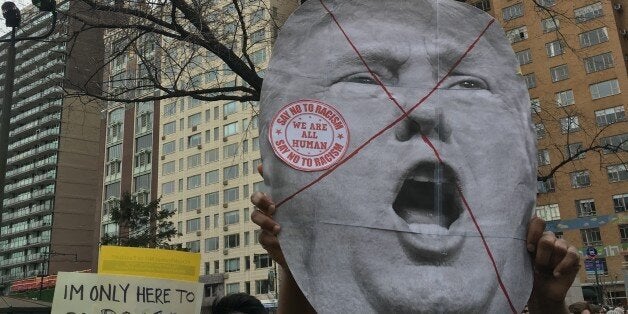 On the pedestals of two sculptures fronting the National Archives, plainly visible while driving down Pennsylvania Avenue in Washington, are the words "What is Past is Prologue. Study the Past."
In presidential aspirant Donald Trump, there are whiffs of the powerful Lousiana demagogue Huey Long, who called himself the "Kingfish." His shrewd, unscrupulous, political touch, his flamboyance, braggadocian talents and persona, overall they remind one, irresistibly, of Donald Trump. Huey Long's autobiography, Every Man A King, came out in 1933, bound in a resplendent gold jacket bearing five pictures of the Senator. He ordered 50,000 copies and sold 20,000 for a dollar each. And then ordered the remainder given away. Trump's books have a similar ring.
Long's powers of persuasion were immense. In Arkansas, he lifted up Hattie Caraway, wife of a Senator who died, enabling her to serve out his unexpired term. She wanted to run for re-election, but would have to line up against seven or eight experienced male politicians. She was taunted and laughed at by most politicians -- all save the Kingfish, who campaigned for her throughout the state and gave her a victory shocking to all but him.
One of FDR's most vociferous critics, the Kingfish wanted the presidency and, after playing an important role in getting FDR the nomination in 1932, was gathering strength sufficient to perhaps defeat FDR in 1936 or possibly cause his defeat to another by running on a third-party ticket. As Governor of Louisiana, he became a dictator, exercising absolute power against the big corporations and in favor of the masses. Had Long not been gunned down in Baton Rouge in 1935, who knows how the era of FDR would have changed? Studying Long's rise to power is highly instructive in trying to comprehend the gathering storm that is Donald Trump.
There are also whiffs of Hitler in Trump's increasingly plausible march to the White House by perfectly democratic processes, as were exercised by Hitler in the Weimar Republic, becoming Chancellor of Germany on January 30, 1933, one month before FDR took the oath. Both men came to power in times of massive adversity. Elites in each country worried that voters, desperate for strong leadership, could accept a dictator. In fact, either FDR or Hitler probably could have seized dictatorial powers. Only one did, but the history of events in both countries deserve careful study, given the large and growing populist reaction so favorable to Trump and devastating to the Republican establishment.
A book worth revisiting in light of the Trump phenomenon is Sinclair Lewis's It Can't Happen Here, published in October, 1935. It demonstrates the fragility of our nation's democracy by having a folksy New Englander, Buzz Windrip, gain the White House with vague blandishments, and then usher in a dictatorial regime of suppression, terror and totalitarianism to save the nation from welfare cheats, promiscuity, crime and a liberal press. The threat of fascism in America captured his readers' attention, making this deeply troubling story an overnight national bestseller. Lewis was married to Dorothy Thompson, the Herald Tribune correspondent reporting from Berlin on the rise of Hitler. His novel was inspired by her observations of what a demagogue can do to a democracy. The New Yorker declared it "not only [Lewis's] most important book but one of the most important books ever produced in this country."
Hallie Flanagan was a student at Grinnell College with Harry Hopkins, the head of the Works Progress Administration. He picked her to head the WPA's Federal Theater Project. She proved a brilliant choice. One of her boldest ideas was to try to persuade Lewis to dramatize his book. She sent her top managers to Vermont to ask him. Lewis wanted more fame than might come from a single opening on Broadway. He turned her down. Undeterred, Hallie promised to open in 21 cities in seventeen states, all on the same night -- October 27, 1936. That will do, he said, and came to New York City to start writing. By mistake, that opening date was given to the press only eight weeks in advance of Lewis's agreement, before a single word had been written. Remarkably, the goal was achieved. Across the land, the play enjoyed a long run.
Brooks Atkinson, writing for the New York Times, summed up audience reaction:
Mr. Lewis has a story to tell that is calculated to make the blood of a liberal run cold ... It Can't Happen Here ought to scare the daylights out of the heedless American who believes as this column does that it can't happen here ...
In their day, the play and the book carried an important message to every thinking American. Those thinking today should heed it anew.
Calling all HuffPost superfans!
Sign up for membership to become a founding member and help shape HuffPost's next chapter