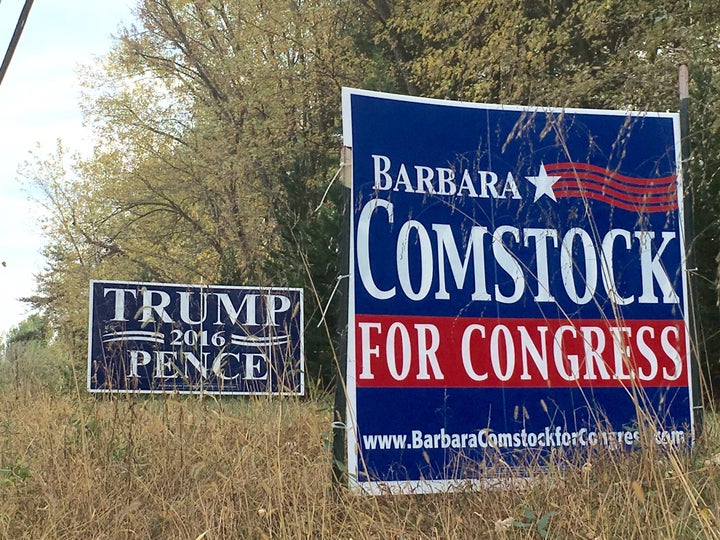 PURCELLVILLE, Va. ― Heather West spent all day Tuesday at Mountain View Elementary School here, handing out flyers urging people to cast their ballots for Republican presidential nominee Donald Trump. West was hard to miss, with her big Trump-Pence sign and a table strewn with Trump and anti-abortion literature.
She also had some lit promoting Barbara Comstock, the Republican running for re-election to Congress in Virginia's 10th District. But you had to look a little harder to find the Comstock fliers on the table. Talking to West, you would understand why.
"I'm here for Donald Trump," rather than Comstock, explained West, who is 41 and had two of her six children in tow. But when it comes to Comstock, "It's important for her to win that seat. She's walking on a tightrope."
There's been a lot of talk about committed Republicans who will have to hold their nose to cast a ballot for Trump. For West, it was the other way around. She backs the real estate mogul 100 percent. As a Republican, her reluctant vote was for the down-ballot Comstock, who refused to embrace the GOP nominee and kept him at arm's distance all year on the trail.
West's perspective perfectly illustrated the pitfalls for Comstock, who narrowly beat Democratic challenger LuAnn Bennett in one of the most closely watched House races on Tuesday. The contest was seen as an indicator for House races more broadly, as Democrats hoped troubles at the top of the GOP ticket would shrink or possibly flip the Republican majority. Republicans easily held control of the House.
Comstock and Bennett were facing off in a swing district in a swing state. Once a Republican stronghold, their neck of Northern Virginia has become bluer in recent years, as the Washington suburbs creep westward and Loudoun County, the heart of the district, becomes more diverse.
With many moderate Republican and independent voters in the area, the conventional wisdom was that Trump's inflammatory candidacy would hurt Comstock ― a worry for Republicans in House races around the country. (Boosting her bona fides as a moderate, Comstock received the endorsement of the Washington Post editorial board.)
So Comstock faced a dilemma: Hitch herself to Trump, and she could alienate independents who might otherwise fall in her column. Spurn him and she could turn off loyalists like West.
Bennett did everything in her power to hang a Trump anchor on her opponent. Bennett's advertisements, which blanketed the Washington metro airwaves, pilloried Comstock for not staking out clear ground on the Republican presidential candidate. While Comstock avoided discussing the nominee, Bennett was more than happy to invoke his name. In fact, she brought up Trump so often at a debate that attendees eventually started laughing.
Comstock declined to endorse Trump. But she didn't disavow him, either, at least not until the infamous "Access Hollywood" tapes surfaced, a few weeks out from the election. After voters could hear Trump boasting in his own words about groping women, Comstock urged Trump to drop out of the race.
"I think it's too little too late," Bennett recently told NPR. "Not until he stepped over a very disturbing line, and his poll numbers began to drop precipitously that she began to walk away. So I believe it was more political motivation than core values on her part."
"I think that people have seen that she's tried to have it both ways. Both Republicans and Democrats have noticed that," Matthew Gallelli, 67, of Purcellville, told HuffPost. "If I were in her position, I'd want to distance myself, too. You can hope to get away from him, but the record speaks for itself."
Gallelli, a Democrat, was handing out literature supporting Hillary Clinton and Bennett to voters at Mountain View. Like many voters there, he thought if Democrats picked up Comstock's seat they might hold it for a long time, considering how the area is transforming. Loudoun County's rapid population growth in recent years has been fueled by minorities, with the number of Latinos tripling in a recent 10-year period.
"The demographics are changing," Gallelli said. "As time goes by, it will become more and more assuredly blue."
Over at the Old Stone School in nearby Hillsboro, a Republican poll watcher said it was crucial that Comstock hold onto her seat. "I'm voting for her because she's the best choice, and I would hate to see her lose," the woman explained.
She declined to give her name in part because she didn't want to speak critically about Comstock on the record. But she also had her misgivings about the Republican congresswoman. Comstock, she believed, should not have hesitated in supporting Trump.
"I voted for her even though she was silent on Trump," she said. "I think it [should be] more about principle and policy, rather than career-saving. She didn't have to stand by him personally. But she abandoned the Republican platform. I've supported people I didn't personally like in the past.
"Her not getting on board [with Trump] divided us. It's disappointing," she added. "But I'm for her 100 percent."
REAL LIFE. REAL NEWS. REAL VOICES.
Help us tell more of the stories that matter from voices that too often remain unheard.