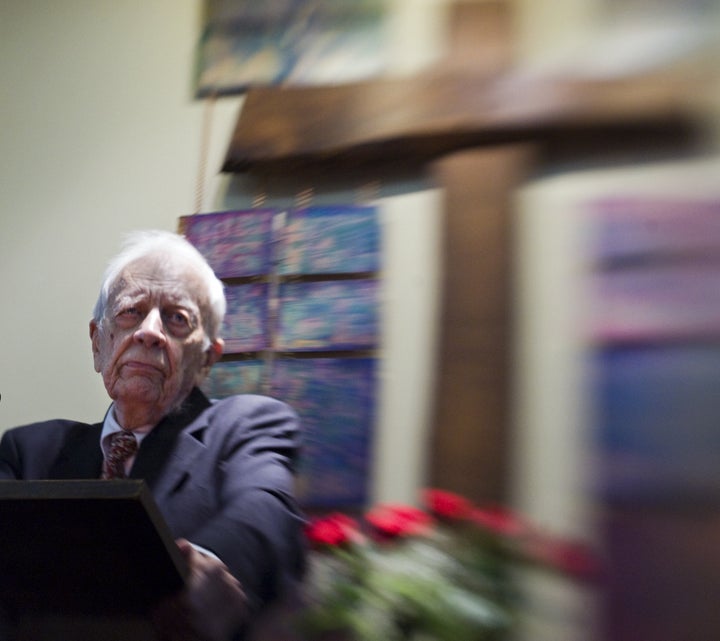 I first heard Gordon Cosby's gravelly drawl at age 21, at a time I desperately needed the gift he offered. I was a few weeks into a two-year volunteer stint in D.C.'s inner city, drowning in the sea of questions one carries when one is at last facing the task of shaping one's life. College just behind me, I had ventured far beyond all my familiar rural and clan signposts. The city was foreign, "homelessness" was a new and trendy word, which would become a vast and intransigent issue, and Ronald Reagan was leading the vanguard as policy-shapers sliced most of the social safety net that held my neighbors.
I was not particularly political, but my daily life living in the red-light district and on the streets, touching every day lives who came for food, clothing and referrals (that hollow, pass-it-on institutional gesture we are so quick to offer) confronted me with social policy. The Christian teaching which had been my evangelical backbone offered few answers for my questions. I no longer trusted its precepts, and it could no longer hold my weight. We were outgrowing each other, looking for honesty.
Gordon was honest. More importantly to me at the time, he had been able to find a balance between sweeping social love and deep internal faith and discipline. He had the fire in the bones that I associated with evangelicals in my childhood -- the seriousness about the Bible (which he studied every day for hours), the deep fervency of prayer and the certainty of God's presence with us.
Yet unlike anyone I had ever met, he married that deep internal faith to a social vision which was powerful in its scope and unrelenting in its certainty that a new form of social relationship is what will bring us joy. Gordon did not want personal conversion alone -- that would have been some kind of heresy. What he wanted was nothing less than a new community.
Sunday mornings, I would slip through the heavy, wooden door of the building Church of the Saviour was housed in, sit at the back, usually not speak to anyone, and listen. The man was a preacher. I realized I'd never really heard a preacher until I heard him unraveling his social vision, his gleaming world of love, into the room.
I'm not sure what makes a preacher, but Gordon lacked some key hallmarks. He'd grip the podium as if he might not stand without it. He'd keep one hand stuck in a pocket, slouch, rock back on his heels, and talk to a place above the door. He didn't have that rise and fall preacher-cadence that played an audience. He didn't look at you like he recognized you, so he wasn't immediately personable. And he sure wasn't a chat-er.
It was as though he was always impatient with the currents at the top of the stream and had no energy for them. He was listening, listening to the deep waters. He was not the guy you wanted to talk to at the cocktail party. He was only here to pose for you the questions that had nothing but difficult, hard-won answers. I mostly avoided him -- yet imbibed every wisdom from afar.
The lessons I took from him shaped my life as it would flow forward, decades of work pondering and writing about the power of faith to turn the world: not just our individual worlds, but to reframe all our social vision. I would go on to add my little efforts and gifts to the many heartening efforts to reweave communities, bring people together across social and racial and economic divides, bring justice to social policy, and to live into a manifestation of Christian faith that embraced an outward journey of engagement with a broken and beautiful worlds and an inward journey of spiritual deepening.
Core to the things Gordon gave me (and so many others) was this balance of outward and inward nurture; that I could not be an effective voice for change if I was not just as inwardly attuned and contemplative. His teachings roll over me now. He loved to talk of ego, and regularly spent time watching for that demon. Perhaps because of that, seemed like one of the most humble men I know.
He loved to be behind the scenes, and he was an startling model in how he refused personal or institutional power. In a time when mega-churches were thriving, he told his church of 100 they were too big and needed to split up in order to live into deeper community and discipleship. That little band then split into seven groups to become one of the most effective ministry incubators I have ever seen, transforming D.C.'s Columbia Heights and reaching worldwide.
And years later, Gordon was one of the first to suggest that the whole endeavor known as Church of the Saviour, now an institution, be laid down. Just like that. No institutional laurels for him. He was always trying to encourage others to move into their strong space. He wanted all of us to dream as impossibly and boldly as he did. He believed that helping people step into their space demanded that he take as little space as possible.
Nonetheless, we sought him out. We wanted to hear his words because they were born of a long personal journey, through race and failure and power and hope. I know far-flung friends everywhere who listen to his words and sermons over and over -- on a South Carolina farm, in a Texas housing project and in a San Francisco school. Gordon would hate to know it, but he has a mess of groupies.
Gordon was the first spiritual mentor to tell me that the way did not have to be about suffering, but joy. He was insistent that our true call from God would not feel burdensome, but like something we had waited all our lives to do. He was familiar with a church which lived off sacrifice and self-denial, but he wanted to build a church that spread from joy, people working out of their deepest passions to meet the needs of the world.
There are hundreds of people who actually knew Gordon well, and who could and should write all this better than I. Gordon was always very generous to me, but in all honesty and full disclosure, he barely knew me. But I loved the part of him that helped me feel heard even though I knew there were thousands of other people pulling at him.
Almost exactly two years ago, Mary and Gordon were generous enough to spend the morning with me, stranger though I was, really. Gordon talked to me about the things that kept him going over the long haul. I was doing an issue of CONSPIRE magazine on the topic, but I was also grappling with it myself, now three decades older. Again, Gordon helped me. He urged me not to try to assess the value of my work or to judge outcomes ("the story we are in is too big"). He told me to be fine laying something down, or not ("If it fails, it fails. Keep walking." ) He reminded me of the large and mysterious story we can never really judge.
He stared deep into my eyes: "For those of us who say we follow Jesus, only one question matters: do we believe there is another realm or not? What we believe about the beyond determines everything."
I returned to Philadelphia and my work with the Simple Way, to my own vulnerable urban community and my writing and my garden and this ongoing work for justice, encouraged.
Characteristically, in three weeks, a small ivory envelope appeared in my mailbox. It was a letter from Gordon, the ever-gracious, thanking me for inspiring him, imploring me to continue my good work.
One of Gordon's last comments to me that day, which was the last time I would see him, was this admonition: "Prayer and contemplation are simply letting Christ into our inner being. The Christ at that door has the power to change us on the inside, in the inwardness of our soul. We share who we are with him, and he shares with us who he is. ... Open the door."
It is the first day of spring, the long leaning into new life, and yesterday morning ,Gordon Cosby, at the side of his partner Mary, finally crossed over the threshold of that open door. As he has longed to do.
May we all make such an end.
Dee Dee Risher edits CONSPIRE magazine, published by The Simple Way, and is a former editor of The Other Side magazine. She lives in the Germantown neighborhood of Philadelphia. Her last conversation with Gordon Cosby morphed into "Believing the Big Story," an article he wrote in the Spring 2011 edition of CONSPIRE magazine.
Calling all HuffPost superfans!
Sign up for membership to become a founding member and help shape HuffPost's next chapter