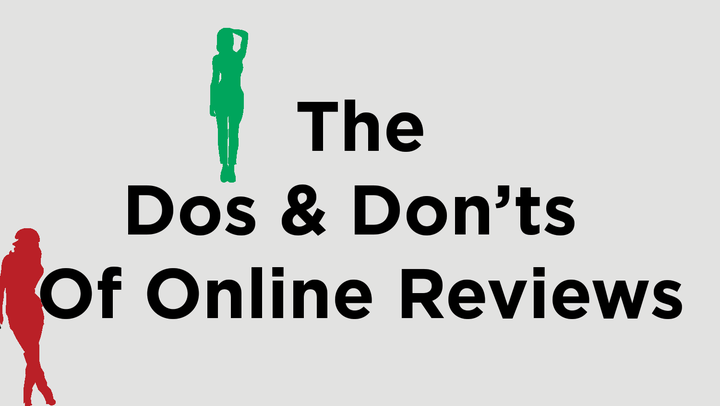 It's true now more than ever that customer reviews can increase both foot traffic and site traffic while improving your business's reputation. After all, Search Engine Land reports that 88% of consumers trust online reviews as much as personal recommendations. And 86% of shoppers will hesitate to purchase from a business with negative reviews, according to Zendesk.
The beauty of online reviews is that they are authentic, and therefore more trusted by current and future customers. The biggest hurdle to building your business's online reputation is a willingness to be vulnerable and unafraid of a few bad ratings. Those reviews will be outweighed by the positive ones simply by making it easy for happy customers to weigh in.
However, believing that your customer service is so good that reviews will take care of themselves is a dumpster fire waiting to happen. So, let's cover some straightforward review Dos and Don'ts that you can start on today.
DO: Incentivize customers to write reviews. Offer a coupon, discount, or future benefit for filling out a survey. This is an easy way to get feedback and encourage future sales.
DON'T: Annoy customers by badgering them to write reviews or fill out surveys. The last thing you want to do is frustrate customers right before they do a write up. The optimal prompt happens during or right after the sales transaction. The more personal it is, the higher the likelihood is of a response.
DO: Embrace your product. It's important that you stay focused on the key benefits of your product or service, and let your customers know how it can transform their daily life. Doing this will help to increase positive reviews by managing expectations.
DON'T: Try to be something you're not. If you set your customers up to believe that your vacuum robot also cooks breakfast, they will let you know how disappointed they are. The best way to acquire genuine reviews is to provide a genuine experience.
DO: Act and react. Respond to reviews, positive and negative, with detailed rhetoric, openness, and enthusiasm. This is a great way to bolster good comments and squash the rough ones.
DON'T: Overreact to negative reviews. Every company has unhappy customers, and those customers are the most likely to reply. Take a deep breath, respond openly, and offer a way to reconcile the situation. Other customers will be impressed when they see that you responded in a professional way to get the problem resolved.
DO: Simplify the process. Use online platforms to make it easy for your customers to leave reviews and for you to manage them. Resources like Demandforce, Customer Lobby, and PowerReviews will contact your customers for you.
DON'T: Rely on outsourced services to be the face of your company or to produce positive reviews. The work still has to be done on your part. These services can be helpful, but timely surveys on your site and reaching out to happy customers are still essential practices.
DO: Send the right message. Fully craft the copy in your messaging statements and review prompts so that customers feel empowered. Be friendly and cater automated responses to customers separately depending on whether their intentions are positive or negative.
DON'T: Annoy customers with overly ambitious surveys or copy. They should not be prompted every time they visit a new page. And they shouldn't have to exit out of prompt screens after they've already responded.
DO: Be vulnerable. Put yourself out there. Set up a profile page on Yelp, Google My Business, Yahoo Local, Foursquare, Merchant Circle, and Angie's List.
DON'T: Post fake reviews. It is clearly shady, but it can be tempting. Remember, customers on widely reputable sites like Yelp will see right through this strategy.
To learn more about making reviews work harder for you, contact the experts at Rebuild Group.
Related
Popular in the Community