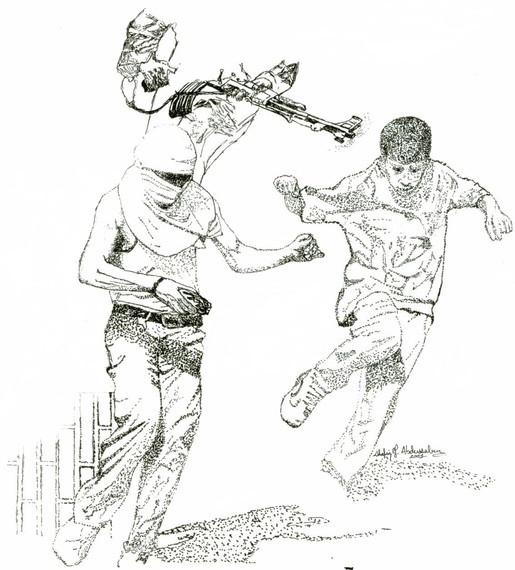 It may appear that America's very painful journey in dealing with race relations has taken yet another difficult detour. Over the last 22 days, words and phrases characterizing Black and White youth and their behaviors have flooded social media and online news agencies. The very definition of these behaviors has been at the heart of the discussion. It appears that there is a clear double standard in distinguishing youth who have committed incredulous acts by using words that would call for the public to "be on the lookout" or "BOLO" for Blacks youth, while their non-Black youths are worthy of a review prior to one passing judgment.
Following the April 19, 2015 death of Freddie Gray, America witnessed the aftermath of the volatile incident between Baltimore police and the Black community through days of violent protest. The Small Business Administration's survey calculated the resulting damages of the Baltimore Riots at approximately $8,927,000. The most notable day of these riots, occurred on Monday, May 25, 2015 when a flood of school age teens with backpacks coordinated "purge style" raids on Baltimore shopping malls and area businesses.
The unified reaction fueled primarily by young Black demonstrators, triggered the Maryland Governor, Larry Hogan, to call for a State of Emergency and activate the National Guard. No one was killed by the protesters during the several days of riots. The protesters were not reported as having taken up firearms or other similar weaponry to launch assaults against law enforcement or the public other than the video footage and pictures of Black youth throwing large rocks at the police and National Guard.
The media, elected officials, law enforcement and community leaders referred to participants in these riots and protest as "thugs." On Tuesday April 28, 2015 President Obama gave a press statement saying "My understanding is you've got some of the same organizers now going back into these communities to try to clean up in the aftermath of a handful of protesters -- a handful of criminals and thugs who tore up the place," said Obama. Coincidentally, that same day, U.S. Secretary of State John Kerry used the word "thugs" to refer to the non-white terrorist group, ISIS. This type of vilifying response to the behavior and actions of the Black rioters touched off a new national debate of the word "thug" as being the new code word for the already degrading "N-Word." Baltimore City Councilman Carl Stokes was in stark disagreement with ethnically directed verbiage by President Obama and the Baltimore, Mayor Stephanie Rawlings-Blake. Just one day prior to President Obama using the word "thug" to refer to young demonstrators, Rawlings-Blake had used it several times at her press conference on Monday April 27, 2015 saying "It is very clear that there's a difference between what we saw last week between the peaceful protests ... and the thugs, who only want to incite violence and destroy our city.
Ironically, many Black Americans also agreed with both President Obama and Mayor Rawlings-Blake. Community debates have caused Black America to revisit what in particular the threshold is of "acceptable opposition" to the law by Black youth. City Councilman Stokes, in an interview with CNN, stated that "These are children [Baltimore] who have been set aside, marginalized, who have not been engaged by us. No, we don't have to call them thugs." However, his views were strongly debated against by both Black and White America. There was no outpouring of supportive conversation to further qualify his views as general sentiment. When the dust settled in Baltimore, approximately half of the 200 people arrested was released without being charge of a crime. Reports have indicated the most severe crimes to have been theft of liquor from liquor stores. The arrestees were not youth.
On Wednesday June 17, 2015, Dylann Roof a 21 year-old white male, allegedly shot and killed nine Black members of the Emanuel AME historically and prominent Black church in South Charleston, South Carolina . Roof, who dropped out of high school before finishing the 10th grade, confirms having committed the heinous crime after sitting with them in their Bible study before his attack. It was later confirmed but then debated whether Police officials were investigating this incident as a hate crime. Despite strong evidence that Roof had published an online hate manifesto and eyewitness accounts of him declaring that his role in the mass shooting was to start a Race War in America, officials claimed uncertainty as to whether or not to call this crime what it was.
A Facebook profile, apparently belonging to Roof presented a portrait of him wearing a jacket emblazoned with the flags of apartheid-era South Africa and of former Rhodesia (now Zimbabwe), both formerly ruled by white minorities. This, a clear indications that he perpetrated the concept of White Supremacy. The financial costs of Roof's act gun violence fueled by racial hate could be estimated through gun violence costs data collected in 2010 by Washington, D.C., think tanks . Reporters W. Zachary Malinowski and Amanda Milkovits report that each fatal act of gun violence ends up costing $5,094,980 per person, with much of that sum consisting of quality of life costs and losses of income. Based on these figures, the estimated financial damages of Roof's alleged hate inspired gun crime will cost South Carolina taxpayers $45,854,820 for the mass shooting deaths of the nine Black parishioners.
Roof's acts of gun violence will total five times that of the financial costs of the Baltimore Riots. As one person he fatally shot nine people, opposed to the 200 people who were arrested in Baltimore for non-violent crimes. Roof clearly established that he wanted to create a Race War in an America already struggling to heal racial divides; however, within twenty-four hours of the horrific mass shooting, many Black leaders in Charleston were already on national news declaring their forgiveness of Roof's action. In fact, some family members of the victims were reported as telling Roof they forgave him for the shootings during his arraignment.
News outlets gingerly and tactfully reported on Roof's character profile, spinning it as more of a speaker's bio than a criminal's profile. One online source stated that many of his Facebook friends were black as to counter act the claims of his being a White Supremacist or having purposely orchestrated a hate crime.
On Thursday June 18, 2015, a day following the mass shooting, President Obama presented his measure of Roof in his speech as "someone who wanted to inflict harm had no trouble getting their hand on a gun." Note that the word "someone" is a pronoun that denotes a person, and the use of such a pronoun in reference to Roof continues to afford him social compassion for his catastrophic actions, as opposed to "thug" which often references that of a black male who's crimes are less heinous. On Friday June 19, 2015, when asked about Roof, Black State Sen. Marlon E. Kimpson said, "He is a thug, a criminal, a person that is filled with hate and it's just unimaginable the kind of grief and sorrow that this community is experiencing as a result." However, Senator Kimpson's "thug" profiling would prove to be no match for mainstream news media, who went on to declare Roof as a "painfully shy loner caught in 'Internet evil" or a "loner, under the radar," a young man with mental health issues, a victim of domestic abuse, and a "lone wolf."
An online news source reported that given the heinous nature of the crime, the willingness of Charleston's survivors to forgive was so remarkable that it earned particular praise from President Obama, and once again, qualified Roof as a person who was vested in America's social structure.
Dylann Roof's reckless behavior and ruthless disregard to human life perpetrated through the use of gun violence, let alone Black life, has significantly threatened our national security infrastructure. Yet, the rioters in Baltimore were demonized for causing civil unrest that was assumed to destabilize our sovereignty. Young adult, Roof, and the young Baltimore rioters engage in actions that are clearly criminal; however, it is important to separate the degrees of criminality in their behaviors by removing race and ethnicity in order to properly put the actions of any youth in its proper perspective:
When a person shoots and kills innocent people, he or she has committed an act of homicide, and therefore is considered a murderer.
When an individual specifically shoots and kills innocent people for merely having black skin -that individual is not only a murderer, but a racist.
When that racist, who shoots and kills innocent people, declares that they are shooting and killing them because they have black skin, that person has committed a hate crime.
These individuals do not exemplify the ideals of modern-American Patriotism and their views, philosophies.
Their hate filled acts of mass murder via gun violence are consist with that of a terrorism.
There is no need to dehumanize Roof, because his actions, writings and behaviors have officially defined him as "inhumane." Moreover, before America can began to resume the racial healing process it will be important to resist using double standards when describing Black youth who have committed criminal acts, and discontinue the act of passing judgment based on their ethnicity and or race. The Black youth of the Baltimore riots, who were looting and engaging in property damage, in no way compare to White 21 year-old Dylann Roof, who may have set America on a long and bleak course of racial turmoil-- in addition to costing his home state tens of millions of dollars.
Related
Popular in the Community