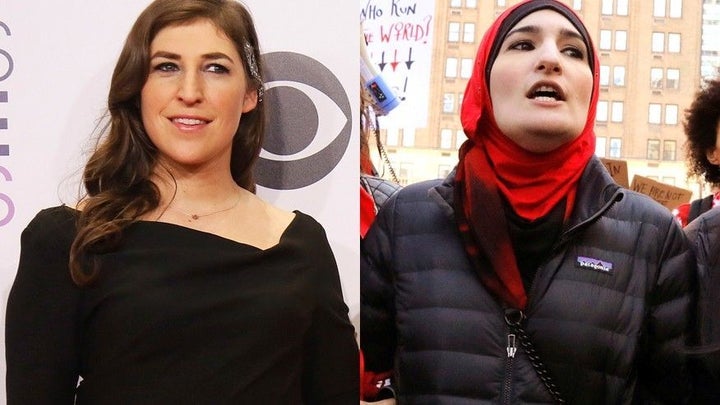 Linda Sarsour, the Palestinian-American political activist, expressed back in March how feminists need to care for Palestinian women, and alluded to the sentiment that Zionism and feminism are incompatible. Sarsour said to The Nation, "It just doesn't make any sense for someone to say, 'Is there room for people who support the state of Israel and do not criticize it in the movement?' There can't be in feminism. You either stand up for the rights of all women, including Palestinians, or none. There's just no way around it."
Big Bang Theory actress and Orthodox Jew, Mayim Bialik, retaliated by writing an article for Grok Nation, which outlined how Sarsour's statements were not only offensive, but also false. Bialik wrote on her Facebook page, where she also apologized for making it seem as though Sarsour directly said that Zionism and feminism are incompatible, "[The] conversation surrounding Zionism finally went too far for me to keep my big mouth shut." Bialik vocalized her frustrations, and now I am following suit. I am tired of the discrimination against my people and of activists, such as Sarsour, who think they can pit my identity as both a Zionist and feminist against each other.
"Zionism is the belief that Jews have the right to a state, just as feminism is the right to equality."
The headline-making feud between Sarsour and Bialik made me start to think about the correlation between my feminism and my support of Israel. Zionism is the belief that Jews have the right to a state, just as feminism is the right to equality. But both definitions have been shanghaied by anti-Semitic and misogynistic rhetoric. This is where I realized that the ways in which people express anti-Zionism are very much alike to sexism.
My stances with Israel are not straightforward, because sociopolitical realities are complex. As a liberal Zionist I do not support Likud or Netanyau, just as I do not support Trump. But as a Jew, I was raised to love my Jewish homeland and to appreciate it as the only true sanctuary for my people. My view is further complicated because as an academic I praise the country for being the only democracy in the Middle East. Most importantly for me, as a feminist, I value Israel for its progressive stances on women's and LGBTQIA's rights.
As a Zionist and a feminist my stances have been relegated to black and white understandings, leaving me a blank canvas for others to picture me. Once people at my liberal arts college, Sarah Lawrence, discovered the dark truth that I do not despise Israel, I was labeled as a Zionist-extremist. Similarly, as a female, I am labeled as a slut or prude, dumb or overbearing—the latter being when they realize I have a brain. It is this labeling of my Zionism and of my womanhood that reduces the beauty of belief to something ugly and untrue.
Beyond the labels themselves, it is the mindset behind them that is disturbing. It is as though they are created in a moral-complex vacuum, which only spouts double standards but refuses to take in any insight. If a woman speaks her mind she is considered angry, whereas a man is deemed intelligent and forthright. Similarly, Israel is constantly under threat of destruction by surrounding countries, but Israel is seen as the Goliath perpetrator.
The Israel-Palestine conflict cannot be reduced to good and evil. This is not to relegate the human rights violations that have occurred, but to contextualize them. We are dealing with Likud, a right-winged government, and Hamas, a UN recognized terrorist regime. I am critical of the government just as I am with most current countries. But Israel is more than a government. It is a country that allows trans people into the army, has Arab women representation in government, and maintains women's rights, such as education, in their legislature.
It is absurd, especially when one looks to any country North, South, East, or West of Israel and understands their human rights violations, that I am told my feminism and Zionism are incompatible. Our allegiances should be with the people—both Israeli and Palestinian—and not focused on demonizing either, that is unless we demonize the entire Middle East for their relatively greater human rights violations. People call Israel an ethnic cleansing, apartheid state but Israel has a more diverse population than its surrounding countries and, unlike South Africa apartheid, has laws of nondiscrimination within its constitution. Yes, racism exists within Israel, as it does in most parts of the world. But singling out the Jewish State above the rest shows how these double standards are a projection of anti-Semitism as opposed to true concern for the people.
To be a feminist is to accept that women have a choice. Bialik said on her Facebook page,"And the slow - and not-so-slow - forcing out of liberal Jews from our own political identification as liberals is the most divisive, un-American, un-feminist, disturbing turn of events in my life as a liberal Zionist." Sarsour should reevaluate her feminism, because as it stands right now, she excludes and outcasts a large portion of liberal Zionist women. I would implore Sarsour to widen her lens to the Jewish women, a group of people that are a speck of the population on this planet.
The Jewish people have been through a history of oppression and discrimination, and yet, despite people like Sarsour, we are still here. Just as I should have the right to choose what is right for my body, I should have the right to choose what is right for my mind. I choose the Jewish state and my fellow women—no incompatibility found.
Related
Popular in the Community