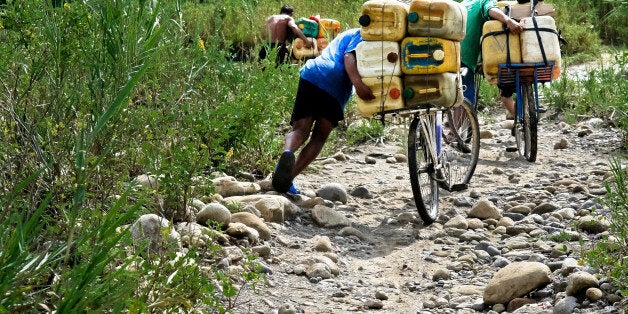 Marcos Figueroa had friends in the highest office and the lowest corner of the Colombian state of La Guajira. From a poor indigenous family, Figueroa rose to wealth and power … to become the most wanted man in northeast Colombia. Until his arrest on Oct. 22.
In the Colombia-Venezuela border region, the man known to all as "Marquitos" — little Marcos — is the alleged kingpin of gasoline smuggling, a billion-dollar trade that has claimed an estimated 15 percent of gas sales in Colombia and swallowed up to 40 percent of Venezuelan fuel subsidies, according to Gustavo Márquez, former Venezuelan minister for trade and commerce and ex-ambassador to Colombia. To the political world, he's the alleged assassin responsible for a spate of political murders and the financial backer of a political-criminal alliance that seized control of the La Guajira governor's office, along with almost half the state's mayor's offices.
Yet to many in the poverty-stricken region, Marquitos is a legend whose exploits earned him mentions in popular ballads, whose social control earned him the nickname "the dogcatcher of bad boys" and whose financial support in communities abandoned by the state earned him loyalty. "For some he is a known criminal, a bandit, a hit man, but for others he is a good man that helps his communities," says the commander of the La Guajira police, Col. Alejandro Calderon. For now, Marquitos is awaiting extradition from Brazil, where he was arrested on a Colombian warrant on suspicion of murder, aggravated criminal conspiracy and illegal possession of firearms. He'll be formally charged and will enter a plea after returning to Colombia. Attempts to identify and contact his legal representatives were unsuccessful. The U.S. Embassy in Bogota would not say if Marquitos would be charged and extradited to the U.S.
Marquitos — 47, short, lean and muscular, with close-cropped receding hair in his arrest video — was born into poverty in an indigenous Wayuu family in the town of Fonseca. He began his criminal career over three decades ago as a contraband highwayman in the lawless deserts of the border region between Colombia and Venezuela, according to an investigation by Colombian news site Las2Orillas. There he would extort tolls from smugglers at gunpoint and sell on stolen trucks and containers. In 1998, Marquitos was arrested and convicted of handling stolen goods. But his spell behind bars ended quickly when accomplices drove a dump truck loaded with sand into the prison wall, allowing him to escape in a waiting taxi.
Marquitos' allegedly began working as an enforcer for the region's criminal heavyweights, among them Jorge Gnecco, a rancher, businessman, gasoline smuggler, drug trafficker and head of the most powerful political family in the region. In 2001, Gnecco was murdered when allied paramilitaries turned on him in a row over drug routes. According to the testimonies of demobilized paramilitaries, after the hit, Marquitos refused to submit to Gnecco's murderer, the warlord known as Jorge 40, and instead fled to Venezuela. Over the border, in the city of Maracaibo, he built up his drug trafficking and gasoline smuggling networks. Marquitos reportedly would arrange for gas tankers filled with cocaine to be sent from Colombia to Venezuela, then return with contraband gas or cash — although local police told OZY they have no proof he used this method.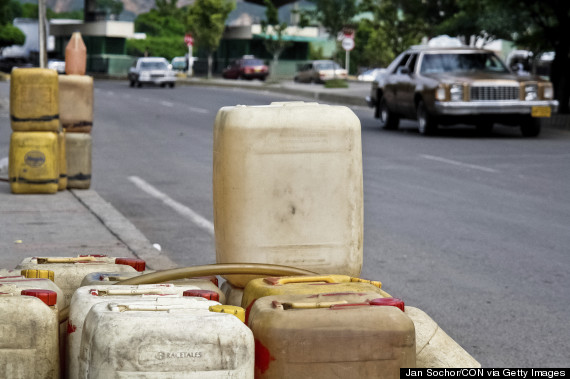 Barrels of the smuggled Venezuelan gasoline are sold along the highways in the border region, close to Cucuta, Colombia, on 2 May 2006 in La Parada, Colombia. (Jan Sochor/Latincontent/Getty Images)
By the time Marquitos returned to Colombia, the paramilitaries had demobilized, Jorge 40 had been extradited to the United States and the already lucrative contraband gasoline trade was about to take off, with profits stoked by cheap Venezuelan price-controlled gas amid runaway inflation. Marquitos began sending convoys of trucks and tankers loaded with thousands of gallons of gasoline. The convoys earned the nickname "caravans of death" as they hurtled through La Guajira at reckless speeds, stopping for nothing, occupants shooting at police who tried to intercept them. Marquitos allegedly assembled a private army and charged a toll on anyone moving or selling contraband gasoline. Everyone from rival gangsters to street-side gasoline vendors who didn't pay faced Marquitos' team of ruthless hit men.
Marquitos also began building political power with an old friend, Francisco "Kiko" Gomez — the cousin and political protégé of Marquitos' slain boss, Gnecco. Together, they plotted Kiko's rise to governor of La Guajira in 2011, with Marquitos providing campaign funds and murdering anyone who stood in Kiko's way, according to witnesses in Kiko's ongoing murder trial. "They took over; the control of the La Guajira governor's office allowed them to control the contraband gasoline business," one veteran local politician says, asking to be unnamed for security reasons. Marquitos and Kiko had allies in at least six of the state's mayor's offices and among its representatives in Congress.
In October 2013, federal authorities arrested Kiko, although not before a standoff with police, which was followed by the governor leaving in an ambulance complaining of heart problems. Kiko is on trial for three murders and under investigation for 15 more. Suddenly, Marquitos' name was in the press, his face was on Colombia's most-wanted posters and a $170,000 reward was on his head. For a year he escaped a transnational manhunt, as police struggled to penetrate his elaborate ring of security and his community-based intelligence networks. "There are people that tell him, 'Look out, brother, because justice is looking for you around here,' " Col. Calderon told OZY shortly before Marquitos' capture.
In the end, Marquitos fell for the love of a woman — or more accurately, eight women. Police began tracking the mothers of his 19 children, and eventually one of the women led them to a luxury mansion in the Brazilian border city of Boa Vista, where the alleged king of gasoline smugglers surrendered without a fight. While Marquitos' reign may be at an end, few believe his arrest will stem the flow of contraband gasoline across the Venezuelan border. "While there is the demand and there is the supply, the business is going to go on," says the politician.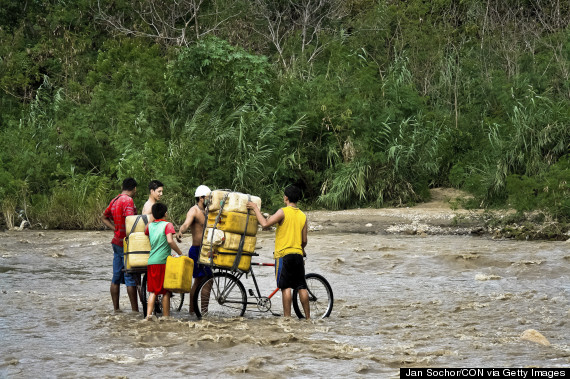 Smugglers push bicycles loaded with gasoline barrels through the river Tachira on the Colombia-Venezuela border, on 2 May 2006 in La Parada, Colombia. (Jan Sochor/Latincontent/Getty Images)
Related
Popular in the Community