Most of us have heard, seen or read about a six-year-old girl named Lexi who was ordered to be taken from those who fostered her for the past four years in Santa Clarita, California.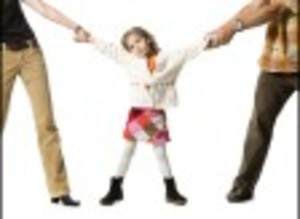 The court of public opinion and social media are sympathetic and supportive of Lexi's foster parents, Rusty and Summer Page. This is very understandable since the Pages have seemingly done nothing but provide for the well-being of Lexi. It is a heart-wrenching and relatable tale of having been ordered to hand over Lexi despite their efforts to adopt the child they had come to love and consider part of their family along with their three children.
Sympathy for the Pages is also understandable because Lexi's story is being told, written, produced, and directed by them.
Lexi's biological parents had their rights terminated because the child had a black eye when she was just 17-months-old. While there are no further details of alleged abuse, Lexi's mother reportedly had substance abuse issues. The child's father, who has a criminal history, has attempted, unsuccessfully, to reunite with his daughter.
After being in two previous foster homes, Lexi became the Page's foster child four years ago when she was two years old.
The Page's hopes to make Lexi a permanent part of their family were not possible, however, because of the Indian Child Welfare Act (ICWA) that was enacted to protect children of Native Americans from decades of exploitation. Lexi's mother is not Native American but her father is enrolled with the Choctaw Nation of Oklahoma and Lexi is 1.5% percent Choctaw. Authorities made it clear to them repeatedly that Lexi was never available for adoption, a fact they chose to ignore.
Main stream and social media present it as a case of overkill in following the letter of the law with the pendulum of public policy swinging too far to one extreme in ordering Lexi to be taken to Utah to be raised by relatives through marriage who are not Native American but fall within the familial placement preferences under ICWA. These one-sided reports omit the fact that she will be living with one of her sisters; her other sister lives down the street from them.
Also left out of one-sided reports is the fact that Lexi has had an ongoing relationship with her paternal relatives in Utah for nearly her whole life. The Choctaw Nation has advocated for Lexi to live with her family since 2011. The family have visited the girl at their own expense every month and regularly Skype with her at least once a week. Additionally, she has visited them in Utah and she knows them as family, according to insiders.
"[Lexi] has a very close relationship with the Utah relatives, and the Pages have been a big part of facilitating that over the years, so it's baffling that they would create this kind of drama and friction between the two families at the last minute when they have thus far had a very amicable relationship that was in Lexi's best interest."
In regard to the protesters that surrounded the Page's house and succeeding in preventing the first attempt at transfer in order to avoid a dangerous situation, the same source says:
"They knew good and well that the transfer was coming―this was not a surprise visit from DCFS, so all this drama was completely for show."
The Pages are not new to this. Indian Country Today reports that Lexi is the second child that the Pages have attempted to adopt out of foster care, according to court documents. The first child was also returned to extended family after a custody battle with the Pages.
Is shouting the loudest synonymous with being right? Are choreographed media circuses replete with cries and screams, not just of Lexi but the foster family, neighbors, and supporters, helpful or hurtful for the child at the center of the storm?
How does the Page's high profile style compare to that of Lexi's relatives and what does each approach say about who is putting the child's interest foremost? In the biblical story of two mothers claiming the same child, it was in fact the one who stepped back and refused to subject the child to harm who was deemed the "real" or more fit mother.
Children are not possessions. Losing custody, whether in divorce or in foster and adoption, should always happen in the courts, not the media. The Pages are appealing the decision and will go to the California Supreme Court, however, of such litigation should be kept from the child in the middle.
It is imperative that the physical transfer of a child in such a tug-of-war happens in a private, not public, manner with the child being reassured that he or she is loved and will be well cared for. No more fuss should be made in front of the child than would occur before a visit to grandparents. All media should be kept far from such events, not invited or encouraged to document it to garner sympathy.
Behaving hysterically in front of a child caught in a custody dispute is not in keeping with good parenting that puts the needs of a child first. One can only hope that such an unnecessary and extremely traumatic hand-over over of the child that seemed to be orchestrated for the purpose of garnering continued and increased support for the Pages' case would be taken into account when the courts consider who is best fit to protect this child rather than exploit her.
It has also been alleged that Rusty and Summer Page do not intend to visit Lexi. Care of children should never be an either/or situation. Just as children in divorce need and deserve contact with both parents, children in state care need, deserve, and should be given access to both permanency and family connections.
Court delays are unacceptable as are postponements of motions which are often used intentionally to increase the argument - untrue in this case - of "the only family (s)he's ever known." It is a tribute to the caseworkers of this case that contact and visitation was encouraged. Visitation should always be court-ordered and abided by all parties in such disputes. Unfortunately, even perfectly fit mothers and fathers are too often kept away for years while contested adoptions wind through the courts.
Family Finding "identifies relatives and other supportive adults, estranged from or unknown to" children in state care "especially those who are willing to become permanent connections for him/her." The non-profit defines permanency as "a state of permanent belonging, which includes knowledge of personal history and identity, as well as a range of involved and supportive adults rather than just one legal resource" despite the child's physical custody.
Family Finding has partnered with the National Institute for Permanent Family Connectedness (NIPFC) which recognizes that "the single factor most closely associated with positive outcomes for children is meaningful, lifelong connections to family."
"We appreciate the concern for Lexi and want to assure everyone she is in a safe, loving home with her relatives and her biological sisters....

"Foster care is a much-needed temporary service provided for children until the child can be returned to the care of his or her family. Placement with family is the gold-standard of any child-custody case not just a case involving tribal children. The Pages were always aware of this goal.

"Many steps have been taken by the Choctaw Nation to ensure the best placement of Lexi. An independent clinical psychologist was brought in to gauge her ability to transition from the foster home to her relatives. The California court appointed a marriage and family therapist to perform a child custody evaluation to assess the mental health and parenting practices of both parties. The experts along with Lexi's long-time individual therapists, her social worker and her attorney, all agree it is in her best interest to be with her relatives. The foster family understood this. All children, not just Native children, do better with caring relatives....

"Lexi's safety and wellbeing are the Choctaw Nation's paramount concern."
Having been a foster parent, I know how daunting it is to have to hand a child over. However, it is the job that foster parents sign on - and are paid - to do. They are paid caretakers, not kin and they have no legal standing as parents. The job of fostering is to care for children in limbo and obey the decisions of the courts and child protective services and others who evaluate the situation.
It's a tough job. But the public needs to trust the professionals who evaluated all the players, and not jump to conclusions based on the most vocal and visible players.