If you're under 40 years old the once iconic American brand Cadillac is probably just a faded memory like grandpa's old cologne or something out of Mad Men.
But the energetic German-born former CMO of BMW Uwe Ellinghaus, now at the helm of Cadillac with new digs in NYC, is the driving force behind a new movement in the brand's history.
I know...(insert eyeballs rolling). It was tough for me too holding back my cynical smirk when I heard it. After all, how many times has Cadillac tried (and failed) to reinvent itself? How long has the brand ignored us?
It's no coincidence that Uwe comes from BMW with a track record as a maverick to quarterback this new American team. He brings to Cadillac what the US National Soccer team needs more of in order to compete on the World stage. He's got international experience from a club that has dominated the top class for decades. GM is likely banking on him to turn the team around and create winning seasons.
Ellinghaus has his work cut out for him so what's his plan?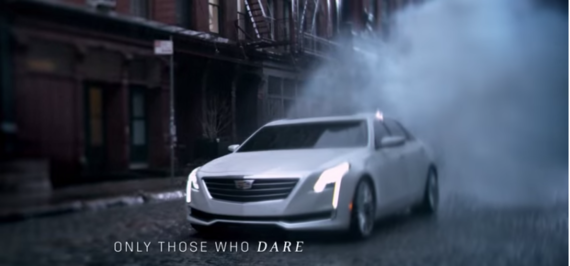 Drawing inspiration from what makes this country great, Cadillac is trying to align itself with real entrepreneurs who have fought against the status quo, shunned the non-believers and earned their way to greatness by doing work that matters.
This message is conveyed in an inspirational TV campaign called "Dare Greatly" named after the famed Theodore Roosevelt quote, 'Man in the Arena' with the gritty NYC city streets as backdrop.
You can't blame Uwe for trying something so ambitious as treating his 100-plus-year-old brand like a start up and attempting to make "made in America" cool again. Especially because as Roosevelt said, "The credit belongs to the man who tries--even if he fails." That is part of the heart of America. We're scrappy. We're underdogs. But don't underestimate us or our ability to rally when the going gets tough.
Ellinghaus said brilliantly, "You can't out-German the Germans. Why would anyone buy a replica when you can have the original." My other favorite quote was when he said that "the old corporate world is no longer appealing...financial institutions and Wall St. are among the most uncool places for younger people (the future luxury car buyers)...and you look at the way most other luxury car brands are communicating with their audience...it's still full of "wankers and bankers."
So Cadillac's plan is to go back to the drawing board and find customers who don't want to follow the herds of German car drivers. People who want to find their own way. Individuals who love contemporary American luxury because it's casual (think whip-smart Mark Zuckerberg in a hoodie), not stuffy or formal like European luxury.
Watch this full episode of Behind the BRand with Cadillac CMO Uwe Ellinghaus and learn more of the playbook and how they plan to win.
Calling all HuffPost superfans!
Sign up for membership to become a founding member and help shape HuffPost's next chapter