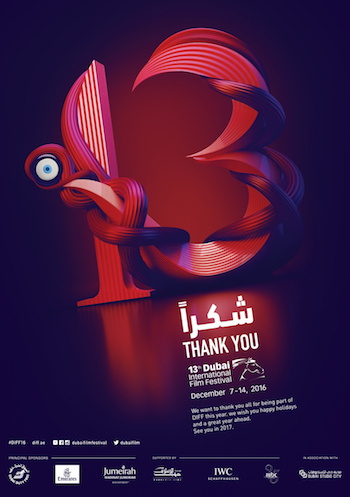 OK, I'll just preface this by saying that were the majority of film reviews written by women, Rogue One: A Star Wars Story would never have been made. I'm probably a Star Trek girl through and through because I like a little reflection to go along with my entertainment. Not a whole lot of references to things I know nothing about nor want to particularly find out. But more on the film that closed this year's Dubai International Film Festival later in the blog.
The reason that DIFF exists and just celebrated its glorious thirteenth edition is primarily to showcase and support the ever-growing Arab cinema industry. Yet we all know that a festival without international stars, great world premieres and exclusive parties would not be on anyone's radar for very long. And this year, DIFF brought to Dubai Hollywood royalty like Andie MacDowell and Samuel L. Jackson, HBO's Westworld stars Jeffrey Wright and Luke Hemsworth, filmmaker extraordinaire Asif Kapadia, world-class composer Gabriel Yared and Indian superstars of past, present and future Rekha, Om Puri and Ranveer Singh. Along with of course the great auteurs from the Region like Yousry Nasrallah and Magdy Ahmed Aly, as well as world festival favorites like Hedi by Mohamed Ben Attia and Layla M. by Mijke De Jong. The red carpets were plentiful, the atmosphere electrifying and the result of the seven days and eight nights was a festival like no other -- where media, filmmakers and audiences alike could enjoy the beauty of Dubai and absorb as much cinema as their appetite allowed.
As I waited one morning to interview Jeffrey Wright and Luke Hemsworth about Westworld, I listened in on their conversation with other members of the media. I have loved Wright's honest acting since I watched him in Julian Schnabel's Basquiat and I follow his blunt yet so needed Tweets on social media. The man doesn't dwindle around serious issues. For example, see below.
So, I did what I did back in Berlin with Gianfranco Rosi, at the beginning of his journey with his documentary Fire at Sea -- I used the waiting time to color my interview. The host of the Arabic version of a well-known US entertainment TV magazine asked Wright if he could say a few words in Arabic, and Wright admitted that he'd learned some Arabic twenty years ago and at that time "I learned to love Umm Kulthum then, I love her music!" It was warming to hear him say those words as the Egyptian singing legend has become for me inseparable from this Region. Everywhere I go, be it a shop in a mall, a restaurant or even at gala events, her haunting voice is the soundtrack of Dubai, and beyond.
When he was asked about the recent US election, Wright also managed to put into words what we've all been feeling by saying, "America is going through an interesting phase right now. I think it's going to be an interesting next few years." Most of us have been feeling like the real work begins now and hearing Wright address that by pointing out that the election had brought out "a real awakening of people who are concerned about tolerance and social justice all the things that the results of this election seem to have cast aside," made me hopeful. He finally added, "America is a big country. And we're stronger than any one person. America is really not defined by its presidents, it's defined by its people. At the end of the day I hope we become a better country and progress forward. I'm hopeful that at the end of the day we'll keep progressing forward as we have."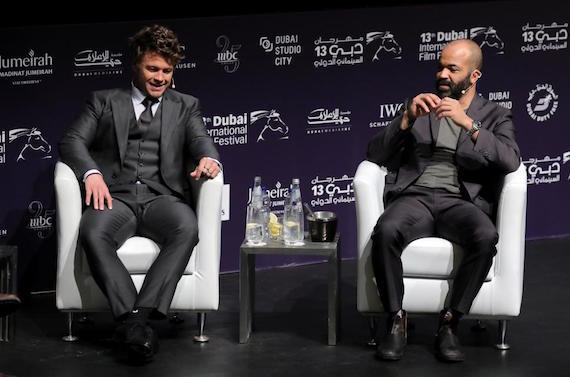 When the time came for his co-star Luke Hemsworth, the young Australian actor wasn't as lucky with his questions. "Do you feel bad that you're the shortest of all the Hemsworth brothers?" The host chimed in. I am often baffled by the complete lack of any class in TV journalism. Not that print media is that much better, but at least we have a time delay from when we formulate stupid questions to when we actually transcribe the interview to realize the errors of our ways... Anyway, Hemsworth was kind, and quick on his feet. "They stole all my food when I was growing up!" He replied, and I secretly giggled, at the TV host, while clapping inside for the star.
I'd come to DIFF really craving to finally meet in person Shirley Abraham and Amit Madheshiya, as well as watch on the big screen, where it belongs, their masterpiece creation The Cinema Travellers. Back when the film premiered in Cannes, their publicist and our common friend had sent me a link to watch the documentary and write a little something about it. Sitting in my favorite corner of my apartment, holding their jewel of a film in my hands, I felt like I had just been handed a gift. My world became part of theirs for nearly 100 minutes, and I was immersed in the wonderful joy of cinematic magic. But watching it then in Dubai, on the big screen where most films belong, was like discovering a whole new film within The Cinema Travellers, like finding new visual and emotional clues that I could never have imagined on the screen of my laptop. And meeting Abraham and Madheshiya in person finally solved the puzzle of how such a beautiful film could ever have been made... It took two beautiful human beings, that's how!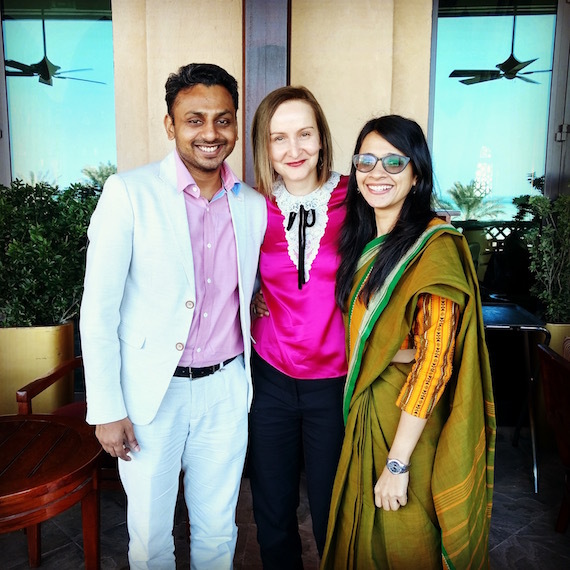 DIFF this year was also about fashion. For me, the festival always holds its finger on the pulse of what Dubai fashionistas are wearing, but for its thirteenth edition, they went one step further. While people lined up for the Middle East premiere of the Will Smith starrer Collateral Beauty, we were all treated to a fashion show on the red carpet, organized by the Dubai Design District, also known as D3, and Fashion Forward Dubai. Five designers who create and sell in the Region -- Zareena, Amato, Michael Cinco, Ezra and Hussein Bazaza -- presented their evening looks in front of DIFF Managing Director Shivani Pandya, the Executive Director of Operations Mahsa Motamedi and yours truly, all sitting in the privileged front row. I loved the flavor of fashion on the red carpet, this time even overshadowing the celebrities and the films for a few minutes. But of course, I always feel fashion provides the perfect frame to cinema and art.
There was also an announcement during this year's festival that felt like the right thing at just the right time. As the shortlist for the Foreign Language Academy Awards seems to have completely ignored cinema from the MENA region this year, the Arab Film Institute will hopefully step in. A new entity that promises to "promote, inspire, preserve, educate, support, influence and engage Arab film professionals under one roof," the AFI has brought together producers, filmmakers, political figures and critics to create a database that may eventually give birth to an award platform for the Middle East, from the Middle East and within the Middle East.
Of course, there was cinema at DIFF, films to satiate even the hungriest of cinema goer. For me, the event closed with two works, one I loved, and one I could really have lived without.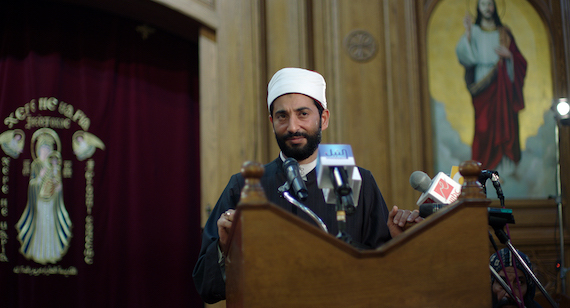 Magdi Ahmed Ali's Mawlana (The Preacher) felt to me like it should have been named "The Prophet" since on the day it premiered it hauntingly foretold of the day's events. Mawlana tells the story of a moderate Imam, a religious leader followed and beloved by those around him, yet whose tolerant views are being challenged every day, by what happens in the world. It doesn't hurt that the film stars Egyptian actor Amr Saad in the lead role and his charisma and restrained demeanor as Sheikh Hatem El Shennawi really sell the film to the audience. But perhaps most haunting for me was discovering the scene of a Coptic Christian church bombing which had just occurred before the film's red carpet, sending chills up my spine. When a beautiful, touching film has that prophetic feel to it, I can't help but find it a winner.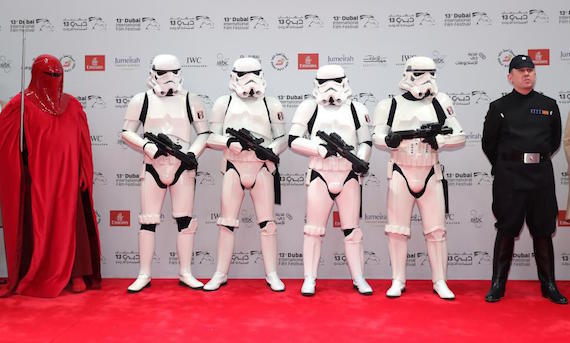 So now onto DIFF's closing night film Rogue One: A Star Wars Story. This felt like an overdrawn, too dark and too full of references to things I know nothing about, video game. Granted, if you are a huge Star Wars fans it will be a treat to find Peter Cushing resurrected by CGI as the Imperial Officer Grand Moff Tarkin from the 1977 original Star Wars: A New Hope. Thrilling? Well it would have been if the 3D glasses I found on my seat weren't used and therefore smudged beyond what any cleaning could do to them and the images of Cushing felt inconsistent throughout. His presence didn't do it for me. I get it that Star Wars fans will celebrate anything to do with the franchise, from T-shirts (even I had to get an overpriced one of Darth Vader dressed as an Arab dictator) to merchandise to yes, tired old films. But what is up with Felicity Jones and those constant "meaningful" looks she shoots at her co-stars? Having just watched her in The Tempest, I can't say her acting has gotten any better with age. And don't get me started on Diego Luna, a brilliant actor who is completely miscast here. His accent gives Captain Cassian Andor a Speedy Gonzales feel I just could not get over and I giggled each time he opened his mouth. I did like Riz Ahmed, but I've liked him in each and every role he's played since The Reluctant Fundamentalist.
Am I being PC about this? Probably not, but I haven't felt this strongly about how much I hated a film in a long, long while... Yes, the red carpet with the Chewbacca crew was fun, but other than that, as I said, I'm a Trekkie through and through.
Finally, a thank you to the festival, its organizers and the publicists who made my life so perfectly organized and pleasant for the past week or so. This edition of the Dubai International Film Festival was indeed a "Lucky 13" one for me and receiving the thank you note that I've posted as the header image of this piece, the day after DIFF ended, was the cherry on the cake. From the opening gala and party to the closing night film and big bash, with a live soundtrack provided by the Reyes Heritage (the sons of the Gypsy Kings) there wasn't a dull moment or a sour note for Dubai, throughout. And the logo created by local designer Ash Chagla of Science Sunshine proved to bring just as much luck as it promised.
Till next year DIFF, from December 6th to the 13th, 2017 -- Inshallah.
Red carpet and portraits photos by Getty Images, all courtesy of DIFF, used with permission.
REAL LIFE. REAL NEWS. REAL VOICES.
Help us tell more of the stories that matter from voices that too often remain unheard.