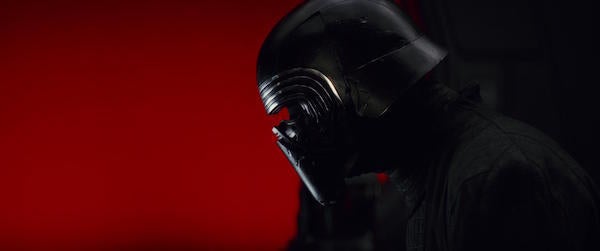 I wasn't a huge fan of the last installment of 'Star Wars' titled 'Rogue One: A Star Wars Story', which closed the Dubai International Film Festival in 2016. I found the chemistry between Felicity Jones and Diego Luna like a couple of fingernails dragging on a blackboard. When they were — spoiler alert! — done away with, I was actually kind of happy. And that's not how you should feel about intergalactic heroes, am I right?
Fast forward one year and I found inspiration and fun in another chapters of the 'Star Wars' saga which has been going on since I was a child! This time around, with 'Star Wars: The Last Jedi' I was given a film full of great characters, incredible acting and yes, Adam Driver, yum, and Carrie Fisher — she in her last acting turn before her way-too-early demise last year. While I had to leave the film before its ending — I'm a big girl I'll admit it, I wanted to say goodbye to all at the after/final party for DIFF and I have a hard time watching films in 3D anyway as my eyes don't align correctly — I've already booked myself a ticket for next week to watch it in full and on a standard screen. Actually, I think even then I may need a third viewing of it, it's that good.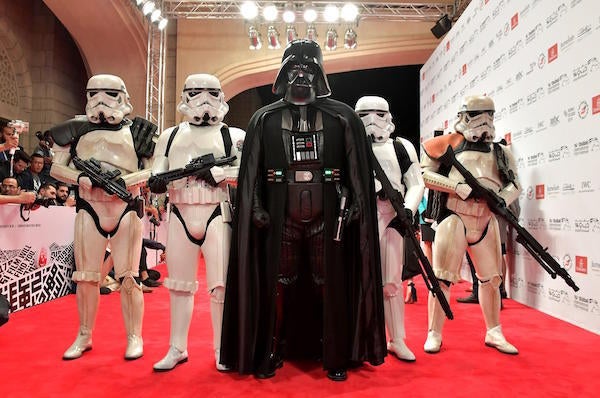 So kudos to the Dubai International Film Festival for closing this year's edition with the Middle East premiere of 'Star Wars: The Last Jedi' and making every nerd in the UAE happy but also any woman who, like me, believes in the true power of working together with our men too, to create a better world. Because, if you've watched 'The Last Jedi' you realize that the lesson it carries is that life is a work in progress and although women hold the power in this intergalactic fantasy, it is through their work with men, together and side by side, that wars are won and peace is restored.
DIFF Artistic Director Masoud Amralla Al Ali said that 'Star Wars: The Last Jedi' is "an epic adventure which unlocks the mysteries of the past" and truly, that wraps up the film completely. Director Rian Johnson sent a video message to the Dubai audience saying they all "had a great time making" the film and "may the Force be with you all." His film does in fact speak for itself.
So what is it that holds audiences spellbound and keeps them coming back for more than forty years with the 'Star Wars' films? I mean, critics all loved 'Blade Runner 2049' which came out a good 35 years after the original from 1982 and yet audiences failed to connect to it this year. It was a financial flop, but it may find a new life once it sweeps up all the "craft categories" at the Academy Awards.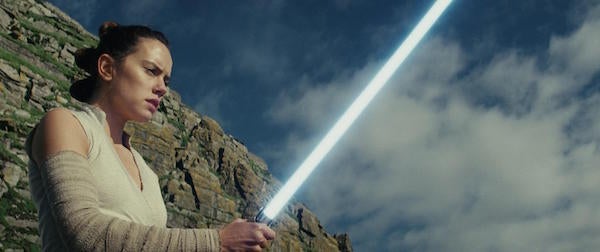 And yet, no matter how far out there to the galaxies 'Star Wars' goes, its fans keep coming back for more. Maybe its success lies in timing, we basically can plan on watching one installment every two years if not sooner — lately it's one a year actually — and also, while some of the stories move to alternate universes, there is always familiarity thrown in there. There are known faces sprinkled in — even if they have to revive them via a CG hologram like they did with Peter Cushing in 'Rogue One' — familiar anti-heroes and those infamous rolling titles at the beginning, catching us up to what's been going on right before the movie begins. For me, it's like being a child again and watching the very first 'Star Wars' and that feeling doesn't let up until I leave the theater.
But this time around there were also a lot of reasons for my hipster, fashionista self to be happy. I mean, the sultry Adam Driver returning as Kylo Ren AKA Ben Solo was good enough to shut it down for me. And the fabulous women of 'The Last Jedi' which included my favorite Princess turned General Leia Organa, played by Carrie Fisher of course, Daisy Ridley playing Rey, Laura Dern as the hyper glam Vice Admiral Holdo, Kelly Marie Tran as the sublimely funny Rose Tico and Lupita Nyong'o's Maz Kanata — the woman can do no wrong in my book.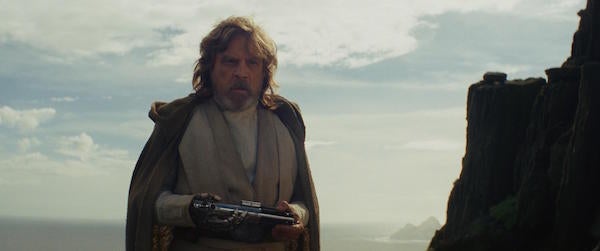 To top it all off, there is Mark Hamill on a weird, New Zealand-y looking island where penguin-like creatures (Porgs, which can double as a chicken alternative apparently) live and wabble freely, along with odd-looking and sounding locals who don't seem to like Rey's aggressive ways at first. And then there are the clothes. Yes, the clothes, so much glamour all around, with Vice Admiral Holdo looking like she just stepped off the Tom Ford SS18 runway, while General Organa appears to have made a deal with Marc Jacobs for all her wardrobe. And I don't mean the Marc by Marc Jacobs label either. These are couture looking pieces, baby!
In fact, the glamour is such an important part of 'Episode VIII' that shoe master extraordinaire Christian Louboutin even designed a collection of four styles inspired by the women of 'Star Wars: The Last Jedi'. So there, to those who don't think fashion and film go hand in hand. Or ever should.
Was the DIFF closing party at Zero Gravity, after the film, great? You betcha. It always is. Because film is also synonymous with fun in my book.
And when/if watching films will ever stop bringing me unbearable joy each and every time, I will pull a Keyser Söze turn on you — and like that... I'll be gone.
Calling all HuffPost superfans!
Sign up for membership to become a founding member and help shape HuffPost's next chapter
This post was published on the now-closed HuffPost Contributor platform. Contributors control their own work and posted freely to our site. If you need to flag this entry as abusive,
send us an email
.