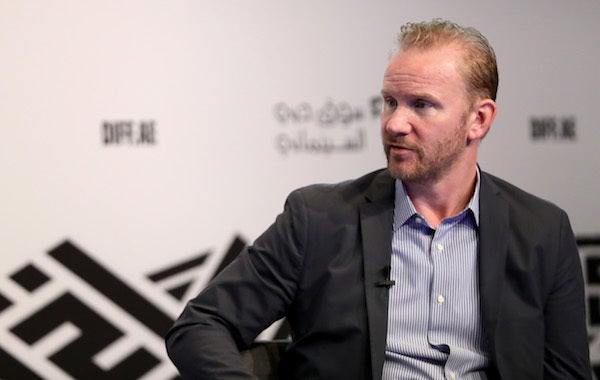 What is heritage and how important is our connection to the past in shaping who we will be in the future? And if our ideals seem to clash with what our leaders are encouraging, or we simply can see beyond the chaos — are we right? Or does that make us just different... Those are all questions that have come up in the last 48 hours for me, at this year's Dubai International Film Festival.
The Swarovski pop up exhibit inside the Madinat Jumeirah
Each morning, as I walk into the headquarters of the Dubai International Film Festival to collect tickets, attend a press conference or listen to a masterclass, I'm greeted by some blinding beauty. The entrance hall features a display of glittering jewels, bedazzled dresses and even this bowler hat above, designed by Philip Treacy for Grace Jones, which immediately transport me to the world of fashion and beauty, through the crystallized wonder that is Swarovski. A family company founded more than a hundred years ago, based in Wattens, Austria Swarovski is still privately owned today.
From Marilyn's iconic "Happy Birthday, Mr. President" dress, to Dorothy's red slippers, Audrey Hepburn's jewelry in both 'Breakfast at Tiffany's' and 'Sabrina', and all the way to Madonna and Michael Jackson's single bejeweled glove, Swarovski have been adding the magic sparkle to cinema and the performing arts for as long as they've been in business.
The fact that this year they teamed up with DIFF to bring a masterclass by costume designer Alexandra Byrne to the Forum, but also sprinkled the lobby of the headquarters of the festival with costumes and props all accented by their crystal elements, made everything appear even more glam and fab.
'Super Size Me 2: Holy Chicken!' and the truth about Big Chicken as told by Morgan Spurlock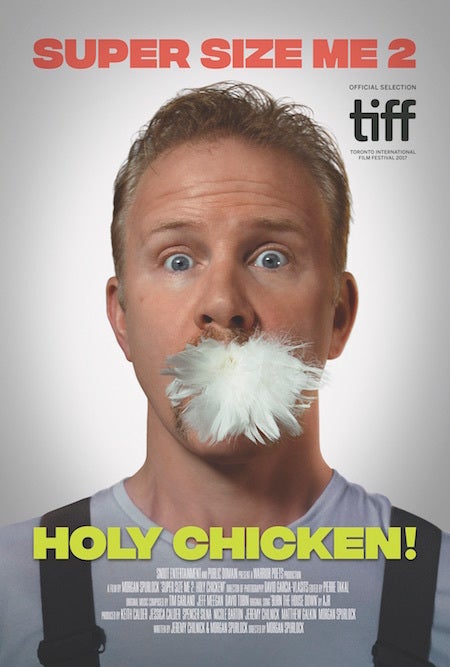 Morgan Spurlock is an American hero. Without knowing it, I've been watching his work since the very beginning of his career — turns out 'Super Size Me' was his first film project — and through documentaries like 'Where in the World is Osama Bin Laden?', 'The Greatest Movie Ever Sold', 'Rats' and even 'One Direction: This Is Us' Spurlock has brought his own brand of hilariously poignant filmmaking to the subjects at hand for over a decade.
In person the American filmmaker is kind, deeply insightful and a gentlemen, who extends his hand and exchanges some niceties with the journo in front of him. I enjoyed talking about "our Mama" — the good ol' U.S. of A. with a fellow American — as we could both say things about "her" that I would never accept from a foreigner. Lets face it, it's that great "don't you say anything about my Mama, she ain't your Mama!" complex.
While the first installment of 'Super Size Me' dealt with personal responsibility on the part of the consumer, 'Super Size Me 2: Holy Chicken!' is more about the mafia that is "Big Chicken", the way in which four companies basically control and manipulate the American consumer, and the chicken farmers who bring the poultry to our table, so to speak. While the documentary has a lot of laugh-out-loud moments, the true importance of its message lies in the farmers' plight which, it turns out, is a lose-lose situation.
Oh, and next time you bite into that "crispy chicken sandwich" remember... It's still fried, they just call it by a prettier name now, so you won't feel guilty eating it!
Cinemas will be allowed in Saudi Arabia, but what does that really mean for Arab content?
There were cheers of joy and a short collective clap at the "In Conversation with Morgan Spurlock" session inside the Forum, when it was mentioned that the Saudi culture and information ministry had just announced its intention to begin operating cinemas in the country, starting in early 2018. "Saudi Arabia will allow cinemas to open for the first time in 35 years, in the latest sign of the gathering pace of social reform in the conservative kingdom." Stated the Financial Times enthusiastically, while a local UAE newspaper's headline read "A New Era Begins... "
Me, I'm not feeling so excited about it and I'll tell you why.
Khalijis are known Hollywood blockbusters and 'Game of Thrones' types of consumers. Arab cinema requires a certain stillness of mind that even I'll admit, I sometimes lack. Does the world really need another showcase for more blow-them-up-knock-them-down films featuring twenty-minutes CGI car chases and bloody fights, or will the opening of cinemas in Saudi actually bring about a shift in films being made from and about the Arab world that would highlight simple stories "about a man and his wife" for example, as DIFF Artistic Director Masoud Amralla Al Ali put it during our wonderful interview earlier this week? Arab cinema with no political propaganda in sight, I mean...
Meanwhile, I see AMC and VOX, both cinema chains, falling all over themselves to build theaters in Saudi Arabia, and that kind of tells me that my question has already been answered, and it's not gonna be pretty after all. Am I a pessimist? Nope, but as a woman in a business run and reported by men, I've become a realist.
Claire Belhassine's 'The Man Behind the Microphone' and how a legendary grandfather could be unknown to his family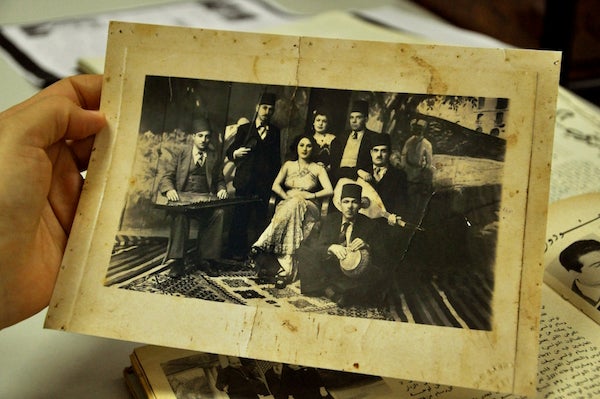 Having personally grown up with mentions of my grandfather Hans' courage and great vision at every turn, I have always felt that his achievements, his strength in the face of adversity, and his heritage made up of Shakespeare translations into German and theater productions were part of my cultural baggage. It fills me with pride when I can just talk about him, as my friends and loved ones know. Hans Rothe did the impossible and I want to believe that a small pebble of his ultimate integrity has been stuck in my pocket.
But English-born Claire Belhassine's own experience has been quite different from mine. The unknowing granddaughter of Hédi Jouini, who is known as the Godfather of Tunisian music and the "Tunisian Frank Sinatra," she spent summers in the company of her Tunisian extended family, yet never knew of his historic past — I mean the man was even featured on a Tunisian postage stamp! Until, one day in a Paris taxi. Who is to blame for this grave oversight, this refusal of heritage in a way, and will Belhassine ever find those roots to her cultural foundation form the central questions of this personal documentary.
'The Man Behind the Microphone' is a beautiful, touching, well filmed and perfectly written recounting of a family's problematic history, and Belhassine takes us, her audience on a musical journey, accompanied by her soothing voiceover and intimate home videos that tell a story of time, place and misplacement.
I wouldn't be surprised if the film wins something big at this year's DIFF. Fingers crossed.
REAL LIFE. REAL NEWS. REAL VOICES.
Help us tell more of the stories that matter from voices that too often remain unheard.
This post was published on the now-closed HuffPost Contributor platform. Contributors control their own work and posted freely to our site. If you need to flag this entry as abusive,
send us an email
.