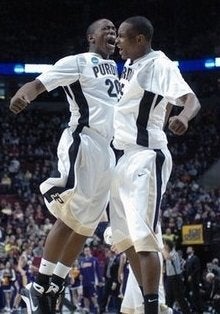 March Madness, one of the great sports phenomena in our culture concludes Monday night
For three weeks, the 65-team, single elimination men's college basketball tournament captures the nation's attention like no other sporting event except for the Super Bowl. Work productivity tends to slow down as priority is given to the meticulous preparation of the tournament brackets.
But the public March Madness belies the private version.
The private version of "March Madness" is a multibillion-dollar industry where the many of the elite college basketball programs derive their success with dismal graduation rates and less than rigorous academic courses designed solely to keep players eligible.
The most recent data concludes that over half of the young men we cheer and bemoan because of the havoc wreaked on our brackets will not graduate.
For the few that possess the talent and good fortune to become instant millionaires playing professional basketball there are untold thousands who step on university campuses with the same aspirations that are now part of the illustrious fraternity known as "Where are they now?"
An examination of the schools that made to the vaunted "Sweet Sixteen" portion of the tournament, Purdue University possessed a graduation rate of 80 percent.
The University of Arizona, which has appeared in the NCAA tournament for 25 consecutive years, touts a 13 percent graduation rate. Even more appalling, Arizona has not graduated a single African American player since 1997.

Two of this year's Final Four teams, University of North Carolina and Villanova University have gradation rates over 60 percent. Michigan State, a "Final Four" participant this year possess a very respectable overall graduation rate because 100 percent of its white players graduate, while graduating 43 percent of its black players.
The University of Connecticut, the other Final Four participant limps in with a 25 percent graduation rate. It was also reported that the UConn's basketball program earned of over $6 million this year.
The University of Kentucky, which didn't make this year's NCAA tournament, is the winningest team in the history of college basketball. They recently hired John Calipari as their new head coach--a four-year deal worth an estimated at $35 million. Calipari's predecessor, Billy Gillispie, averaged 22 wins in his two years at Kentucky, but that obviously wasn't good enough even had he boasted a 100 percent graduation rate, which he didn't.
Nor will a stellar graduation rate save Calipari, not for $35 million. Based on Calipari's history, he won't lose much sleep with dismal graduation rates; he's being paid to win.
Not all programs operate this way, in addition to those schools already mentioned Duke, University of Florida, and Stanford are consistently among the schools with the highest graduation rates.
Former Notre Dame basketball coach, Digger Phelps has a coaching achievement that seems impossible to attain by today's standard. Of the 56 players who played four years for Phelps during his 20 years at Notre Dame all received their degrees.
To continue to refer to today's college players as student-athletes is oxymoronic. They are adjunct staff to the university's development department.
Those who follow college basketball can easily name a coach who was fired for not winning. Can anyone name last time a coach of an elite program was fired for not graduating players?
Would there be as much interest if only players who qualified for college academically played? It's hard to say, but I doubt there would be as much money involved.
CBS is not giving the NCAA billions to cover basketball based on graduation rates. Salaries paid to coaches, revenue generated by the schools and ratings for the networks drive the popularity of the sport. And once large amounts of money enter into the equations, it becomes the self-justifying amoral component that heeds only to its own wants and desires.

The influence of money and the pressure to win, coaches recruit players with no intention of them completing four years of school, let alone graduate.
Therefore, March Madness carries a dual definition. Sadly, neither includes a commitment to graduating the players responsible for generating the revenue, the excitement, and the disappointment, as my bracket will attest.
REAL LIFE. REAL NEWS. REAL VOICES.
Help us tell more of the stories that matter from voices that too often remain unheard.