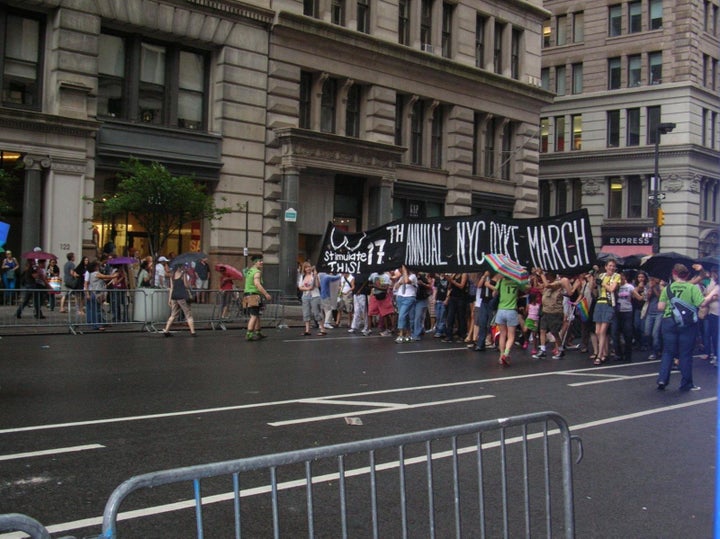 It's that time of year again, when lesbians all over the world huddle in back rooms, plotting global domination, civilization's end, and their annual Dyke March.
The very first Dyke March in the history of the world was in D.C. on April 24, 1993, on the eve of the big March on Washington for Lesbian, Gay and Bi Equal Rights and Liberation. At the time, I was a member of the Lesbian Avengers, a direct action group that had kicked off in New York the year before. We noticed that lesbians were nearly irrelevant in the D.C. programming, so we decided to take matters into our own hands and organize our own march, the Dyke March.
It's not like lesbians had never marched before. Long before Occupy Wall Street, we'd been out in the street for everything from the environment to racial equality and economic justice. In 1993 it was mostly AIDS and reproductive rights, and anti-gay violence. There had even been marches almost exclusively populated by lesbians, but they usually called themselves "women's" (or "womyn's," or "wimmin's") marches, and you already had to be in the know to understand what was going on. That's why the Lesbian Avengers decided to throw down the gauntlet and use the word "dyke." It was big and bold, and a declaration of independence from both the women's and gay movements that had always sidelined us. It also thumbed its nose at the obsequious trend of some LGBT activism: "Please give us a few crumbs. We're just like you, except for who we sleep with."
We were hoping at least a couple thousand would come, but we weren't counting on anything. We'd put ads in all the dyke rags, like Lesbian Connection, and in D.C. we passed out thousands of palm cards and Lesbian Avenger manifestos. We'd also teamed up with a few like-minded groups along the way, including the ACT UP Women's Network, who were mobilizing their own members.
We met in D.C.'s Dupont Circle. At first just a few dykes trickled in. Then suddenly 20,000 ecstatic lesbians of all races were on the street: butch, femme, old, young, collectors of pins, punks, preppies -- everybody was there.
We marched to the White House, and a group of Lesbian Avengers stunned the march by dramatically eating fire while the crowd chanted, "The fire will not consume us. We take it and make it our own." The Avengers had started the fire-eating thing a few months before, to protest the firebombing deaths of Hattie Mae Cohens and Brian Mock, an African-American lesbian and a disabled, white, gay man, respectively.
Lesbians went home with that fiery image in front of their eyes. They not only started their own Avenger groups dedicated to "lesbian survival and visibility" but started throwing their own Dyke Marches, usually the day before their local pride parades.
In June that year New York Avengers pushed a giant bed down Fifth Avenue declaring "Lesbians Lust for Power." San Francisco Avengers built a four-foot bomb and got 10,000 in the streets. Atlanta Avengers mobilized 2,000. In New Orleans they went straight to the kissing booth. A tradition was born!
New York's annual Dyke March is still packed with dykes screaming and yelling and carrying homemade signs. People always seem thrilled. I mean, when do you ever see six dykes together in the street, let alone 6,000? Scan the books on Amazon.com or the movies on Netflix. How many were done by lesbians or feature us? Check out your congresspeople. Any dykes there? Even in restaurants, how many dyke couples are there holding hands?
A few talk-show hosts and musicians are not enough. And the average dyke knows it, even if our wise leaders do not. A couple of years ago I went to the New York Dyke March and asked people why they were still there after 17 years. Didn't they know we were post-gay and all we had to do was wait for marriage equality? They just laughed: "We're not done yet. Not nearly."
Here are a few of this year's Dyke Marches. If you know of more, add them to the comments section below.
Popular in the Community