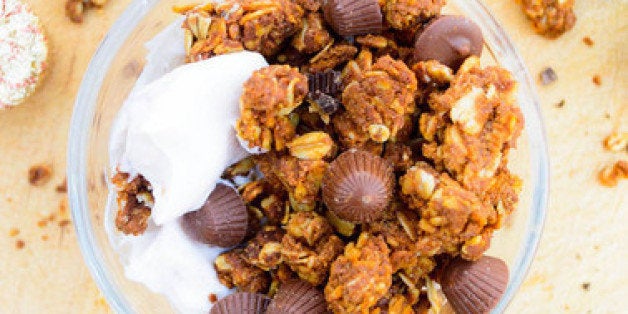 Make granola! I mean, obviously right?
October is done and over with so it only makes sense to recycle the leftover remnants of Halloween and turn them into comforting chunks of granola.
You have a few options with all those cute mini candy bars lying around the house....
1) Leave the leftover candy out on the coffee table to indulge in every night while you binge watch your favorite reality show
2) Store in the lonesome pantry to forget about
3) Bake up some healthier-chocolatey lovers granola
Option 3 is totally my jam. Hence this recipe and why your life is about to be changed.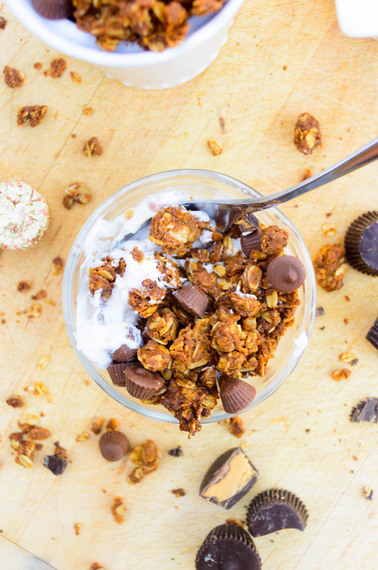 My philosophy on food is centered around balance. Instead of mindlessly binging on candy or completely shunning all chocolate from my life...I try to find a healthy medium.
Enter---> Peanut Butter Cup Granola. Hearty whole grain oats that get tossed with melted Reese's peanut butter cups. Basically a reason to eat chocolate for breakfast and recycle leftover candy.
Ingredients
2.5 cups rolled oats
1/2 cup whole wheat flour (or oat flour)
Cinnamon + sea salt to taste
1 cup peanut butter cups (Reese's or your favorite chocolate candy)
1/4 cup honey
1/4 cup peanut butter
Instructions
Preheat oven to 325 degrees Fahrenheit. Combine oats, flour, sea salt and cinnamon in a large bowl then set aside.
Melt peanut butter cups in a microwave safe dish in 30 second increments, stirring in between. It took me a little over a minute to melt mine. Whisk in peanut butter and honey until a thick mixture is made.
Pour wet ingredients into dry and stir until all the oats are fully bound with the PB cup mixture.
Spread out onto a parchment lined baking dish and bake for 30 minutes, stirring every 10-15 minutes.
Allow granola to cool for at least 15 minutes before serving. Stir in extra peanut butter cups if you want as well!
See more on this recipe HERE.