Two-time Olympic host town Lake Placid has a storied winter sports pedigree. It was the setting for the 1932 and 1980 games, the latter of which hockey fans will remember as the year of the "Miracle on Ice" wherein the underdog USA team beat the Soviets. These days, it has plenty to offer bunny slopers and black diamond riders alike, not to mention those "skiers" who prefer drinking hot cocoa in the lodge to actual skiing. Whiteface, its premiere mountain, features 86 trails and a peak elevation of nearly 5000 feet. Its manicured runs benefit from the area's unique microclimate; with an average of more than 100 inches a year, there's a fresh dusting of powder more often than not. As far as East Coast skiing goes, it's one of the best and less expensive and crowded than comparable Vermont destinations. My husband and I had the pleasure of visiting last weekend.
The High Peaks Resort, conveniently located on the main shopping-and-dining drag and overlooking a frozen Mirror Lake, is truly the best of both worlds. Main Street is home to an Eastern Mountain Sports (great for forgetful underpackers like me!), cute cafes, fine dining and even a movie theater - while the view from our room was an icebound moonscape of mushing sleddogs and twilit silence. Load up on a pre-ski power breakfast at Dancing Bears, High Peaks' casual restaurant. Decorated with retro Olympics posters and black-and-white winter sport photos, the kitchen turns out classics like Eggs Benedict and substantial build-your-own omelets with hash browns that provide much needed fuel for your day of shredding or schussing.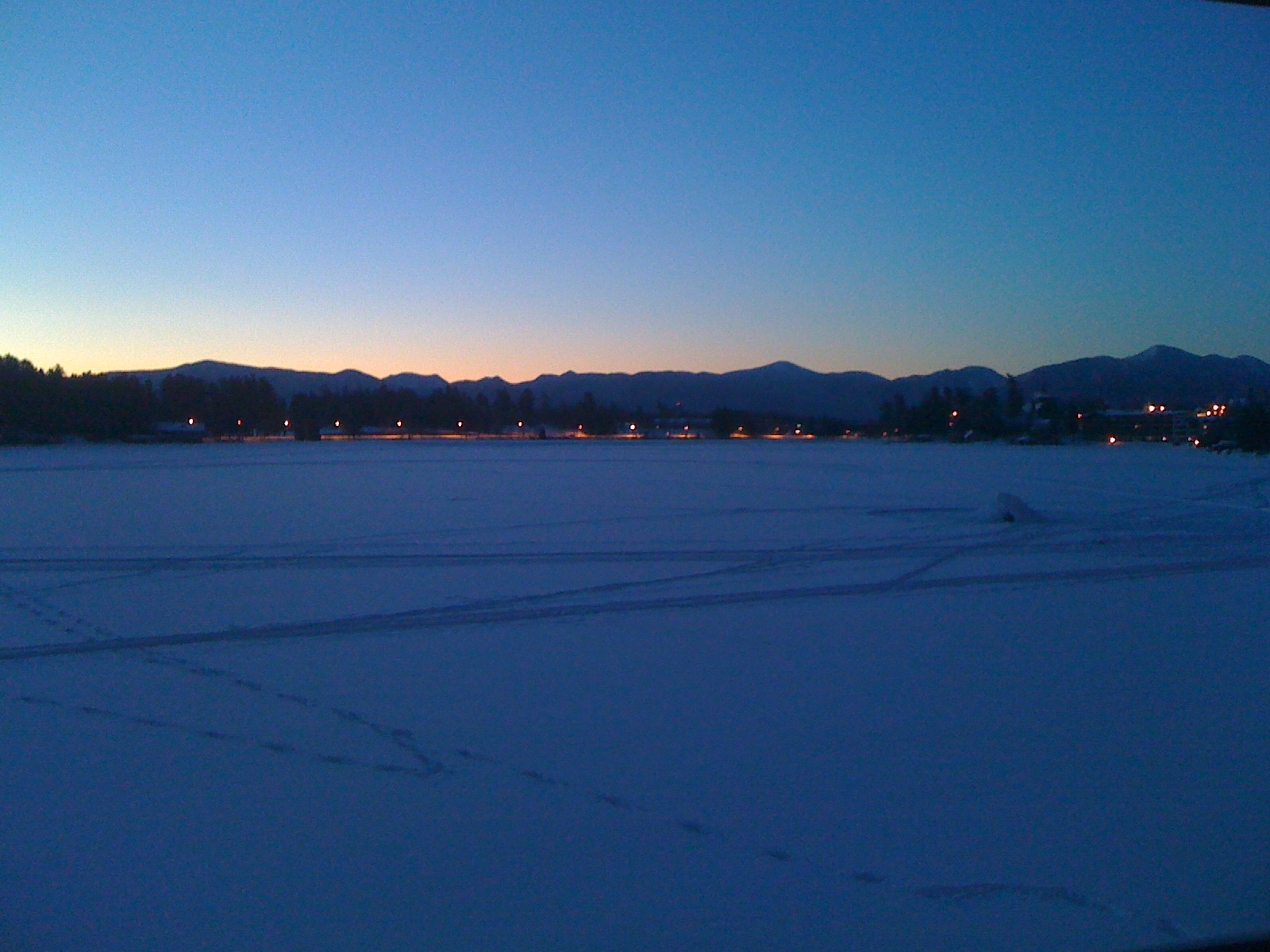 Frozen Mirror Lake, the view from our room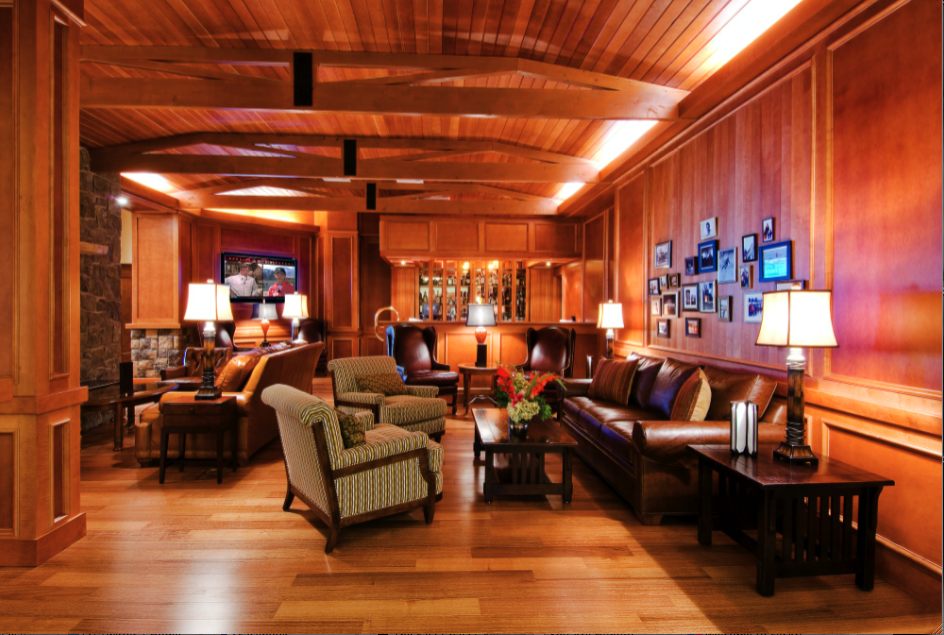 The Lounge at High Peaks Resort
Whiteface is a short, scenic 9-mile drive from town. Booking ahead can save money on lift tickets, as can taking advantage of special offers like $35 Sundays - visit Whiteface.com for specifics. We each booked a lesson and had the amazing luck to get one-on-one time with our instructors when it turned out there were fewer students than teachers. Now, I hadn't been on a snowboard since Y2K was a thing but two hours with my wonderful Swiss instructor had me contemplating moving upstate to become a ski bum. And under the watchful gaze of his tutor, hubby -- a true beginner -- had learned the rudiments of carving by noon. The last lift leaves at 4PM, but by that time we were sore, happy and ready to hang up our snowboard boots anyway.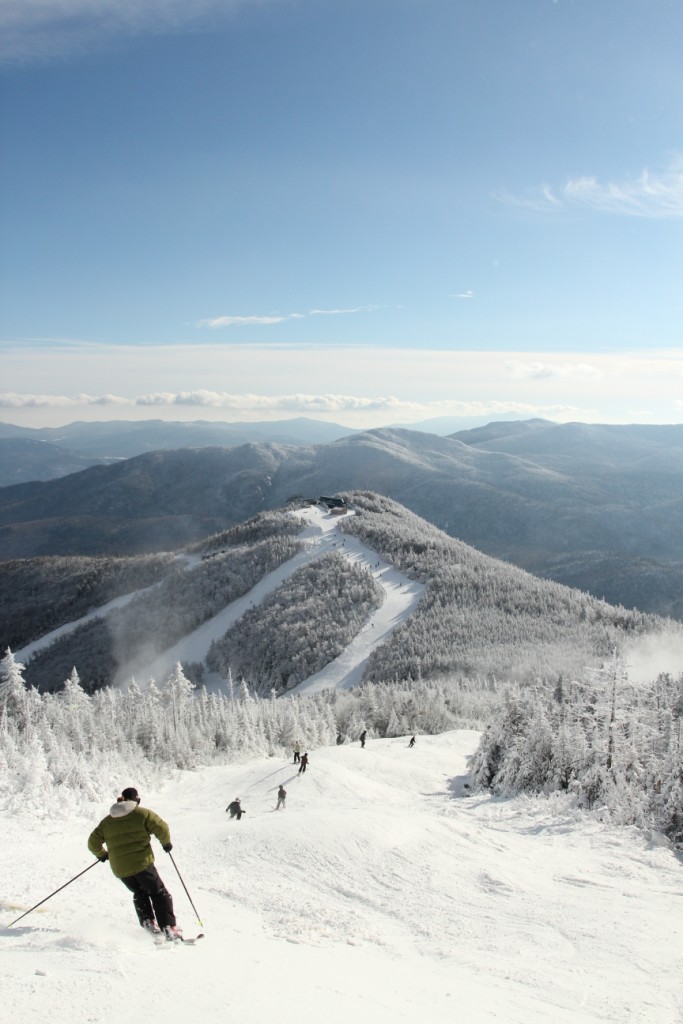 Whiteface Mountain
Besides, Lake Placid boasts a diverse après-ski scene that we were eager to experience. Beer drinkers will have to make a pit stop at the Lake Placid brewpub, where craft beers (including the award-winning Ubu Ale) lubricate a lively crowd whose chapped cheeks show they've earned their suds with a day on the slopes. My parents told me to check out the Mirror Lake Inn, where they had a memorable Julia Child sighting in the early 80s. We figured that was a good sign. Sitting at the polished walnut bar over martinis, I can confirm: Julia had good taste. In restaurants and in ski towns, too, it would seem.