I've never lived in a stranger place than Venice.

It was a great empire centuries ago, the master of the Adriatic and a swath of Italy. Now it's an open-air museum. Tourists from Russia, Germany, China, Brazil, the Ukraine and, of course, the United States tramp through like an invading army. Some two million visitors a year come to see the Grand Canal and other iconic sites, and yet there are only about 80,000 Venetians left.
Tourists outnumber natives by more than three to one on most days. It's hard sometimes to find a shop that sells something besides carnival masks, plastic model gondolas and the latest Italian novelty souvenirs like joke kitchen aprons with the penis of Michelangelo's David.

As much as anything, Venice has always been a brand. No place on the planet may be so stunningly gorgeous as this emerald island city, and Venetians themselves have always known that. Those extraordinary Venetian Renaissance painters -- the Bellini Brothers, Carpaccio, Paolo Veronese -- already mythologized their city's watery enchantment five centuries ago. So, later, did the likes of Canaletto and Guardi, whose oils of the Grand Canal and the Rialto godfathered the modern tourist postcard.

Then as now, a gondola ride, a stroll through St. Mark's Square or an excursion to watch the glassmakers of Murano form the Venetian copyright. This carousel of images conjures enough beauty and romance to draw more visitors than ever from around the globe. As the global middle class has expanded, tourism has become the world's largest industry, and this has only multiplied the numbers coming to Venice. There were no Russian, Chinese or Brazilian tour groups here several decades ago.

I'm little more than extended-stay tourist myself in Venice, here just for the fall. But I am teaching two courses at Venice International University, and the crowds can sometimes make it hard. When running late, I always seem to find the alley blocked by some ambling, camera-laden scrum of a German tour group. The area between St. Mark's Square, the Academia Bridge and the Rialto forms a tourist Bermuda triangle. Many Venetians live off the tourist trade and yet speak nostalgically about less crowded times. If you wander down the right back alley, you can still find the surviving remnants of a functioning Italian city -- a playground, a tailor, a basketball court, an upholsterer, a yoga class, a pet shop, a funeral parlor.

But everything costs twice what it does on the mainland, where the down economy already makes things difficult for ordinary people. And family life is no easy business in a cramped Renaissance city, however picturesque. No wonder so many Venetians, even those who still commute across the lagoon into the city, have moved to Marghera, Mestre and other terra firma towns.

And, as almost anywhere on this 21st century golfing planet, you can find golf in Venice, or at least the greater Venetian lagoon. At the very tip of the barrier island of Lido lies the Circolo Golf di Venezia. The course is a pleasant enough track built in the 1920s, though nothing extraordinary. It doesn't say much for Italian golf if the Circolo is really among the top 10 in the country, as one ranking has it. But it's nonetheless always interesting to see the local twists to the game abroad and what they reveal about that particular society and culture. To paraphrase the great French sociologist Roger Caillois, how we play always discloses much about who we are.
Italians, as we know, love to eat well, and that's certainly evident at the Venice course. You can sit on the club terrace and have a delicious cold seafood salad washed down with the Veneto's good white wine. It's a far cry from the proverbial greasy hotdog, Powerade and potato chips at the American golf course grill.
The Circolo also reflects the more parsimonious, greener habits of Italian consumers. In Italy, as in the rest of Europe, wastebaskets, cars, paper towels and even toilets, are much smaller than those to which we Americans are accustomed; people use things to the end instead of running out to buy a new one as in our throwaway consumer culture. At many American courses, especially upscale ones, you can find all manner of balls if you poke around in the woods and creeks, including more than a few virtually new ones. Not in Italy. I wasn't sure if I had enough balls to finish the round on the watery Circolo course, and yet, though I scoured the bushes, I failed to turn up so much as an old Top-Flite. And if American golfers, at least those who can afford it, feel obligated to have the newest model clubs in their bag, there's no such imperative in Italy. The bag storage shed for club members was a museum of early generation titanium clubs. A 1990s Callaway Big Bertha, so big and shiny in its day, looks now like an undersized early industrial artifact of another era, like an old Olivetti manual typewriter.

And consider the greenskeeping. Italian landscaping, like the food, runs to a calculated yet unforced simplicity. The Italian gardener does not share the American lawn Nazi's horror at the stray weed. The Circolo has the archetypal Italian mix of cypress and pine, and, though maintained well enough, it's a bit shaggy, no effort made to keep every blade of grass in place as at a high-end American club. A Renaissance fountain lies just next to the 18th green, a reminder of just how much Italy remains a land of ancient and jumbled chronologies where Etruscan burial grounds, Roman ruins, Medieval churches, Mussolini-era train stations and new McDonald's restaurants jostle and crowd up against one another. The fountain at the Circolo, it should be noted, plays as an immovable obstruction with no relief if your ball ends up next to or behind it.

Back across the lagoon in Venice, the grand old city can feel besieged by its millions of visitors. It sometimes seems as if Italy's precious Renaissance marvels -- Giotto's Arena Chapel, Leonardo's Last Supper, the Botticelli Birth of Venus -- sag wearily under the weight of so many staring visitors, so much written about them, so many photographs, so many centuries passed.

But laments about an over-touristed Venice are hardly new. Henry James, back in 1909, already noted that some travellers found the place "odious" because they had "too many competitors there" and were forced to share the city "with a herd of fellow gazers." But the great novelist loved Venice anyway as a place of "a thousand occasional graces."
He was taken, among other things, by the light. It was, he wrote, "a mighty magician and, with all respect to Titian, Veronese and Tintoret, the greatest artist of them all. Here sea and sky seem to meet half-way, to blend their tones into a soft iridescence, a lustrous compound of wave and cloud and a hundred nameless local reflections, and then to fling the clear tissue against every object of vision."

I feel much the same way. Once I navigate the alleyways out to San Zaccaria, I climb aboard the Number 20 vaporetto, these boats being Venice's only form of public transportation. It heads out to the university on the island of San Servolo with a view opening up back to the Doge's Palace, St. Mark's and the grey-blue water of the lagoon. It's a view straight off the postcard rack and yet no less stunning for that fact.

I can't imagine a more beautiful commute anywhere in the world.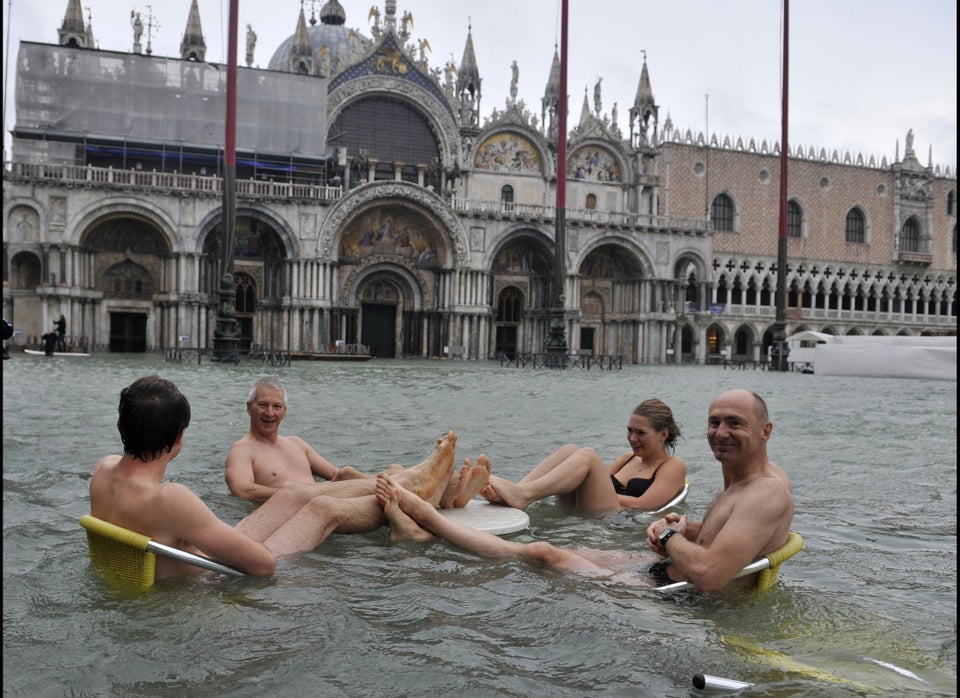 Acqua Alta in Venice, Italy
Support HuffPost
A No-B.S. Guide To Life
Related
Popular in the Community