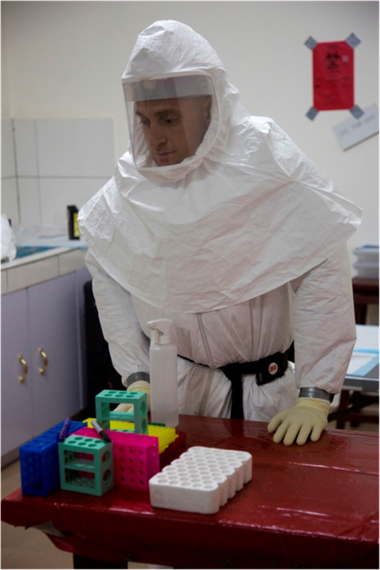 As most know and have applauded, TIME Magazine selected the "Ebola Fighters" as their 2014 "Person of the Year."
In explaining the choice, TIME Editor Nancy Gibbs evokes the proverb that says, "Not the glittering weapon fights the fight, but rather the hero's heart..."
And indeed, "the people in the field, the special forces of Doctors Without Borders/Médecins Sans Frontières (MSF), the Christian medical-relief workers of Samaritan's Purse and many others from all over the world [who] fought side by side with local doctors and nurses, ambulance drivers and burial teams" are all the hero's heart.

The superb 2014 Person of the Year issue gives well-deserved credit to "the ones who answered the call." Selecting the Ebola Fighters for TIME's Person of the Year recognition and honor was unquestionably the right decision.

However, surprisingly absent from the covers, the photographs, the accolades and the narratives are those who conventionally use the glittering weapon to fight the fight, but who this time left their weapons home and let their courage, dedication -- their heroes' hearts -- do the fighting.
I am of course referring to the approximately 3,000 military men and women who also "answered the call," who left loved ones and the comforts of a "stateside assignment" behind and flew to West Africa to join the fight -- a fight the Department of Defense has named "Operation United Assistance."
The U.S. military members who have deployed to West Africa are typically not involved in direct care of Ebola-exposed patients and their mission and tasks descriptions -- command and control, logistics support, engineering support, training assistance -- sound all too stilted and bureaucratic. Nevertheless, their contributions towards fighting the Ebola epidemic have been concrete and significant and have been described as "Herculean."
Their accomplishments include establishing an intermediate staging base in Dakar, Senegal; providing strategic and tactical airlift; constructing a 25-bed hospital in Monrovia; constructing 17 Ebola Treatment Units (ETUs) in Liberia; standing up seven laboratories to test blood samples and setting up mobile diagnostic laboratories in four locations outside Monrovia; training local and third-country health care support personnel, enabling them to serve as first responders in ETUs throughout Liberia, etc.
For those who measure effort and success in dollars and cents, as of Dec. 1, the Department of Defense had spent $257.4 million on Operation United Assistance and more than $72 million on Ebola-related activities, which includes $25.6 million for research and development (e.g., vaccine research), and $47 million for cooperative threat reduction "(e.g., biosurveillance/biosecurity)", making the Defense Department's contributions perhaps worthy of at least an honorable mention.
While I praise and appreciate TIME's selection of the "Ebola Fighters" as their "Person of the Year," and although TIME briefly mentions "the promise of U.S. troops to build treatment units," this author is at a loss as to why our military men and women were not explicitly included in TIME's Person of the Year.
Granted, the jobs, titles and credentials of the troops may not be as impressive as those of many of the other "Ebola Fighters." However, the work our military have done in preparation for the more specialized international effort and the work they continue to do has been critical and continues to be key to the success of the fight against Ebola.
As just one example, the Stars and Stripes reports on how four U.S. Navy sailors -- three of them microbiologists, the fourth a hospital corpsman -- "no uniform or weapon in sight...working in a laboratory at the end of a dirt road..." saved lives by reducing the time it takes to test for Ebola in drawn blood from weeks to "a few hours."
The Stripes also mentions the risks these sailors face, their skills, dedication and their joys and heartbreaks:

That the work might risk their own deaths has not been a major concern...

[..]

The samples tell a story. The sailors can see when an entire family has been brought to a clinic and as the samples work their way through the lab, anxiety rises over whether a mother and father, and then young children, will all turn out to be infected.

[..]

At times, where a sample is rife with the virus, the Americans reach the painful conclusion that this person will not be heard about again -- conceivably yet another death from Ebola.

At other times they receive uplifting news -- samples arrive bearing a familiar name, someone whose blood has been tested before and who is clearly in recovery. The sailors can track the patient's progress as the virus diminishes over time and the person is on the way to going home.

[...]

[Navy Lt. Christina Farris, 31, a microbiologist], who did her post-doctoral residency at Texas A&M Health Science Center, devoted her life to the study of microbiology and curing disease in the laboratory. But seeing real people emerge after beating back a terrible illness, the progress which she helped track in the Navy lab, was an altogether different experience, Farris says.

"Being able to participate in one of these humanitarian efforts like this and actually get to use my skills, that's pretty fantastic," she says.

So when the cured patients walk past, Farris says, she can't help cheering them on.

"We hear their names and it's exciting to see them. They're so happy to be getting out. They're praising God," she says. "It's wonderful."
I strongly believe that Nancy Gibbs' eloquent and touching concluding words eminently apply to our military Ebola Fighters, too:
The rest of the world can sleep at night because a group of men and women are willing to stand and fight. For tireless acts of courage and mercy, for buying the world time to boost its defenses, for risking, for persisting, for sacrificing and saving, the Ebola fighters are TIME's 2014 Person of the Year.
Therefore, it is only right to include the four brave and dedicated sailors "working in a laboratory at the end of a dirt road" and the nearly three thousand other military men and women who have served or are serving in West Africa in "The Ebola Fighters."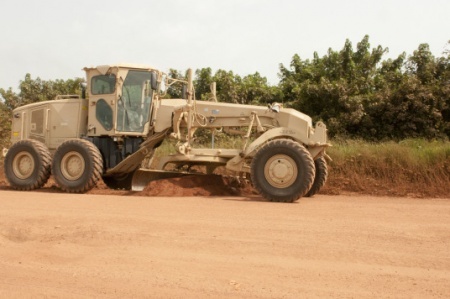 Pfc. Melina Knight working on grading the road near the Ebola treatment unit in Buchanan, Liberia.(U.S. Army photo by Capt. Eric Hudson)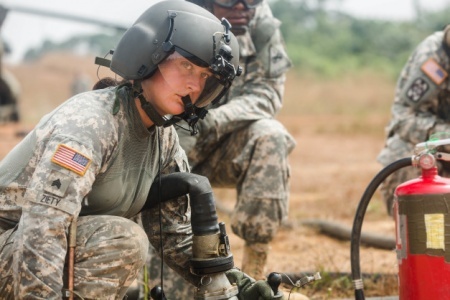 Sgt. Stephanie Ziety, CH-47 Chinook crew chief, preparing to fuel an incoming UH-60 Black Hawk in Tappita, Liberia. (U.S. Army photo by Spc. Rashene Mincy)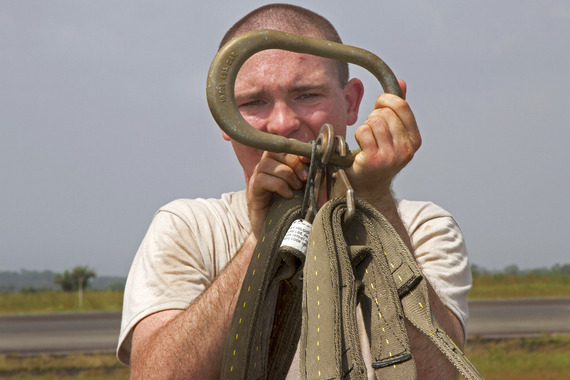 U.S. Army Pfc. William Stooksbury preparing a slingload package of emergency fuel for a mobile medical lab in Greenville, Liberia. (U.S. Army photo by Sgt. 1st Class Mary Rose Mittlesteadt)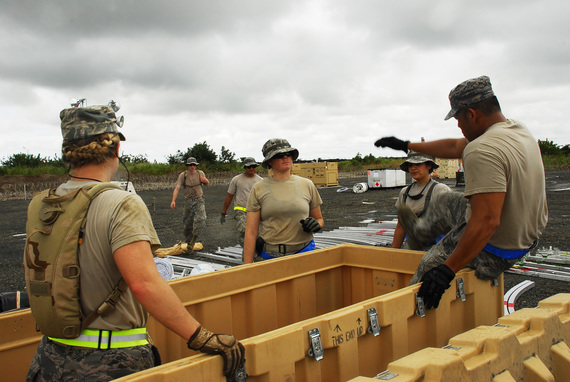 U.S. airmen constructing a medical unit in Monrovia, Liberia. (U.S. Army Africa photo by Army Pfc. Craig Philbrick)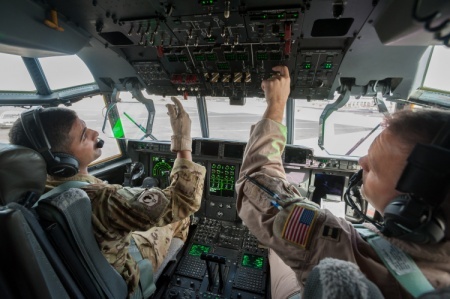 U.S. Air Force Capts. Vincent Levraea (left) and Jason Steinlicht, pre-flighting at Léopold Sédar Senghor International Airport in Dakar, Senegal,in preparation of a flight to Monrovia, Liberia, to deliver more than 8 tons of humanitarian aid and military supplies. (U.S. Air National Guard photo by Maj. Dale Greer)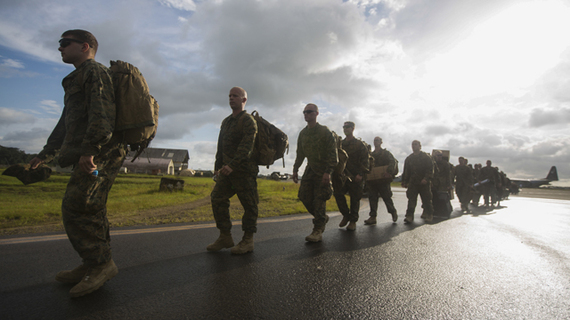 The U.S. service members (in this photo, Marines and Sailors) arriving in West Africa to support Operation United Assistance. (U.S. Marine Corps photo by Lance Cpl. Andre Dakis)
Lead photo: One of the Navy Medical Research Center sailors mentioned in this story starts the process to test blood samples collected from an Ebola Treatment Unit in Suakoko, Liberia. (U.S. Army Photo by Sgt. 1st Class Brien Vorhees)
All Photos released by DoD
Calling all HuffPost superfans!
Sign up for membership to become a founding member and help shape HuffPost's next chapter