During the spring and summer season, Guatemalans welcome tourists into their picturesque cities, like Antigua and Panachajel. They sell their artwork, native foods, textiles, and other goods to the tourists.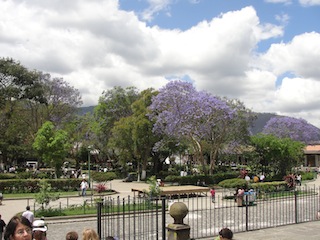 Most tourists seek vacation in Guatemala not just to experience the country's diversity of regions, but also to see its great historical sites and to buy its many great beautiful natural resources, like jade.
"Followed by remittances, the tourism sector is the second source of international currency to the country," Guatemala Trade & Investment Advisor Marisol García said.
In fact, many Guatemalans work in the tourism industry.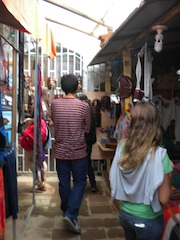 According to Community Tourism Alliance in Guatemala: "Nearly 15 % of the eligible workforce is engaged in the tourism industry--an industry that comprises nearly one quarter of the national GDP."
Consequently, many Guatemalans work in this industry, because of money gained from tourists who buy their products.
From 2003 to 2009, Invest in Guatemala, a Guatemalan promotion investment agency, found "Guatemala had experienced an average annual growth in tourist numbers from 17% in the last four years [rising from 880,223 people to 1776,069]."
Yet in 2009, right on the brink of the global recession, the number of tourists traveling to Guatemala decreased. The reduction came mostly from North American and Central American tourists, according the Visit Guatemala Flash Report in the Investigations of Market Section of Statistics.
For example, the Visit Guatemala Flash Report in the Investigations of Market Section of Statistics found: "For the month of December 2010, Guatemala had a total of 173,537 visitors ... a decline of 7.9% from December 2009."
Business Owner and Director of JADES S.A. Factory and Archaeology Museum, JadeMaya, Marylou Ridinger, said she has noticed that tourists are not spending as much money as they have in the past.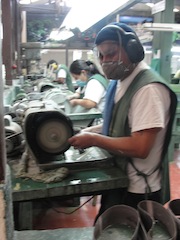 "The average tourist coming to Guatemala has less money to spend and is on a tighter travel budget," Ridinger said.
During March and April of 2009, Ridinger said her small family-owned business's sales began to drop 30% to 40% and her profit margin had "suffered considerably." As a result, she has had to cut her staff of 140 workers and cut expenditures.
"We had to let 20 people go in June of 2010, several of whom were single mothers, who were the sole support of their families," she said. "It was very painful, because we have a strong group feeling and having to downsize was hard."
Ridinger described that the last few years for her business have been very tough: "Many times, when we were scraping the bottom of the barrel financially, we would have a sudden windfall, an inheritance, a family loan or a stroke of luck."
The businesswoman said she is not the only tourism business in Guatemala suffering. In fact, she described seeing more empty stores and closed doors on her street during the past six months than any other time.
"The businesses in Antigua that have held on for the last two years hoping for an economic recovery are beginning to close their doors," she said. "The people who I see suffer the most are middle income Guatemalans who are struggling to live on less income with rising health care and education costs and who can't make ends meet. It has been very rough."
The economic situation for many businesses has caused many debates over what is causing the Guatemalan tourism industry to suffer.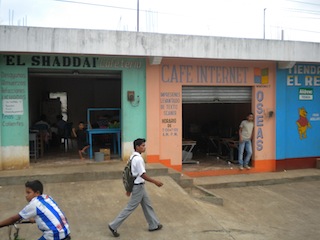 Ridinger said she believes the global economic recession and other factors regarding public policy in Guatemala have heavily impacted many Guatemalan businesses during 2010.
Others, like Trade and Investment Advisor Garcia, solely blame the global economy.
"Whenever there is a contraction in the global economy, the Guatemalan economy is affected because less tourists come to the country," Garcia said. "Since it is an important source of income for the economy, we suffer the consequences of this contraction."
Although businesses have had many struggles within the last few years, recent data has found the Guatemala tourism industry may have started to recover.
This recovery started in December 2010.
The Visit Guatemala Flash Report in the Investigations of Market Section of Statistics reported the number of tourists coming to Guatemala rose from 1,776,868 to 1,875,777 tourists - up 5.6% from the previous year.
According to the Visit Guatemala Flash Report in the Investigations of Market Section of Statistics: "The main indicators for measuring tourism in Guatemala show that despite the negative factors affecting the sector worldwide (economic crisis, unemployment, etc.) and local (natural disasters such as the passage of the Storm Agatha, the Pacaya volcano eruption, floods, deterioration of road infrastructure) were some factors that hurt the growth of tourism, the country endured and achieved positive results."
The findings show there is still hope for the recovery of the Guatemalan tourism industry in the future.
"This result reinforces the trend estimates of the recovery made by the World Tourism Organization, WTO, and which the Commission considers that the arrival of international tourism will increase between 5% and 6%," the Visit Guatemala Flash Report in the Investigations of Market Section of Statistics reported.
Although Ridinger said she has yet to see the full recovery of tourism industry in sales, she is hopeful about the future success of her tourism business.
"I have a lot more faith now than I had during rough times before," she said. "I become more driven and work harder and longer hours because I know so many families depend on my energy and resourcefulness."
Ridinger also said she hopeful since the Guatemala Institute of Tourism is working hard with the private sector to help Guatemalan tourism businesses.
"We work with many tour guides who are trained and licensed by the Institute of Tourism," Ridinger said. "It helps (INGUAT) help promote a positive image of Guatemala in the worldwide travel industry and publicize Guatemala as a travel destination."
While projects are underway to help recover the Guatemalan tourism industry, Ridinger said even one tourist will help business continue to survive any economic struggles.
"If travelers have a positive experience in Guatemala and go home and rave about it to their friends, we get more and more visitors," she said. "I believe that Guatemala is the most beautiful country in the world... It's a shame that so few people realize that."


(Some photos were taken and provided by Karyln Washington while others were taken by Ashley Michelle Williams)
REAL LIFE. REAL NEWS. REAL VOICES.
Help us tell more of the stories that matter from voices that too often remain unheard.