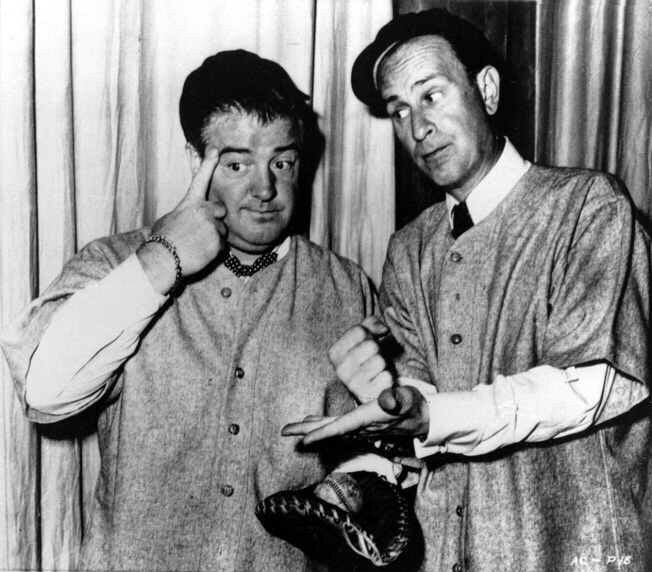 Unemployment as reported is at 9 percent. But it's actually more than 16 percent. Some smart statistician came up with a distinction. A slight of hand to make the unemployment number tolerable rather than frightening. The concept was simple: 9 percent are unemployed and are actively looking for work. The 16 percent includes those who gave up and are no longer actively looking for work. So those casualties are no longer counted. They cease to exist. The 9 percent is a fake. A sham. And worthy of an Abbott & Costello routine. If that great comedy team were still alive, the routine on our unemployment woes might go something like this.
I want to talk about the unemployment rate in America.
Good Subject. Terrible Times. It's 9%.
That many people are out of work?
Okay, so it's 16% unemployed.
WAIT A MINUTE. Is it 9% or 16%?
9% are unemployed. 16% are out of work.
IF you are out of work you are unemployed?
No, you can't count the "Out of Work" as the unemployed. You have to look for work to be unemployed.
BUT THEY ARE OUT OF WORK!!!
Someone who doesn't look for work, can't be counted with those who look for work. It wouldn't be fair.
But they are ALL out of work.
No, the unemployed are actively looking for work... Those who are out of work stopped looking. They gave up. And, if you give up, you are no longer in the ranks of the unemployed.
So if you're off the unemployment roles, that would count as less unemployment? ABBOTT
Unemployment would go down. Absolutely!
The unemployment just goes down because you don't look for work? ABBOTT
Absolutely it goes down. That's how you get to 9%. Otherwise it would be 16%. You don't want to read about 16% unemployment do ya?
That would be frightening.
Wait, I got a question for you. That means they're two ways to bring down the unemployment number?
Unemployment can go down if someone gets a job?
And unemployment can also go down if you stop looking for a job?
So there are two ways to bring unemployment down, and the easier of the two is to just stop looking for work. ABBOTT
Now you're thinking like an economist.
I don't even know what the hell I just said!
ABBOTT & COSTELLO did a comedy routine about fictitious ball players called "Who's On First?" The absurdist number of the real unemployed is not a joke.
Calling all HuffPost superfans!
Sign up for membership to become a founding member and help shape HuffPost's next chapter